Previous editions >>
Subscribe
Page 45 from: Previous editions >>
trends & updates 45recyclinginternational.com | January/February | 2020 Fotobijschrift kaderkop ?? duo uk: noW is the time to invest in plastic recycling tech uk-headquartered packaging manufacturer and distributor Duo UK is e...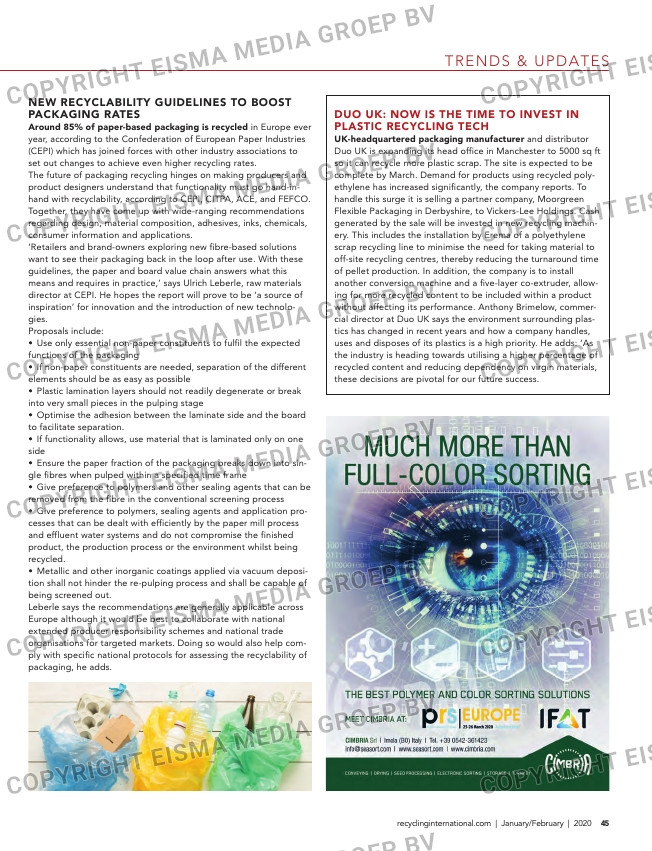 trends & updates
45recyclinginternational.com | January/February | 2020
Fotobijschrift
kaderkop
??
duo uk: noW is the time to invest in
plastic recycling tech
uk-headquartered packaging manufacturer and distributor
Duo UK is expanding its head office in Manchester to 5000 sq ft
so it can recycle more plastic scrap. The site is expected to be
complete by March. Demand for products using recycled poly-
ethylene has increased significantly, the company reports. To
handle this surge it is selling a partner company, Moorgreen
Flexible Packaging in Derbyshire, to Vickers-Lee Holdings. Cash
generated by the sale will be invested in new recycling machin-
ery. This includes the installation by Erema of a polyethylene
scrap recycling line to minimise the need for taking material to
off-site recycling centres, thereby reducing the turnaround time
of pellet production. In addition, the company is to install
another conversion machine and a five-layer co-extruder, allow-
ing for more recycled content to be included within a product
without affecting its performance. Anthony Brimelow, commer-
cial director at Duo UK says the environment surrounding plas-
tics has changed in recent years and how a company handles,
uses and disposes of its plastics is a high priority. He adds: 'As
the industry is heading towards utilising a higher percentage of
recycled content and reducing dependency on virgin materials,
these decisions are pivotal for our future success.
What Will drive the automotive
market in 2020?
nearly 80 million vehicles were sold worldwide last year,
according to market analysts. This is a slight dip compared to
the 2018 level, and it is projected to fall by a further 2% this
year. The question is: how will this impact the international car
recycling community?
Many trends are shaping today's automotive scrap market. This
includes not only the recycling of car electronics and batteries
but also 'circular' plastics and the production of lightweight
vehicles. These topics – and many more – will be discussed in
detail at the upcoming Automobile Recycling Congress (IARC
2020) from 11-13 March in Switzerland. A unique bonus for
those attending is that admission to the prestigious Geneva
Motor Show is included in the ticket.
The car industry annually collects:
• 8 million gallons of gasoline and diesel fuel
• 24 million gallons of motor oil
• 8 million gallons of engine coolant
• 5 million gallons of windshield washer fluid
Every year, IARC presents the latest car recycling technologies
while bringing together 250+ decision makers from the end-of-
life vehicle sector. Delegates include vehicle manufacturers,
metal and plastic scrap traders, recyclers, engineers, research-
ers, policy makers etc.
The traditional networking dinner will be held on the first eve-
ning of the conference. The programme also offers two fasci-
nating tours: one to Thévenaz-Leduc in Ecublens-Lausanne, the
other to MTB Recycling in Trept in France. A trade exhibition
will also be an important part of the event.
neW recyclability guidelines to boost
packaging rates
around 85% of paper-based packaging is recycled in Europe ever
year, according to the Confederation of European Paper Industries
(CEPI) which has joined forces with other industry associations to
set out changes to achieve even higher recycling rates.
The future of packaging recycling hinges on making producers and
product designers understand that functionality must go hand-in-
hand with recyclability, according to CEPI, CITPA, ACE, and FEFCO.
Together, they have come up with wide-ranging recommendations
regarding design, material composition, adhesives, inks, chemicals,
consumer information and applications.
'Retailers and brand-owners exploring new fibre-based solutions
want to see their packaging back in the loop after use. With these
guidelines, the paper and board value chain answers what this
means and requires in practice,' says Ulrich Leberle, raw materials
director at CEPI. He hopes the report will prove to be 'a source of
inspiration' for innovation and the introduction of new technolo-
gies.
Proposals include:
• Use only essential non-paper constituents to fulfil the expected
functions of the packaging
• If non-paper constituents are needed, separation of the different
elements should be as easy as possible
• Plastic lamination layers should not readily degenerate or break
into very small pieces in the pulping stage
• Optimise the adhesion between the laminate side and the board
to facilitate separation.
• If functionality allows, use material that is laminated only on one
side
• Ensure the paper fraction of the packaging breaks down into sin-
gle fibres when pulped within a specified time frame
• Give preference to polymers and other sealing agents that can be
removed from the fibre in the conventional screening process
• Give preference to polymers, sealing agents and application pro-
cesses that can be dealt with efficiently by the paper mill process
and effluent water systems and do not compromise the finished
product, the production process or the environment whilst being
recycled.
• Metallic and other inorganic coatings applied via vacuum deposi-
tion shall not hinder the re-pulping process and shall be capable of
being screened out.
Leberle says the recommendations are generally applicable across
Europe although it would be best to collaborate with national
extended producer responsibility schemes and national trade
organisations for targeted markets. Doing so would also help com-
ply with specific national protocols for assessing the recyclability of
packaging, he adds.
44-45_trendsupdates2.indd 45 15-01-20 15:12