Previous editions >>
Subscribe
Page 44 from: Previous editions >>
44 What Will drive the automotive market in 2020? nearly 80 million vehicles were sold worldwide last year, according to market analysts. This is a slight dip compared to the 2018 level, and it is projected to fall by a further 2% this...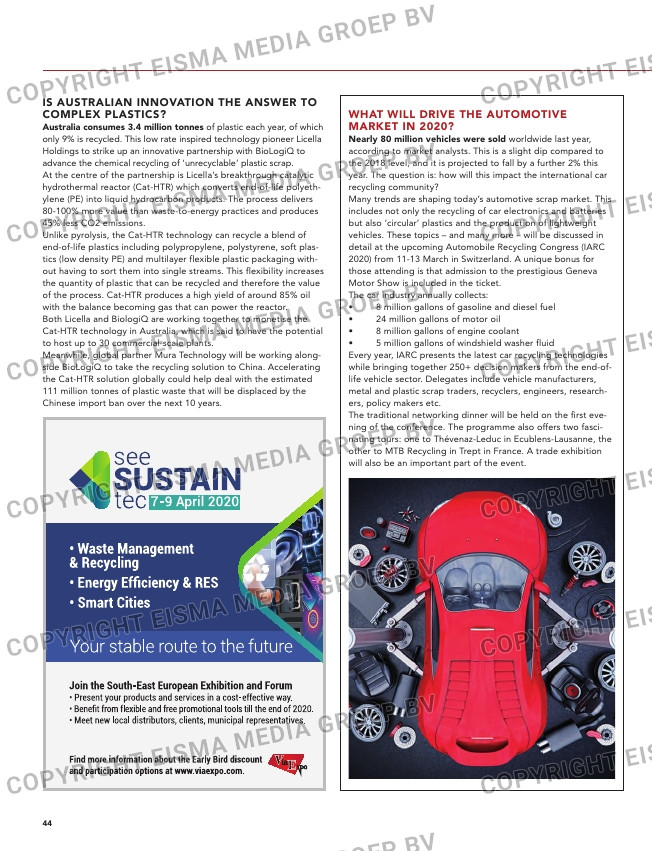 44
What Will drive the automotive
market in 2020?
nearly 80 million vehicles were sold worldwide last year,
according to market analysts. This is a slight dip compared to
the 2018 level, and it is projected to fall by a further 2% this
year. The question is: how will this impact the international car
recycling community?
Many trends are shaping today's automotive scrap market. This
includes not only the recycling of car electronics and batteries
but also 'circular' plastics and the production of lightweight
vehicles. These topics – and many more – will be discussed in
detail at the upcoming Automobile Recycling Congress (IARC
2020) from 11-13 March in Switzerland. A unique bonus for
those attending is that admission to the prestigious Geneva
Motor Show is included in the ticket.
The car industry annually collects:
• 8 million gallons of gasoline and diesel fuel
• 24 million gallons of motor oil
• 8 million gallons of engine coolant
• 5 million gallons of windshield washer fluid
Every year, IARC presents the latest car recycling technologies
while bringing together 250+ decision makers from the end-of-
life vehicle sector. Delegates include vehicle manufacturers,
metal and plastic scrap traders, recyclers, engineers, research-
ers, policy makers etc.
The traditional networking dinner will be held on the first eve-
ning of the conference. The programme also offers two fasci-
nating tours: one to Thévenaz-Leduc in Ecublens-Lausanne, the
other to MTB Recycling in Trept in France. A trade exhibition
will also be an important part of the event.
neW recyclability guidelines to boost
packaging rates
around 85% of paper-based packaging is recycled in Europe ever
year, according to the Confederation of European Paper Industries
(CEPI) which has joined forces with other industry associations to
set out changes to achieve even higher recycling rates.
The future of packaging recycling hinges on making producers and
product designers understand that functionality must go hand-in-
hand with recyclability, according to CEPI, CITPA, ACE, and FEFCO.
Together, they have come up with wide-ranging recommendations
regarding design, material composition, adhesives, inks, chemicals,
consumer information and applications.
'Retailers and brand-owners exploring new fibre-based solutions
want to see their packaging back in the loop after use. With these
guidelines, the paper and board value chain answers what this
means and requires in practice,' says Ulrich Leberle, raw materials
director at CEPI. He hopes the report will prove to be 'a source of
inspiration' for innovation and the introduction of new technolo-
gies.
Proposals include:
• Use only essential non-paper constituents to fulfil the expected
functions of the packaging
• If non-paper constituents are needed, separation of the different
elements should be as easy as possible
• Plastic lamination layers should not readily degenerate or break
into very small pieces in the pulping stage
• Optimise the adhesion between the laminate side and the board
to facilitate separation.
• If functionality allows, use material that is laminated only on one
side
• Ensure the paper fraction of the packaging breaks down into sin-
gle fibres when pulped within a specified time frame
• Give preference to polymers and other sealing agents that can be
removed from the fibre in the conventional screening process
• Give preference to polymers, sealing agents and application pro-
cesses that can be dealt with efficiently by the paper mill process
and effluent water systems and do not compromise the finished
product, the production process or the environment whilst being
recycled.
• Metallic and other inorganic coatings applied via vacuum deposi-
tion shall not hinder the re-pulping process and shall be capable of
being screened out.
Leberle says the recommendations are generally applicable across
Europe although it would be best to collaborate with national
extended producer responsibility schemes and national trade
organisations for targeted markets. Doing so would also help com-
ply with specific national protocols for assessing the recyclability of
packaging, he adds.
is australian innovation the ansWer to
complex plastics?
australia consumes 3.4 million tonnes of plastic each year, of which
only 9% is recycled. This low rate inspired technology pioneer Licella
Holdings to strike up an innovative partnership with BioLogiQ to
advance the chemical recycling of 'unrecyclable' plastic scrap.
At the centre of the partnership is Licella's breakthrough catalytic
hydrothermal reactor (Cat-HTR) which converts end-of-life polyeth-
ylene (PE) into liquid hydrocarbon products. The process delivers
80-100% more value than waste-to-energy practices and produces
45% less CO2 emissions.
Unlike pyrolysis, the Cat-HTR technology can recycle a blend of
end-of-life plastics including polypropylene, polystyrene, soft plas-
tics (low density PE) and multilayer flexible plastic packaging with-
out having to sort them into single streams. This flexibility increases
the quantity of plastic that can be recycled and therefore the value
of the process. Cat-HTR produces a high yield of around 85% oil
with the balance becoming gas that can power the reactor.
Both Licella and BiologiQ are working together to monetise the
Cat-HTR technology in Australia, which is said to have the potential
to host up to 30 commercial-scale plants.
Meanwhile, global partner Mura Technology will be working along-
side BioLogiQ to take the recycling solution to China. Accelerating
the Cat-HTR solution globally could help deal with the estimated
111 million tonnes of plastic waste that will be displaced by the
Chinese import ban over the next 10 years.
44-45_trendsupdates2.indd 44 15-01-20 15:12