Previous editions >>
Subscribe
Page 41 from: Previous editions >>
41 EQUIPMENT SUPPLIER recyclinginternational.com | March/April | 2020 From Russia (and Europe) with love O P M h y d r a u l i c g r a b s OPM Finland has agents in Austria, Germany, Sweden and Norway. 'We would also be inte...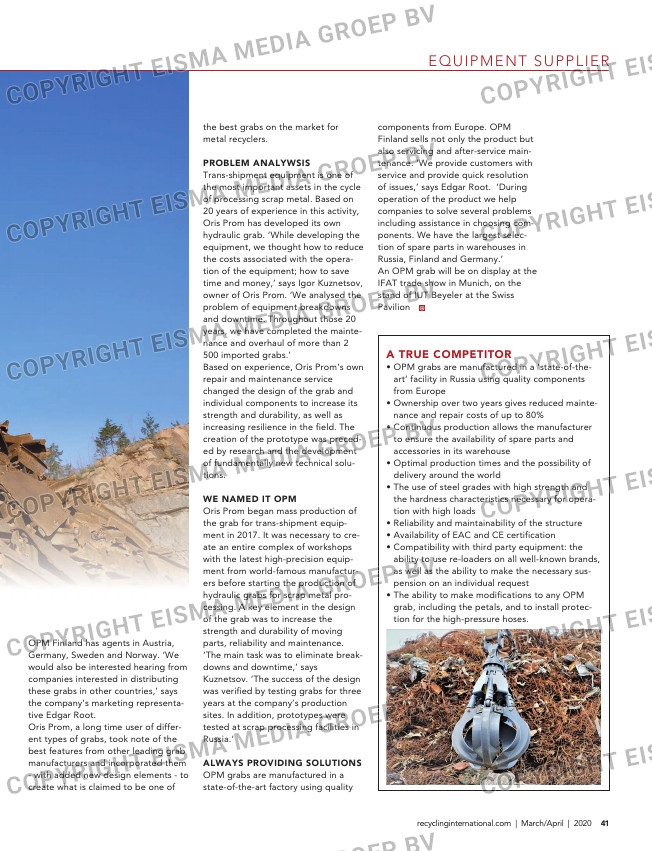 41
EQUIPMENT SUPPLIER
recyclinginternational.com | March/April | 2020
From Russia (and
Europe) with love
O P M h y d r a u l i c g r a b s
OPM Finland has agents in Austria,
Germany, Sweden and Norway. 'We
would also be interested hearing from
companies interested in distributing
these grabs in other countries,' says
the company's marketing representa-
tive Edgar Root.
Oris Prom, a long time user of differ-
ent types of grabs, took note of the
best features from other leading grab
manufacturers and incorporated them
– with added new design elements – to
create what is claimed to be one of
the best grabs on the market for
metal recyclers.
PROBLEM ANALYWSIS
Trans-shipment equipment is one of
the most important assets in the cycle
of processing scrap metal. Based on
20 years of experience in this activity,
Oris Prom has developed its own
hydraulic grab. 'While developing the
equipment, we thought how to reduce
the costs associated with the opera-
tion of the equipment; how to save
time and money,' says Igor Kuznetsov,
owner of Oris Prom. 'We analysed the
problem of equipment breakdowns
and downtime. Throughout those 20
years, we have completed the mainte-
nance and overhaul of more than 2
500 imported grabs.'
Based on experience, Oris Prom's own
repair and maintenance service
changed the design of the grab and
individual components to increase its
strength and durability, as well as
increasing resilience in the field. The
creation of the prototype was preced-
ed by research and the development
of fundamentally new technical solu-
tions.
WE NAMED IT OPM
Oris Prom began mass production of
the grab for trans-shipment equip-
ment in 2017. It was necessary to cre-
ate an entire complex of workshops
with the latest high-precision equip-
ment from world-famous manufactur-
ers before starting the production of
hydraulic grabs for scrap metal pro-
cessing. A key element in the design
of the grab was to increase the
strength and durability of moving
parts, reliability and maintenance.
'The main task was to eliminate break-
downs and downtime,' says
Kuznetsov. 'The success of the design
was verified by testing grabs for three
years at the company's production
sites. In addition, prototypes were
tested at scrap processing facilities in
Russia.'
ALWAYS PROVIDING SOLUTIONS
OPM grabs are manufactured in a
state-of-the-art factory using quality
components from Europe. OPM
Finland sells not only the product but
also servicing and after-service main-
tenance. 'We provide customers with
service and provide quick resolution
of issues,' says Edgar Root. 'During
operation of the product we help
companies to solve several problems
including assistance in choosing com-
ponents. We have the largest selec-
tion of spare parts in warehouses in
Russia, Finland and Germany.'
An OPM grab will be on display at the
IFAT trade show in Munich, on the
stand of IUT Beyeler at the Swiss
Pavilion
A TRUE COMPETITOR
• OPM grabs are manufactured in a 'state-of-the-
art' facility in Russia using quality components
from Europe
• Ownership over two years gives reduced mainte-
nance and repair costs of up to 80%
• Continuous production allows the manufacturer
to ensure the availability of spare parts and
accessories in its warehouse
• Optimal production times and the possibility of
delivery around the world
• The use of steel grades with high strength and
the hardness characteristics necessary for opera-
tion with high loads
• Reliability and maintainability of the structure
• Availability of EAC and CE certification
• Compatibility with third party equipment: the
ability to use re-loaders on all well-known brands,
as well as the ability to make the necessary sus-
pension on an individual request
• The ability to make modifications to any OPM
grab, including the petals, and to install protec-
tion for the high-pressure hoses.
40-41_opmgrabs.indd 41 05-03-20 12:31