Previous editions >>
Subscribe
Page 35 from: Previous editions >>
CONFERENCE REPORT 35recyclinginternational.com | January/February | 2020 specialist at America Chung Nam. 'We will see what happens in the coming six months. I don't doubt there will be another shift in the market,' he says. ...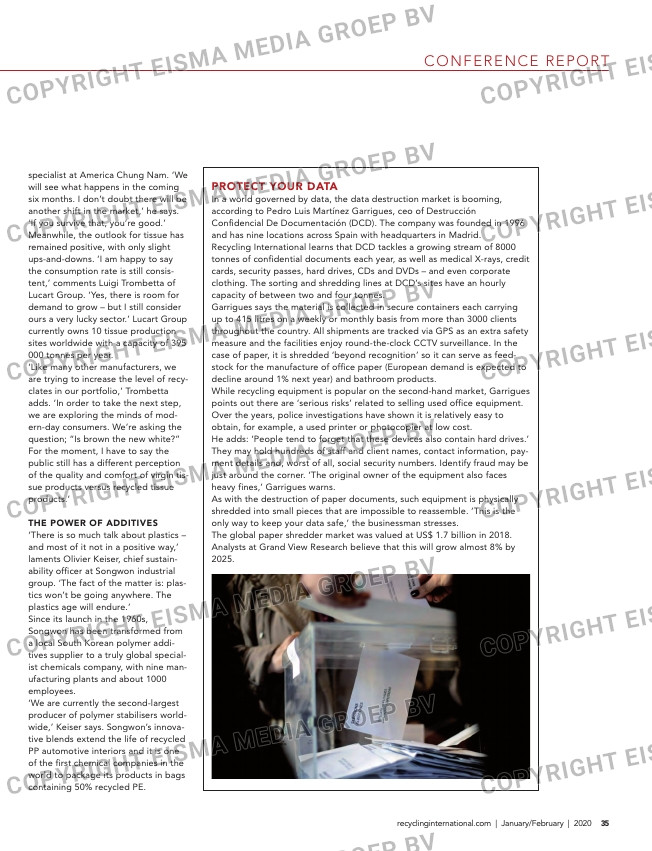 CONFERENCE REPORT
35recyclinginternational.com | January/February | 2020
specialist at America Chung Nam. 'We
will see what happens in the coming
six months. I don't doubt there will be
another shift in the market,' he says.
'If you survive that, you're good.'
Meanwhile, the outlook for tissue has
remained positive, with only slight
ups-and-downs. 'I am happy to say
the consumption rate is still consis-
tent,' comments Luigi Trombetta of
Lucart Group. 'Yes, there is room for
demand to grow – but I still consider
ours a very lucky sector.' Lucart Group
currently owns 10 tissue production
sites worldwide with a capacity of 395
000 tonnes per year.
'Like many other manufacturers, we
are trying to increase the level of recy-
clates in our portfolio,' Trombetta
adds. 'In order to take the next step,
we are exploring the minds of mod-
ern-day consumers. We're asking the
question; "Is brown the new white?"
For the moment, I have to say the
public still has a different perception
of the quality and comfort of virgin tis-
sue products versus recycled tissue
products.'
the poWer oF additives
'There is so much talk about plastics –
and most of it not in a positive way,'
laments Olivier Keiser, chief sustain-
ability officer at Songwon industrial
group. 'The fact of the matter is: plas-
tics won't be going anywhere. The
plastics age will endure.'
Since its launch in the 1960s,
Songwon has been transformed from
a local South Korean polymer addi-
tives supplier to a truly global special-
ist chemicals company, with nine man-
ufacturing plants and about 1000
employees.
'We are currently the second-largest
producer of polymer stabilisers world-
wide,' Keiser says. Songwon's innova-
tive blends extend the life of recycled
PP automotive interiors and it is one
of the first chemical companies in the
world to package its products in bags
containing 50% recycled PE.
Fotobijschrift
KaderKop
??
protect your data
In a world governed by data, the data destruction market is booming,
according to Pedro Luis Martínez Garrigues, ceo of Destrucción
Confidencial De Documentación (DCD). The company was founded in 1996
and has nine locations across Spain with headquarters in Madrid.
Recycling International learns that DCD tackles a growing stream of 8000
tonnes of confidential documents each year, as well as medical X-rays, credit
cards, security passes, hard drives, CDs and DVDs – and even corporate
clothing. The sorting and shredding lines at DCD's sites have an hourly
capacity of between two and four tonnes.
Garrigues says the material is collected in secure containers each carrying
up to 415 litres on a weekly or monthly basis from more than 3000 clients
throughout the country. All shipments are tracked via GPS as an extra safety
measure and the facilities enjoy round-the-clock CCTV surveillance. In the
case of paper, it is shredded 'beyond recognition' so it can serve as feed-
stock for the manufacture of office paper (European demand is expected to
decline around 1% next year) and bathroom products.
While recycling equipment is popular on the second-hand market, Garrigues
points out there are 'serious risks' related to selling used office equipment.
Over the years, police investigations have shown it is relatively easy to
obtain, for example, a used printer or photocopier at low cost.
He adds: 'People tend to forget that these devices also contain hard drives.'
They may hold hundreds of staff and client names, contact information, pay-
ment details and, worst of all, social security numbers. Identify fraud may be
just around the corner. 'The original owner of the equipment also faces
heavy fines,' Garrigues warns.
As with the destruction of paper documents, such equipment is physically
shredded into small pieces that are impossible to reassemble. 'This is the
only way to keep your data safe,' the businessman stresses.
The global paper shredder market was valued at US$ 1.7 billion in 2018.
Analysts at Grand View Research believe that this will grow almost 8% by
2025.
34-35-36-37_showreport-paperplastics.indd 35 15-01-20 14:27