Previous editions >>
Subscribe
Page 29 from: Previous editions >>
PLASTICS 29recyclinginternational.com | March/April | 2020 me a long time to get used to the weather and the food. I had to start cooking for myself and not many 17-year-olds in China cook for them- selves. Everyone was new and I ...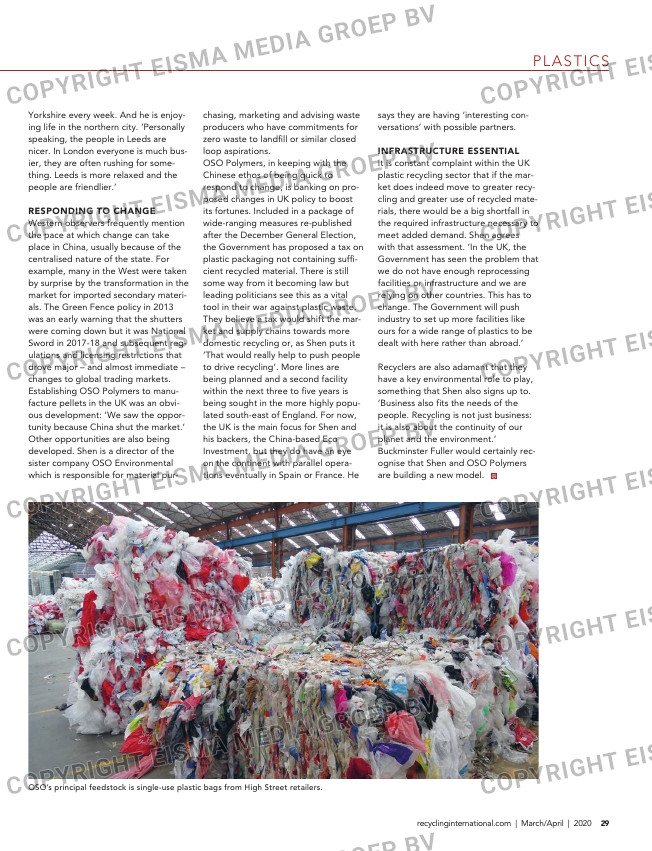 PLASTICS
29recyclinginternational.com | March/April | 2020
me a long time to get used to the
weather and the food. I had to start
cooking for myself and not many
17-year-olds in China cook for them-
selves. Everyone was new and I didn't
know that many people. Speaking
English then was a real challenge.'
Since graduating, he has worked within
the recycling industry, dealing with
sales of secondary materials such as
plastic scrap from the UK to China. He
still lives in London and commutes to
Yorkshire every week. And he is enjoy-
ing life in the northern city. 'Personally
speaking, the people in Leeds are
nicer. In London everyone is much bus-
ier, they are often rushing for some-
thing. Leeds is more relaxed and the
people are friendlier.'
RESPONDING TO CHANGE
Western observers frequently mention
the pace at which change can take
place in China, usually because of the
centralised nature of the state. For
example, many in the West were taken
by surprise by the transformation in the
market for imported secondary materi-
als. The Green Fence policy in 2013
was an early warning that the shutters
were coming down but it was National
Sword in 2017-18 and subsequent reg-
ulations and licensing restrictions that
drove major – and almost immediate –
changes to global trading markets.
Establishing OSO Polymers to manu-
facture pellets in the UK was an obvi-
ous development: 'We saw the oppor-
tunity because China shut the market.'
Other opportunities are also being
developed. Shen is a director of the
sister company OSO Environmental
which is responsible for material pur-
chasing, marketing and advising waste
producers who have commitments for
zero waste to landfill or similar closed
loop aspirations.
OSO Polymers, in keeping with the
Chinese ethos of being quick to
respond to change, is banking on pro-
posed changes in UK policy to boost
its fortunes. Included in a package of
wide-ranging measures re-published
after the December General Election,
the Government has proposed a tax on
plastic packaging not containing suffi-
cient recycled material. There is still
some way from it becoming law but
leading politicians see this as a vital
tool in their war against plastic waste.
They believe a tax would shift the mar-
ket and supply chains towards more
domestic recycling or, as Shen puts it
'That would really help to push people
to drive recycling'. More lines are
being planned and a second facility
within the next three to five years is
being sought in the more highly popu-
lated south-east of England. For now,
the UK is the main focus for Shen and
his backers, the China-based Eco
Investment, but they do have an eye
on the continent with parallel opera-
tions eventually in Spain or France. He
says they are having 'interesting con-
versations' with possible partners.
INFRASTRUCTURE ESSENTIAL
It is constant complaint within the UK
plastic recycling sector that if the mar-
ket does indeed move to greater recy-
cling and greater use of recycled mate-
rials, there would be a big shortfall in
the required infrastructure necessary to
meet added demand. Shen agrees
with that assessment. 'In the UK, the
Government has seen the problem that
we do not have enough reprocessing
facilities or infrastructure and we are
relying on other countries. This has to
change. The Government will push
industry to set up more facilities like
ours for a wide range of plastics to be
dealt with here rather than abroad.'
Recyclers are also adamant that they
have a key environmental role to play,
something that Shen also signs up to.
'Business also fits the needs of the
people. Recycling is not just business:
it is also about the continuity of our
planet and the environment.'
Buckminster Fuller would certainly rec-
ognise that Shen and OSO Polymers
are building a new model.
OSO's principal feedstock is single-use plastic bags from High Street retailers.It takes eight people per shift to maintain a round-the-clock operation.
The company is looking to sell at least 50% of its output within the UK.
26-27-28-29_osochineseukplasticsproject.indd 29 05-03-20 12:27