Previous editions >>
Subscribe
Page 29 from: Previous editions >>
PLASTICS 29recyclinginternational.com | January/February | 2020 vinyl chloride monomer is polymerised in water and additives. Polymerisation takes place in a series of reactors, dis- tributed along four production lines. 'We have...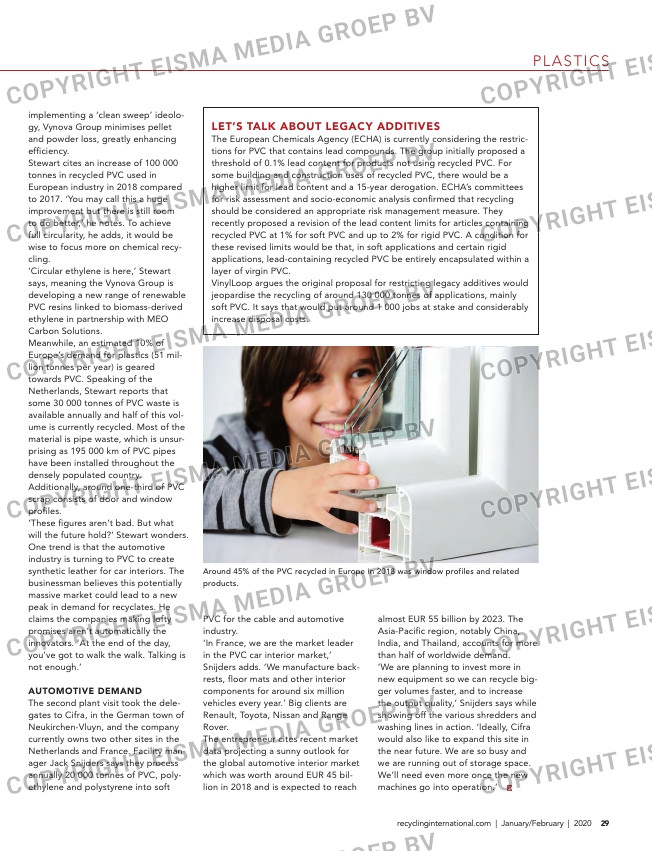 PLASTICS
29recyclinginternational.com | January/February | 2020
vinyl chloride monomer is polymerised
in water and additives. Polymerisation
takes place in a series of reactors, dis-
tributed along four production lines.
'We have a production capacity of 225
000 tonnes per year,' says company
vice president Jonathan Stewart. By
implementing a 'clean sweep' ideolo-
gy, Vynova Group minimises pellet
and powder loss, greatly enhancing
efficiency.
Stewart cites an increase of 100 000
tonnes in recycled PVC used in
European industry in 2018 compared
to 2017. 'You may call this a huge
improvement but there is still room
to do better,' he notes. To achieve
full circularity, he adds, it would be
wise to focus more on chemical recy-
cling.
'Circular ethylene is here,' Stewart
says, meaning the Vynova Group is
developing a new range of renewable
PVC resins linked to biomass-derived
ethylene in partnership with MEO
Carbon Solutions.
Meanwhile, an estimated 10% of
Europe's demand for plastics (51 mil-
lion tonnes per year) is geared
towards PVC. Speaking of the
Netherlands, Stewart reports that
some 30 000 tonnes of PVC waste is
available annually and half of this vol-
ume is currently recycled. Most of the
material is pipe waste, which is unsur-
prising as 195 000 km of PVC pipes
have been installed throughout the
densely populated country.
Additionally, around one-third of PVC
scrap consists of door and window
profiles.
'These figures aren't bad. But what
will the future hold?' Stewart wonders.
One trend is that the automotive
industry is turning to PVC to create
synthetic leather for car interiors. The
businessman believes this potentially
massive market could lead to a new
peak in demand for recyclates. He
claims the companies making lofty
promises aren't automatically the
innovators. 'At the end of the day,
you've got to walk the walk. Talking is
not enough.'
automotiVe demand
The second plant visit took the dele-
gates to Cifra, in the German town of
Neukirchen-Vluyn, and the company
currently owns two other sites in the
Netherlands and France. Facility man-
ager Jack Snijders says they process
annually 20 000 tonnes of PVC, poly-
ethylene and polystyrene into soft
PVC for the cable and automotive
industry.
'In France, we are the market leader
in the PVC car interior market,'
Snijders adds. 'We manufacture back-
rests, floor mats and other interior
components for around six million
vehicles every year.' Big clients are
Renault, Toyota, Nissan and Range
Rover.
The entrepreneur cites recent market
data projecting a sunny outlook for
the global automotive interior market
which was worth around EUR 45 bil-
lion in 2018 and is expected to reach
almost EUR 55 billion by 2023. The
Asia-Pacific region, notably China,
India, and Thailand, accounts for more
than half of worldwide demand.
'We are planning to invest more in
new equipment so we can recycle big-
ger volumes faster, and to increase
the output quality,' Snijders says while
showing off the various shredders and
washing lines in action. 'Ideally, Cifra
would also like to expand this site in
the near future. We are so busy and
we are running out of storage space.
We'll need even more once the new
machines go into operation.'
let's talK about legaCy additiVes
The European Chemicals Agency (ECHA) is currently considering the restric-
tions for PVC that contains lead compounds. The group initially proposed a
threshold of 0.1% lead content for products not using recycled PVC. For
some building and construction uses of recycled PVC, there would be a
higher limit for lead content and a 15-year derogation. ECHA's committees
for risk assessment and socio-economic analysis confirmed that recycling
should be considered an appropriate risk management measure. They
recently proposed a revision of the lead content limits for articles containing
recycled PVC at 1% for soft PVC and up to 2% for rigid PVC. A condition for
these revised limits would be that, in soft applications and certain rigid
applications, lead-containing recycled PVC be entirely encapsulated within a
layer of virgin PVC.
VinylLoop argues the original proposal for restricting legacy additives would
jeopardise the recycling of around 130 000 tonnes of applications, mainly
soft PVC. It says that would put around 1 000 jobs at stake and considerably
increase disposal costs.
Vynova Group's vice president Jonathan Stewart (pictured left) is happy to give a plant tour.
Around 45% of the PVC recycled in Europe in 2018 was window profiles and related
products.
26-27-28-29_vinylplusfieldtrip.indd 29 15-01-20 15:32