Previous editions >>
Subscribe
Page 26 from: Previous editions >>
26 Sunny side up for PVC recyclers When the recycling of plastics is considered, little of the spotlight is shone on polyvinyl chloride (PVC). But industry players are eager to point out that this niche market presents a solid busines...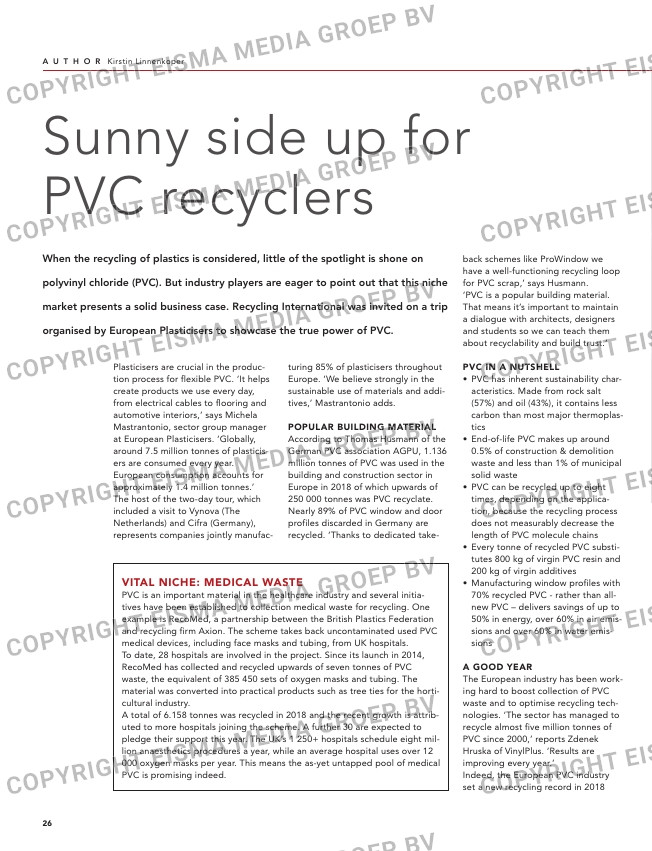 26
Sunny side up for
PVC recyclers
When the recycling of plastics is considered, little of the spotlight is shone on
polyvinyl chloride (PVC). But industry players are eager to point out that this niche
market presents a solid business case. Recycling International was invited on a trip
organised by European Plasticisers to showcase the true power of PVC.
when it processed nearly 740 000
tonnes. 'This is over 92% of the target
VinylPlus has set for 2020,' Hruska
adds. Recovinyl is a leader in this sec-
tor, contributing more than 734 500
tonnes of recycled PVC. Europe's suc-
cess is partly thanks to big organisa-
tions like VinylPlus investing upwards
of EUR 2.5 million per annum in R&D
projects looking to advance PVC recy-
cling technologies.
In terms of applications, around 70%
of demand comes from the building
and construction sector. Of the recy-
cled PVC in 2018, around 45% was
window profiles and related products,
with flexible and films (including roof-
ing and flooring) making up 30%,
cables some 20% and pipes and fit-
tings about 5%. Since 2005, the vol-
ume of window profiles has steadily
increased and, for the last few years,
Plasticisers are crucial in the produc-
tion process for flexible PVC. 'It helps
create products we use every day,
from electrical cables to flooring and
automotive interiors,' says Michela
Mastrantonio, sector group manager
at European Plasticisers. 'Globally,
around 7.5 million tonnes of plasticis-
ers are consumed every year.
European consumption accounts for
approximately 1.4 million tonnes.'
The host of the two-day tour, which
included a visit to Vynova (The
Netherlands) and Cifra (Germany),
represents companies jointly manufac-
turing 85% of plasticisers throughout
Europe. 'We believe strongly in the
sustainable use of materials and addi-
tives,' Mastrantonio adds.
PoPular building material
According to Thomas Husmann of the
German PVC association AGPU, 1.136
million tonnes of PVC was used in the
building and construction sector in
Europe in 2018 of which upwards of
250 000 tonnes was PVC recyclate.
Nearly 89% of PVC window and door
profiles discarded in Germany are
recycled. 'Thanks to dedicated take-
back schemes like ProWindow we
have a well-functioning recycling loop
for PVC scrap,' says Husmann.
'PVC is a popular building material.
That means it's important to maintain
a dialogue with architects, designers
and students so we can teach them
about recyclability and build trust.'
PVC in a nutshell
• PVC has inherent sustainability char-
acteristics. Made from rock salt
(57%) and oil (43%), it contains less
carbon than most major thermoplas-
tics
• End-of-life PVC makes up around
0.5% of construction & demolition
waste and less than 1% of municipal
solid waste
• PVC can be recycled up to eight
times, depending on the applica-
tion, because the recycling process
does not measurably decrease the
length of PVC molecule chains
• Every tonne of recycled PVC substi-
tutes 800 kg of virgin PVC resin and
200 kg of virgin additives
• Manufacturing window profiles with
70% recycled PVC – rather than all-
new PVC – delivers savings of up to
50% in energy, over 60% in air emis-
sions and over 60% in water emis-
sions
a good year
The European industry has been work-
ing hard to boost collection of PVC
waste and to optimise recycling tech-
nologies. 'The sector has managed to
recycle almost five million tonnes of
PVC since 2000,' reports Zdenek
Hruska of VinylPlus. 'Results are
improving every year.'
Indeed, the European PVC industry
set a new recycling record in 2018
Vital niChe: mediCal waste
PVC is an important material in the healthcare industry and several initia-
tives have been established to collection medical waste for recycling. One
example is RecoMed, a partnership between the British Plastics Federation
and recycling firm Axion. The scheme takes back uncontaminated used PVC
medical devices, including face masks and tubing, from UK hospitals.
To date, 28 hospitals are involved in the project. Since its launch in 2014,
RecoMed has collected and recycled upwards of seven tonnes of PVC
waste, the equivalent of 385 450 sets of oxygen masks and tubing. The
material was converted into practical products such as tree ties for the horti-
cultural industry.
A total of 6.158 tonnes was recycled in 2018 and the recent growth is attrib-
uted to more hospitals joining the scheme. A further 30 are expected to
pledge their support this year. The UK's 1 250+ hospitals schedule eight mil-
lion anaesthetics procedures a year, while an average hospital uses over 12
000 oxygen masks per year. This means the as-yet untapped pool of medical
PVC is promising indeed.
a u t h o R Kirstin Linnenkoper
26-27-28-29_vinylplusfieldtrip.indd 26 15-01-20 15:32