Previous editions >>
Subscribe
Page 24 from: Previous editions >>
24 ERI's John Shegerian: 'We will continue to work with other large cities to make e-scrap recycling more accessible.' landfills rather than being recycled close to home. Despite New York's ambition to reduce shipments across t...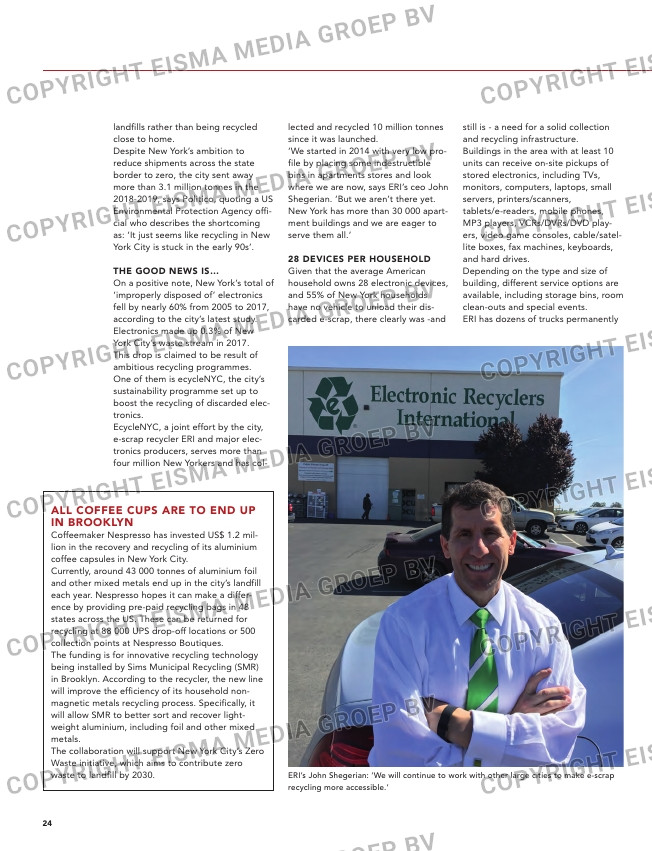 24
ERI's John Shegerian: 'We will continue to work with other large cities to make e-scrap
recycling more accessible.'
landfills rather than being recycled
close to home.
Despite New York's ambition to
reduce shipments across the state
border to zero, the city sent away
more than 3.1 million tonnes in the
2018-2019, says Politico, quoting a US
Environmental Protection Agency offi-
cial who describes the shortcoming
as: 'It just seems like recycling in New
York City is stuck in the early 90s'.
THE GooD NEWS IS…
On a positive note, New York's total of
'improperly disposed of' electronics
fell by nearly 60% from 2005 to 2017,
according to the city's latest study.
Electronics made up 0.3% of New
York City's waste stream in 2017.
This drop is claimed to be result of
ambitious recycling programmes.
One of them is ecycleNYC, the city's
sustainability programme set up to
boost the recycling of discarded elec-
tronics.
EcycleNYC, a joint effort by the city,
e-scrap recycler ERI and major elec-
tronics producers, serves more than
four million New Yorkers and has col-
All coffEE cupS ARE To END up
IN BRooKlYN
Coffeemaker Nespresso has invested US$ 1.2 mil-
lion in the recovery and recycling of its aluminium
coffee capsules in New York City.
Currently, around 43 000 tonnes of aluminium foil
and other mixed metals end up in the city's landfill
each year. Nespresso hopes it can make a differ-
ence by providing pre-paid recycling bags in 48
states across the US. These can be returned for
recycling at 88 000 UPS drop-off locations or 500
collection points at Nespresso Boutiques.
The funding is for innovative recycling technology
being installed by Sims Municipal Recycling (SMR)
in Brooklyn. According to the recycler, the new line
will improve the efficiency of its household non-
magnetic metals recycling process. Specifically, it
will allow SMR to better sort and recover light-
weight aluminium, including foil and other mixed
metals.
The collaboration will support New York City's Zero
Waste initiative, which aims to contribute zero
waste to landfill by 2030.
lected and recycled 10 million tonnes
since it was launched.
'We started in 2014 with very low pro-
file by placing some indestructible
bins in apartments stores and look
where we are now, says ERI's ceo John
Shegerian. 'But we aren't there yet.
New York has more than 30 000 apart-
ment buildings and we are eager to
serve them all.'
28 DEVIcES pER HouSEHolD
Given that the average American
household owns 28 electronic devices,
and 55% of New York households
have no vehicle to unload their dis-
carded e-scrap, there clearly was -and
still is – a need for a solid collection
and recycling infrastructure.
Buildings in the area with at least 10
units can receive on-site pickups of
stored electronics, including TVs,
monitors, computers, laptops, small
servers, printers/scanners,
tablets/e-readers, mobile phones,
MP3 players, VCRs/DVRs/DVD play-
ers, video game consoles, cable/satel-
lite boxes, fax machines, keyboards,
and hard drives.
Depending on the type and size of
building, different service options are
available, including storage bins, room
clean-outs and special events.
ERI has dozens of trucks permanently
on the road in Manhattan for on-site
pick-up. The company has also started
using mobile shredding trucks to pro-
cess on the move.
cHASING E-ScRAp fRoM coAST
To coAST
ERI's electronics collection and recy-
cling programme for New York is
now being rolled out to other major
cities across the US. Shegerian adds:
'We will continue to work with other
large cities to replicate the pro-
gramme's success as part of its goal to
make e-scrap recycling more accessi-
ble'.
SIMS' MoNSTER fAcIlITY
For another good example of New
York City's best practice in recycling,
one has to cross the Manhattan
Bridge to the Brooklyn waterfront
where in 2014 Sims Municipal
Recycling opened its US$ 110 million
(EUR 100 million) material recycling
facility (MRF), at that time said to be
the largest in the US.
The project is a key part of former
mayor Michael Bloomberg's goal cam-
paign for a 'greener, greater New
York'.
Developed as part of a long-term con-
tract between Sims and the city's sani-
tation department, the plant is the
principal processing facility for all of
the metal, glass and plastic collected
from the city's kerbside.
The facility has the capacity to process
1 500 tonnes of material daily, ship-
ping sorted commodities to markets
around the world.
BuIlT oN REcYclED, SolID
GRouND
Construction of the 45 000 m2 facility
is an exciting recycling story at itself.
SMR worked with geotechnical engi-
neers to develop a strong structure
using rock recovered from the city's
tunnelling projects mixed with recy-
cled glass aggregate. More than 5 000
tonnes of glass were blended with 20
000 tonnes of rock to elevate sections
of the site by four feet, protecting
buildings and equipment against sea
level rise and storms.
22-23-24-25_coverstory.indd 24 15-01-20 14:17