Previous editions >>
Subscribe
Page 21 from: Previous editions >>
ELECTRONICS 21recyclinginternational.com | January/February | 2020 ber of devices sold since 2010 is con- siderable at roughly 91 million. 'This means a lot of devices have reached, and are approaching, the end-of-life stage,' ...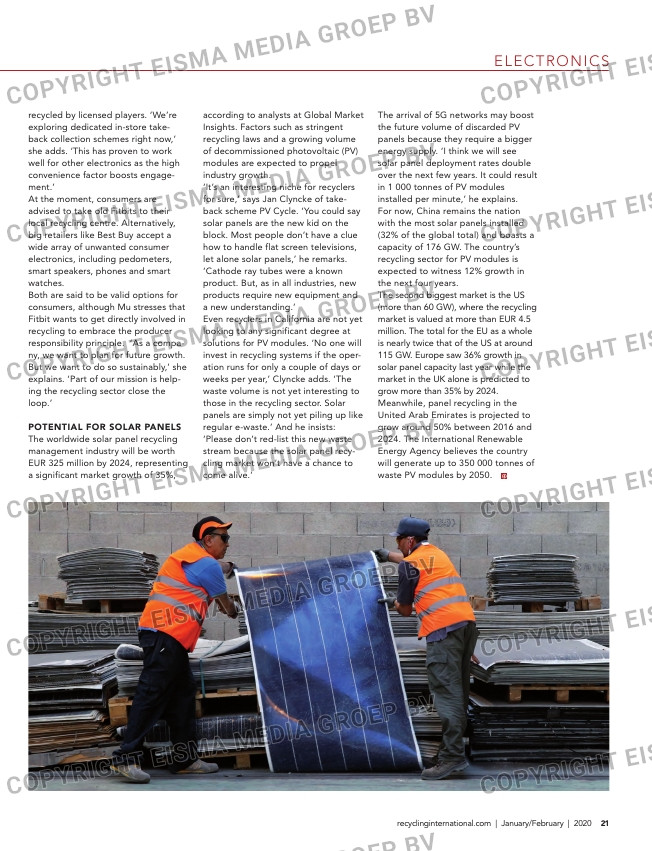 ELECTRONICS
21recyclinginternational.com | January/February | 2020
ber of devices sold since 2010 is con-
siderable at roughly 91 million.
'This means a lot of devices have
reached, and are approaching, the
end-of-life stage,' says Mu. 'The
steady volume of wearables makes
them an interesting recycling stream.
We are trying to figure out what is the
best way to collect them for recycling
and what are the best recycling
options nationwide.'
She points out that consumers have
voiced data protection concerns.
Fitbit also wants to guarantee that
that every device is refurbished or
recycled by licensed players. 'We're
exploring dedicated in-store take-
back collection schemes right now,'
she adds. 'This has proven to work
well for other electronics as the high
convenience factor boosts engage-
ment.'
At the moment, consumers are
advised to take old Fitbits to their
local recycling centre. Alternatively,
big retailers like Best Buy accept a
wide array of unwanted consumer
electronics, including pedometers,
smart speakers, phones and smart
watches.
Both are said to be valid options for
consumers, although Mu stresses that
Fitbit wants to get directly involved in
recycling to embrace the producer
responsibility principle. 'As a compa-
ny, we want to plan for future growth.
But we want to do so sustainably,' she
explains. 'Part of our mission is help-
ing the recycling sector close the
loop.'
potentiAl for solAr pAnels
The worldwide solar panel recycling
management industry will be worth
EUR 325 million by 2024, representing
a significant market growth of 35%,
according to analysts at Global Market
Insights. Factors such as stringent
recycling laws and a growing volume
of decommissioned photovoltaic (PV)
modules are expected to propel
industry growth.
'It's an interesting niche for recyclers
for sure,' says Jan Clyncke of take-
back scheme PV Cycle. 'You could say
solar panels are the new kid on the
block. Most people don't have a clue
how to handle flat screen televisions,
let alone solar panels,' he remarks.
'Cathode ray tubes were a known
product. But, as in all industries, new
products require new equipment and
a new understanding.'
Even recyclers in California are not yet
looking to any significant degree at
solutions for PV modules. 'No one will
invest in recycling systems if the oper-
ation runs for only a couple of days or
weeks per year,' Clyncke adds. 'The
waste volume is not yet interesting to
those in the recycling sector. Solar
panels are simply not yet piling up like
regular e-waste.' And he insists:
'Please don't red-list this new waste
stream because the solar panel recy-
cling market won't have a chance to
come alive.'
The arrival of 5G networks may boost
the future volume of discarded PV
panels because they require a bigger
energy supply. 'I think we will see
solar panel deployment rates double
over the next few years. It could result
in 1 000 tonnes of PV modules
installed per minute,' he explains.
For now, China remains the nation
with the most solar panels installed
(32% of the global total) and boasts a
capacity of 176 GW. The country's
recycling sector for PV modules is
expected to witness 12% growth in
the next four years.
The second biggest market is the US
(more than 60 GW), where the recycling
market is valued at more than EUR 4.5
million. The total for the EU as a whole
is nearly twice that of the US at around
115 GW. Europe saw 36% growth in
solar panel capacity last year while the
market in the UK alone is predicted to
grow more than 35% by 2024.
Meanwhile, panel recycling in the
United Arab Emirates is projected to
grow around 50% between 2016 and
2024. The International Renewable
Energy Agency believes the country
will generate up to 350 000 tonnes of
waste PV modules by 2050.
Johanna Emmerich.
16-17-18-19-20-21_escrap-frankfurt.indd 21 15-01-20 14:25