Previous editions >>
Subscribe
Page 20 from: Previous editions >>
20 SHIP DISMANTLING Convention. 'Most of them are within the EU. One is in the US and six are in Turkey. There are 30 pending applica- tions, 20 of which are sites in India,' Koller says. Even so, of almost 700 end-of-life ships ...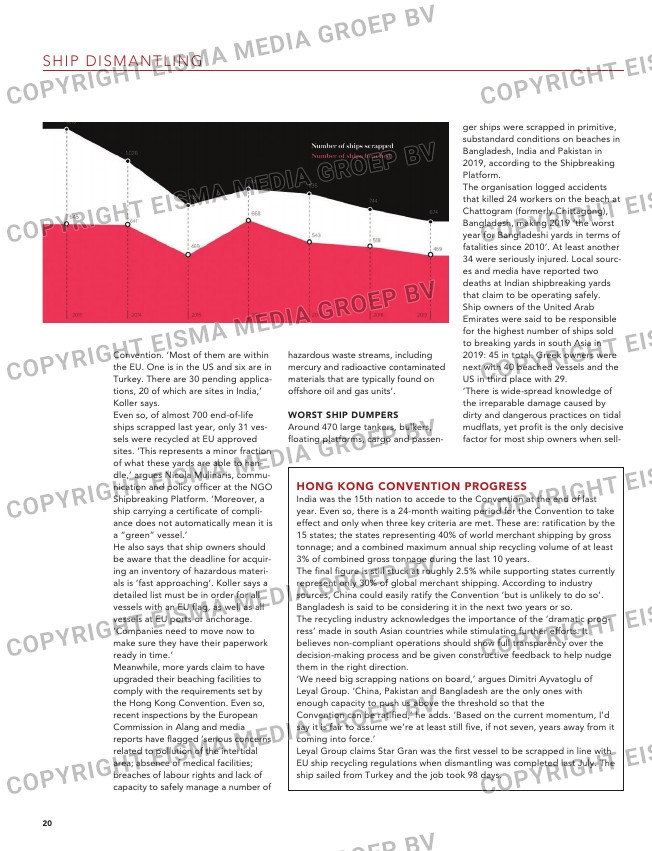 20
SHIP DISMANTLING
Convention. 'Most of them are within
the EU. One is in the US and six are in
Turkey. There are 30 pending applica-
tions, 20 of which are sites in India,'
Koller says.
Even so, of almost 700 end-of-life
ships scrapped last year, only 31 ves-
sels were recycled at EU approved
sites. 'This represents a minor fraction
of what these yards are able to han-
dle,' argues Nicola Mulinaris, commu-
nication and policy officer at the NGO
Shipbreaking Platform. 'Moreover, a
ship carrying a certificate of compli-
ance does not automatically mean it is
a "green" vessel.'
He also says that ship owners should
be aware that the deadline for acquir-
ing an inventory of hazardous materi-
als is 'fast approaching'. Koller says a
detailed list must be in order for all
vessels with an EU flag, as well as all
vessels at EU ports or anchorage.
'Companies need to move now to
make sure they have their paperwork
ready in time.'
Meanwhile, more yards claim to have
upgraded their beaching facilities to
comply with the requirements set by
the Hong Kong Convention. Even so,
recent inspections by the European
Commission in Alang and media
reports have flagged 'serious concerns
related to pollution of the intertidal
area; absence of medical facilities;
breaches of labour rights and lack of
capacity to safely manage a number of
hazardous waste streams, including
mercury and radioactive contaminated
materials that are typically found on
offshore oil and gas units'.
WORST SHIP DUMPERS
Around 470 large tankers, bulkers,
floating platforms, cargo and passen-
ger ships were scrapped in primitive,
substandard conditions on beaches in
Bangladesh, India and Pakistan in
2019, according to the Shipbreaking
Platform.
The organisation logged accidents
that killed 24 workers on the beach at
Chattogram (formerly Chittagong),
Bangladesh, making 2019 'the worst
year for Bangladeshi yards in terms of
fatalities since 2010'. At least another
34 were seriously injured. Local sourc-
es and media have reported two
deaths at Indian shipbreaking yards
that claim to be operating safely.
Ship owners of the United Arab
Emirates were said to be responsible
for the highest number of ships sold
to breaking yards in south Asia in
2019: 45 in total. Greek owners were
next with 40 beached vessels and the
US in third place with 29.
'There is wide-spread knowledge of
the irreparable damage caused by
dirty and dangerous practices on tidal
mudflats, yet profit is the only decisive
factor for most ship owners when sell-
HONG KONG CONVENTION PROGRESS
India was the 15th nation to accede to the Convention at the end of last
year. Even so, there is a 24-month waiting period for the Convention to take
effect and only when three key criteria are met. These are: ratification by the
15 states; the states representing 40% of world merchant shipping by gross
tonnage; and a combined maximum annual ship recycling volume of at least
3% of combined gross tonnage during the last 10 years.
The final figure is still stuck at roughly 2.5% while supporting states currently
represent only 30% of global merchant shipping. According to industry
sources, China could easily ratify the Convention 'but is unlikely to do so'.
Bangladesh is said to be considering it in the next two years or so.
The recycling industry acknowledges the importance of the 'dramatic prog-
ress' made in south Asian countries while stimulating further efforts. It
believes non-compliant operations should show full transparency over the
decision-making process and be given constructive feedback to help nudge
them in the right direction.
'We need big scrapping nations on board,' argues Dimitri Ayvatoglu of
Leyal Group. 'China, Pakistan and Bangladesh are the only ones with
enough capacity to push us above the threshold so that the
Convention can be ratified,' he adds. 'Based on the current momentum, I'd
say it is fair to assume we're at least still five, if not seven, years away from it
coming into force.'
Leyal Group claims Star Gran was the first vessel to be scrapped in line with
EU ship recycling regulations when dismantling was completed last July. The
ship sailed from Turkey and the job took 98 days.
18-19-20-22-23_shiprecyclingupdate.indd 20 05-03-20 12:25