Previous editions >>
Subscribe
Page 12 from: Previous editions >>
12 PRODUCERS SET UP E-SCRAP PLASTICS SITE IN RIGA Recipo, the leading producer responsibility scheme for electronics in the Nordic Region, has opened its own recycling plant in Latvia. The new site recycles e-scrap plastics to be used ...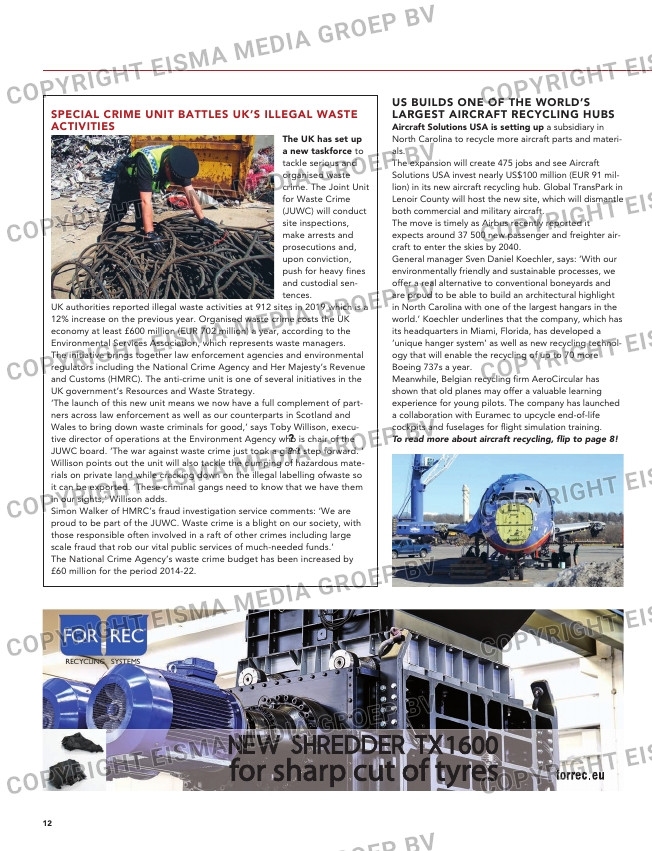 12
PRODUCERS SET UP E-SCRAP PLASTICS
SITE IN RIGA
Recipo, the leading producer responsibility scheme
for electronics in the Nordic Region, has opened its own
recycling plant in Latvia. The new site recycles e-scrap
plastics to be used in new electronic products.
Recipo Material is in Riga and is described as a purpose-
built recycling plant for e-scrap plastics. The factory will
handle over 20 000 tonnes of material per year, mostly
coming from Scandinavia and surrounding countries,
transforming it into plastic pellets.
Recipo members say they hope to set an example by
providing a dedicated European recycling solution for
this niche type of plastic. The organisation notes that
Europe currently has the capacity to recycle only 25% of
its electronic plastics and it is confident the new facility
will substantially increase this percentage.
'Recycling European waste on European soil will ensure
that producers can have better control of their prod-
uct's entire life cycle and environmental impact,' says
Recipo ceo Josef Tapper. 'Consumers and Governments
are demanding an ever higher post-consumer account-
ability, and Recipo will now be able to work directly with
SPECIAL CRIME UNIT BATTLES UK'S ILLEGAL WASTE
ACTIVITIES
The UK has set up
a new taskforce to
tackle serious and
organised waste
crime. The Joint Unit
for Waste Crime
(JUWC) will conduct
site inspections,
make arrests and
prosecutions and,
upon conviction,
push for heavy fines
and custodial sen-
tences.
UK authorities reported illegal waste activities at 912 sites in 2019 which is a
12% increase on the previous year. Organised waste crime costs the UK
economy at least £600 million (EUR 702 million) a year, according to the
Environmental Services Association, which represents waste managers.
The initiative brings together law enforcement agencies and environmental
regulators including the National Crime Agency and Her Majesty's Revenue
and Customs (HMRC). The anti-crime unit is one of several initiatives in the
UK government's Resources and Waste Strategy.
'The launch of this new unit means we now have a full complement of part-
ners across law enforcement as well as our counterparts in Scotland and
Wales to bring down waste criminals for good,' says Toby Willison, execu-
tive director of operations at the Environment Agency who is chair of the
JUWC board. 'The war against waste crime just took a giant step forward. '
Willison points out the unit will also tackle the dumping of hazardous mate-
rials on private land while cracking down on the illegal labelling ofwaste so
it can be exported. 'These criminal gangs need to know that we have them
in our sights,' Willison adds.
Simon Walker of HMRC's fraud investigation service comments: 'We are
proud to be part of the JUWC. Waste crime is a blight on our society, with
those responsible often involved in a raft of other crimes including large
scale fraud that rob our vital public services of much-needed funds.'
The National Crime Agency's waste crime budget has been increased by
£60 million for the period 2014-22.
?
? ?
US BUILDS ONE OF THE WORLD'S
LARGEST AIRCRAFT RECYCLING HUBS
Aircraft Solutions USA is setting up a subsidiary in
North Carolina to recycle more aircraft parts and materi-
als.
The expansion will create 475 jobs and see Aircraft
Solutions USA invest nearly US$100 million (EUR 91 mil-
lion) in its new aircraft recycling hub. Global TransPark in
Lenoir County will host the new site, which will dismantle
both commercial and military aircraft.
The move is timely as Airbus recently reported it
expects around 37 500 new passenger and freighter air-
craft to enter the skies by 2040.
General manager Sven Daniel Koechler, says: 'With our
environmentally friendly and sustainable processes, we
offer a real alternative to conventional boneyards and
are proud to be able to build an architectural highlight
in North Carolina with one of the largest hangars in the
world.' Koechler underlines that the company, which has
its headquarters in Miami, Florida, has developed a
'unique hanger system' as well as new recycling technol-
ogy that will enable the recycling of up to 70 more
Boeing 737s a year.
Meanwhile, Belgian recycling firm AeroCircular has
shown that old planes may offer a valuable learning
experience for young pilots. The company has launched
a collaboration with Euramec to upcycle end-of-life
cockpits and fuselages for flight simulation training.
To read more about aircraft recycling, flip to page 8!

CAN CAPTURED CO2 TAKE E-SCRAP RECYCLING
TO THE NEXT LEVEL?
A group of researchers in France say captured carbon dioxide can
be used to extract metals from post-consumer electronics.
'By simultaneously extracting metals by injecting CO2, you add
value to a process that is known to be cost-intensive,' says Julien
Leclaire who leads the project at the University of Lyon. His team
collected CO2 from a car exhaust, cooled it, then pumped it into a
mix of chemicals called polyamines. The CO2 combined with the
polyamines to create molecules of differing shapes and sizes.
This innovative process dissolves certain metals in the liquid while
others become solid. Leclaire reports that his team successfully sep-
arated lanthanum, cobalt and nickel – all of which are used in bat-
teries, computers and magnets.
If the process can be scaled up, it could be a more environmentally
friendly way to
recycle a range of
e-scrap. An added
benefit is that the
CO2 method does
not require highly
reactive chemicals
such as acids.
Leclaire notes that
other researchers
are currently trying
to convert captured
CO2 into plastics but this is chemically challenging. The process
developed in Lyon is 'more in line with how CO2 behaves naturally,'
he says. 'Instead of mimicking what we know how to do better and
cheaper with oil, let's find things you can only do with CO2.'
10-11-12-13-14-15_trendsupdates1.indd 12 05-03-20 12:24