Previous editions >>
Subscribe
Page 12 from: Previous editions >>
12 How can your re cycled p roduct m eet perm anently increasi ng demand s? With the CHT range o f high pe rforman ce proce ss solution s with e nvironm ental re lief for t he wet c hemical cleanin g. We supp ort you d...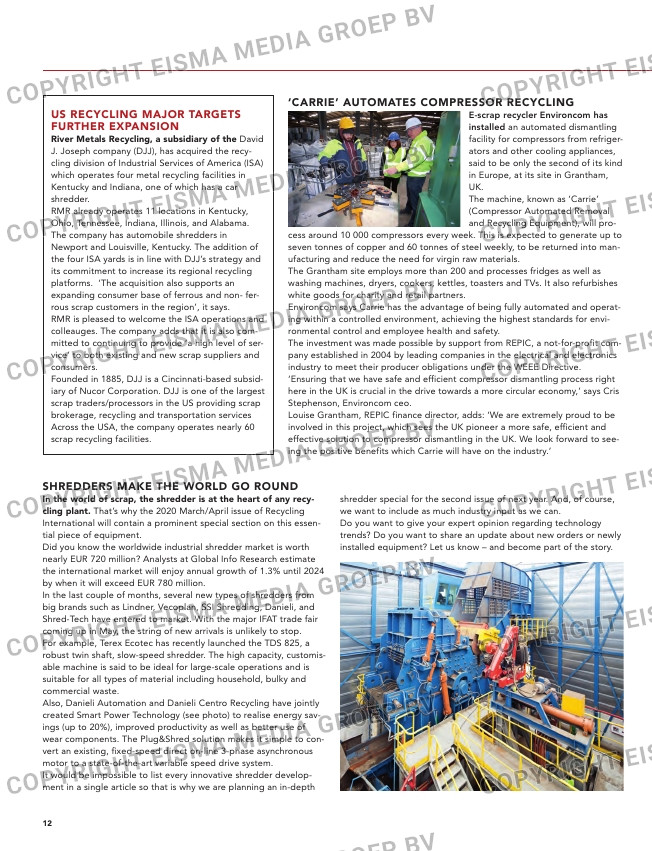 12
How can
your re
cycled p
roduct m
eet perm
anently
increasi
ng
demand
s? With
the CHT
range o
f high pe
rforman
ce proce
ss
solution
s with e
nvironm
ental re
lief for t
he wet c
hemical
cleanin
g.
We supp
ort you d
irectly o
n site an
d ensur
e your q
uality co
ntrols
in our la
boratori
es with
state-of
-the-art
equipm
ent. Thu
s, your
strong p
osition i
n the gr
owing m
arket is
confi rm
ed day b
y day.
More ab
out us a

t www.
cht.com

NO.
ONE-W
AY PRO
DUCTIO
N.
YES.
TOP QU
ALITY R
ECYCLI
NG.
PLASTI
C RECY

CLING S
HOW | M
arch 25
– 26 202
0
RAI Am
sterdam
 | hall 7 
| booth
B23
CHT_Anz_Recycling_205x132_191203.indd 1 03.12.19 13:13
can battery giant get to 50% recycled content?
swedish battery firm northvolt plans to combine
mass production with recycling and the greater use of
recycled materials. The company, managed by former
Tesla manager Peter Carlsson, has created its 'Revolt'
recycling programme to achieve the goal.
As a first step, it is building a pilot plant at the Northvolt
Labs site in Västerås which is scheduled to go into oper-
ation early next year – with an initial annual recycling
capacity of 100 tonnes, handling NMC and NCA lithium-
ion types.
Northvolt is also due to commission a large recycling
plant at Skellefteå, where its main battery cell factory is
located, in 2022. The aim is to recycle around 25 000
tonnes of cells a year.
Ceo Carlsson says both projects will help realise
Northvolt's ambition to use at least 50% of recycled
materials in new cells by 2030. The EU's EIT InnoEnergy
has invested EUR 5.8 million in the Revolt programme.
'The pilot plant will build on work undertaken over the
last two years and provide us the necessary tools to take
us to the next level – from research laboratories into the
real world,' comments Emma Nehrenheim, Northvolt's
us recycling major targets
further expansion
river metals recycling, a subsidiary of the David
J. Joseph company (DJJ), has acquired the recy-
cling division of Industrial Services of America (ISA)
which operates four metal recycling facilities in
Kentucky and Indiana, one of which has a car
shredder.
RMR already operates 11 locations in Kentucky,
Ohio, Tennessee, Indiana, Illinois, and Alabama.
The company has automobile shredders in
Newport and Louisville, Kentucky. The addition of
the four ISA yards is in line with DJJ's strategy and
its commitment to increase its regional recycling
platforms. 'The acquisition also supports an
expanding consumer base of ferrous and non- fer-
rous scrap customers in the region', it says.
RMR is pleased to welcome the ISA operations and
colleauges. The company adds that it is also com-
mitted to continuing to provide 'a high level of ser-
vice' to both existing and new scrap suppliers and
consumers.
Founded in 1885, DJJ is a Cincinnati-based subsid-
iary of Nucor Corporation. DJJ is one of the largest
scrap traders/processors in the US providing scrap
brokerage, recycling and transportation services
Across the USA, the company operates nearly 60
scrap recycling facilities.
shredders maKe the world go round
in the world of scrap, the shredder is at the heart of any recy-
cling plant. That's why the 2020 March/April issue of Recycling
International will contain a prominent special section on this essen-
tial piece of equipment.
Did you know the worldwide industrial shredder market is worth
nearly EUR 720 million? Analysts at Global Info Research estimate
the international market will enjoy annual growth of 1.3% until 2024
by when it will exceed EUR 780 million.
In the last couple of months, several new types of shredders from
big brands such as Lindner, Vecoplan, SSI Shredding, Danieli, and
Shred-Tech have entered to market. With the major IFAT trade fair
coming up in May, the string of new arrivals is unlikely to stop.
For example, Terex Ecotec has recently launched the TDS 825, a
robust twin shaft, slow-speed shredder. The high capacity, customis-
able machine is said to be ideal for large-scale operations and is
suitable for all types of material including household, bulky and
commercial waste.
Also, Danieli Automation and Danieli Centro Recycling have jointly
created Smart Power Technology (see photo) to realise energy sav-
ings (up to 20%), improved productivity as well as better use of
wear components. The Plug&Shred solution makes it simple to con-
vert an existing, fixed-speed direct on-line 3-phase asynchronous
motor to a state-of-the-art variable speed drive system.
It would be impossible to list every innovative shredder develop-
ment in a single article so that is why we are planning an in-depth
shredder special for the second issue of next year. And, of course,
we want to include as much industry input as we can.
Do you want to give your expert opinion regarding technology
trends? Do you want to share an update about new orders or newly
installed equipment? Let us know – and become part of the story.
'carrie' automates compressor recycling
E-scrap recycler Environcom has
installed an automated dismantling
facility for compressors from refriger-
ators and other cooling appliances,
said to be only the second of its kind
in Europe, at its site in Grantham,
UK.
The machine, known as 'Carrie'
(Compressor Automated Removal
and Recycling Equipment), will pro-
cess around 10 000 compressors every week. This is expected to generate up to
seven tonnes of copper and 60 tonnes of steel weekly, to be returned into man-
ufacturing and reduce the need for virgin raw materials.
The Grantham site employs more than 200 and processes fridges as well as
washing machines, dryers, cookers, kettles, toasters and TVs. It also refurbishes
white goods for charity and retail partners.
Environcom says Carrie has the advantage of being fully automated and operat-
ing within a controlled environment, achieving the highest standards for envi-
ronmental control and employee health and safety.
The investment was made possible by support from REPIC, a not-for-profit com-
pany established in 2004 by leading companies in the electrical and electronics
industry to meet their producer obligations under the WEEE Directive.
'Ensuring that we have safe and efficient compressor dismantling process right
here in the UK is crucial in the drive towards a more circular economy,' says Cris
Stephenson, Environcom ceo.
Louise Grantham, REPIC finance director, adds: 'We are extremely proud to be
involved in this project, which sees the UK pioneer a more safe, efficient and
effective solution to compressor dismantling in the UK. We look forward to see-
ing the positive benefits which Carrie will have on the industry.'
10-11-12-13-14-15_trendsupdates1.indd 12 15-01-20 14:36