Previous editions >>
Subscribe
Page 11 from: Previous editions >>
trends & updates 11recyclinginternational.com | January/February | 2020 Fotobijschrift KaderKop ?? plastic vision: calling all plastics recyclers standing out from the crowd! the global plastics industry will be worth upwards o...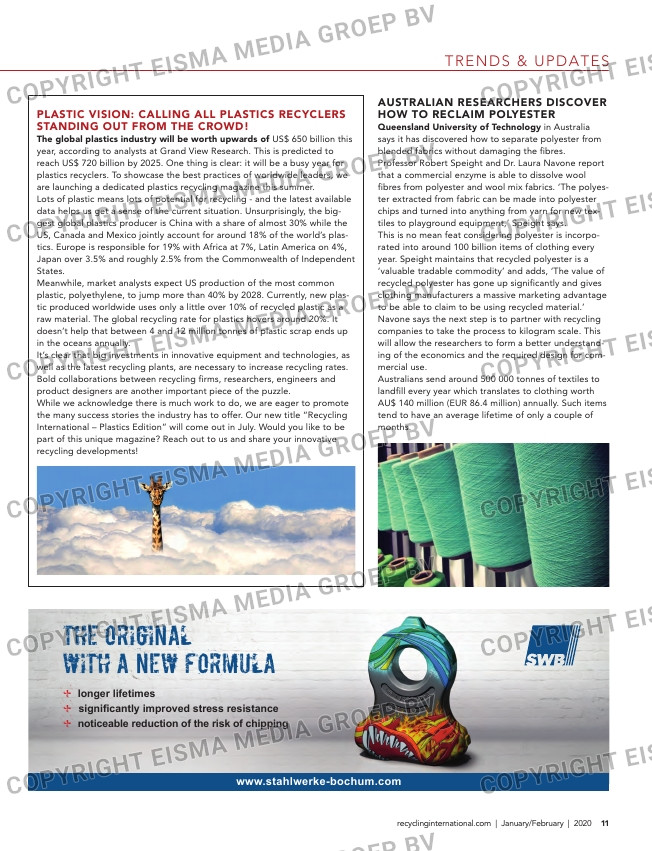 trends & updates
11recyclinginternational.com | January/February | 2020
Fotobijschrift
KaderKop
??
plastic vision: calling all plastics recyclers
standing out from the crowd!
the global plastics industry will be worth upwards of US$ 650 billion this
year, according to analysts at Grand View Research. This is predicted to
reach US$ 720 billion by 2025. One thing is clear: it will be a busy year for
plastics recyclers. To showcase the best practices of worldwide leaders, we
are launching a dedicated plastics recycling magazine this summer.
Lots of plastic means lots of potential for recycling – and the latest available
data helps us get a sense of the current situation. Unsurprisingly, the big-
gest global plastics producer is China with a share of almost 30% while the
US, Canada and Mexico jointly account for around 18% of the world's plas-
tics. Europe is responsible for 19% with Africa at 7%, Latin America on 4%,
Japan over 3.5% and roughly 2.5% from the Commonwealth of Independent
States.
Meanwhile, market analysts expect US production of the most common
plastic, polyethylene, to jump more than 40% by 2028. Currently, new plas-
tic produced worldwide uses only a little over 10% of recycled plastic as a
raw material. The global recycling rate for plastics hovers around 20%. It
doesn't help that between 4 and 12 million tonnes of plastic scrap ends up
in the oceans annually.
It's clear that big investments in innovative equipment and technologies, as
well as the latest recycling plants, are necessary to increase recycling rates.
Bold collaborations between recycling firms, researchers, engineers and
product designers are another important piece of the puzzle.
While we acknowledge there is much work to do, we are eager to promote
the many success stories the industry has to offer. Our new title "Recycling
International – Plastics Edition" will come out in July. Would you like to be
part of this unique magazine? Reach out to us and share your innovative
recycling developments!
australian researchers discover
how to reclaim polyester
Queensland university of technology in Australia
says it has discovered how to separate polyester from
blended fabrics without damaging the fibres.
Professor Robert Speight and Dr. Laura Navone report
that a commercial enzyme is able to dissolve wool
fibres from polyester and wool mix fabrics. 'The polyes-
ter extracted from fabric can be made into polyester
chips and turned into anything from yarn for new tex-
tiles to playground equipment,' Speight says.
This is no mean feat considering polyester is incorpo-
rated into around 100 billion items of clothing every
year. Speight maintains that recycled polyester is a
'valuable tradable commodity' and adds, 'The value of
recycled polyester has gone up significantly and gives
clothing manufacturers a massive marketing advantage
to be able to claim to be using recycled material.'
Navone says the next step is to partner with recycling
companies to take the process to kilogram scale. This
will allow the researchers to form a better understand-
ing of the economics and the required design for com-
mercial use.
Australians send around 500 000 tonnes of textiles to
landfill every year which translates to clothing worth
AU$ 140 million (EUR 86.4 million) annually. Such items
tend to have an average lifetime of only a couple of
months.
www.stahlwerke-bochum.com

THE ORIGINAL
WITH A NEW FORMULA
+ longer lifetimes
+ significantly improved stress resistance
+ noticeable reduction of the risk of chipping

10-11-12-13-14-15_trendsupdates1.indd 11 15-01-20 14:36