Plastics Special 2020
Subscribe
Page 7 from: Plastics Special 2020
PLASTICS SPECIAL 39recyclinginternational.com | November/December | 2020 materials and a great deal of plastic is now going to local incinerators.' And yet, he predicts, the global plas- tic recycling market will experience a 6% g...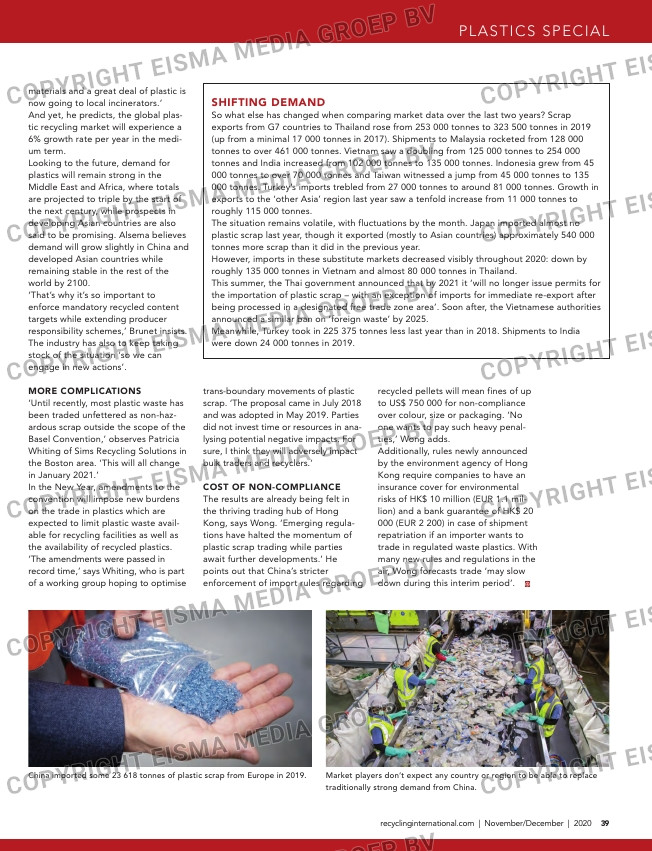 PLASTICS SPECIAL
39recyclinginternational.com | November/December | 2020
materials and a great deal of plastic is
now going to local incinerators.'
And yet, he predicts, the global plas-
tic recycling market will experience a
6% growth rate per year in the medi-
um term.
Looking to the future, demand for
plastics will remain strong in the
Middle East and Africa, where totals
are projected to triple by the start of
the next century, while prospects in
developing Asian countries are also
said to be promising. Alsema believes
demand will grow slightly in China and
developed Asian countries while
remaining stable in the rest of the
world by 2100.
'That's why it's so important to
enforce mandatory recycled content
targets while extending producer
responsibility schemes,' Brunet insists.
The industry has also to keep taking
stock of the situation 'so we can
engage in new actions'.
More coMplications
'Until recently, most plastic waste has
been traded unfettered as non-haz-
ardous scrap outside the scope of the
Basel Convention,' observes Patricia
Whiting of Sims Recycling Solutions in
the Boston area. 'This will all change
in January 2021.'
In the New Year, amendments to the
convention will impose new burdens
on the trade in plastics which are
expected to limit plastic waste avail-
able for recycling facilities as well as
the availability of recycled plastics.
'The amendments were passed in
record time,' says Whiting, who is part
of a working group hoping to optimise
trans-boundary movements of plastic
scrap. 'The proposal came in July 2018
and was adopted in May 2019. Parties
did not invest time or resources in ana-
lysing potential negative impacts. For
sure, I think they will adversely impact
bulk traders and recyclers.'
cost of non-coMpliance
The results are already being felt in
the thriving trading hub of Hong
Kong, says Wong. 'Emerging regula-
tions have halted the momentum of
plastic scrap trading while parties
await further developments.' He
points out that China's stricter
enforcement of import rules regarding
recycled pellets will mean fines of up
to US$ 750 000 for non-compliance
over colour, size or packaging. 'No
one wants to pay such heavy penal-
ties,' Wong adds.
Additionally, rules newly announced
by the environment agency of Hong
Kong require companies to have an
insurance cover for environmental
risks of HK$ 10 million (EUR 1.1 mil-
lion) and a bank guarantee of HK$ 20
000 (EUR 2 200) in case of shipment
repatriation if an importer wants to
trade in regulated waste plastics. With
many new rules and regulations in the
air, Wong forecasts trade 'may slow
down during this interim period'.
Fotobijschrift
China imported some 23 618 tonnes of plastic scrap from Europe in 2019. Market players don't expect any country or region to be able to replace
traditionally strong demand from China.
KaderKop
??
shifting deMand
So what else has changed when comparing market data over the last two years? Scrap
exports from G7 countries to Thailand rose from 253 000 tonnes to 323 500 tonnes in 2019
(up from a minimal 17 000 tonnes in 2017). Shipments to Malaysia rocketed from 128 000
tonnes to over 461 000 tonnes. Vietnam saw a doubling from 125 000 tonnes to 254 000
tonnes and India increased from 102 000 tonnes to 135 000 tonnes. Indonesia grew from 45
000 tonnes to over 70 000 tonnes and Taiwan witnessed a jump from 45 000 tonnes to 135
000 tonnes. Turkey's imports trebled from 27 000 tonnes to around 81 000 tonnes. Growth in
exports to the 'other Asia' region last year saw a tenfold increase from 11 000 tonnes to
roughly 115 000 tonnes.
The situation remains volatile, with fluctuations by the month. Japan imported almost no
plastic scrap last year, though it exported (mostly to Asian countries) approximately 540 000
tonnes more scrap than it did in the previous year.
However, imports in these substitute markets decreased visibly throughout 2020: down by
roughly 135 000 tonnes in Vietnam and almost 80 000 tonnes in Thailand.
This summer, the Thai government announced that by 2021 it 'will no longer issue permits for
the importation of plastic scrap – with an exception of imports for immediate re-export after
being processed in a designated free trade zone area'. Soon after, the Vietnamese authorities
announced a similar ban on 'foreign waste' by 2025.
Meanwhile, Turkey took in 225 375 tonnes less last year than in 2018. Shipments to India
were down 24 000 tonnes in 2019.
38-39_findinganewchina.indd 39 11-11-20 15:30