Plastics Special 2020
Subscribe
Page 23 from: Plastics Special 2020
PLASTICS SPECIAL 55recyclinginternational.com | November/December | 2020 whereupon it is returned to the recy- cling process. The separate strands are guided into a funnel and joined together into a strong yarn. The yarn is collect...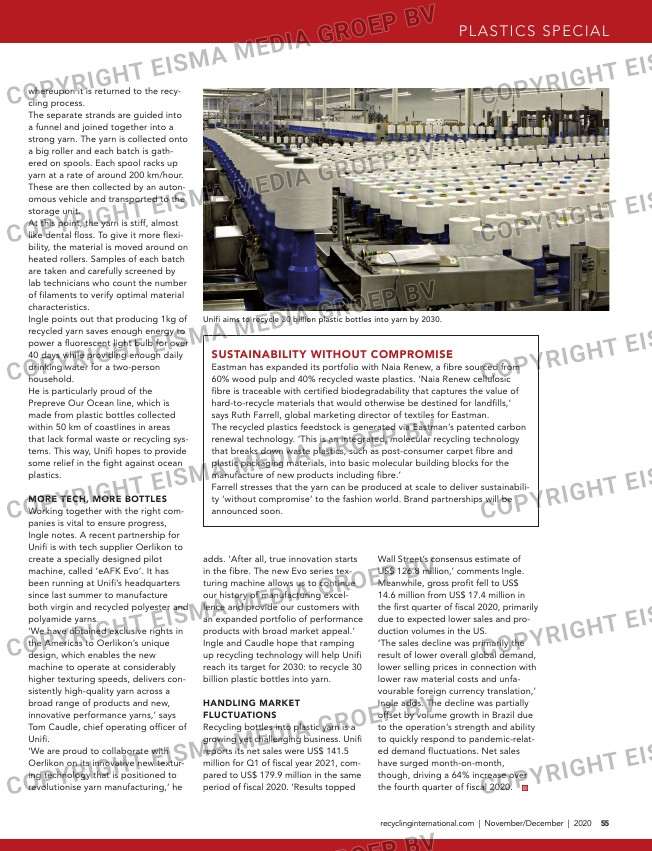 PLASTICS SPECIAL
55recyclinginternational.com | November/December | 2020
whereupon it is returned to the recy-
cling process.
The separate strands are guided into
a funnel and joined together into a
strong yarn. The yarn is collected onto
a big roller and each batch is gath-
ered on spools. Each spool racks up
yarn at a rate of around 200 km/hour.
These are then collected by an auton-
omous vehicle and transported to the
storage unit.
At this point, the yarn is stiff, almost
like dental floss. To give it more flexi-
bility, the material is moved around on
heated rollers. Samples of each batch
are taken and carefully screened by
lab technicians who count the number
of filaments to verify optimal material
characteristics.
Ingle points out that producing 1kg of
recycled yarn saves enough energy to
power a fluorescent light bulb for over
40 days while providing enough daily
drinking water for a two-person
household.
He is particularly proud of the
Prepreve Our Ocean line, which is
made from plastic bottles collected
within 50 km of coastlines in areas
that lack formal waste or recycling sys-
tems. This way, Unifi hopes to provide
some relief in the fight against ocean
plastics.
More tech, More bottles
Working together with the right com-
panies is vital to ensure progress,
Ingle notes. A recent partnership for
Unifi is with tech supplier Oerlikon to
create a specially designed pilot
machine, called 'eAFK Evo'. It has
been running at Unifi's headquarters
since last summer to manufacture
both virgin and recycled polyester and
polyamide yarns.
'We have obtained exclusive rights in
the Americas to Oerlikon's unique
design, which enables the new
machine to operate at considerably
higher texturing speeds, delivers con-
sistently high-quality yarn across a
broad range of products and new,
innovative performance yarns,' says
Tom Caudle, chief operating officer of
Unifi.
'We are proud to collaborate with
Oerlikon on its innovative new textur-
ing technology that is positioned to
revolutionise yarn manufacturing,' he
adds. 'After all, true innovation starts
in the fibre. The new Evo series tex-
turing machine allows us to continue
our history of manufacturing excel-
lence and provide our customers with
an expanded portfolio of performance
products with broad market appeal.'
Ingle and Caudle hope that ramping
up recycling technology will help Unifi
reach its target for 2030: to recycle 30
billion plastic bottles into yarn.
handling Market
fluctuations
Recycling bottles into plastic yarn is a
growing yet challenging business. Unifi
reports its net sales were US$ 141.5
million for Q1 of fiscal year 2021, com-
pared to US$ 179.9 million in the same
period of fiscal 2020. 'Results topped
Wall Street's consensus estimate of
US$ 126.8 million,' comments Ingle.
Meanwhile, gross profit fell to US$
14.6 million from US$ 17.4 million in
the first quarter of fiscal 2020, primarily
due to expected lower sales and pro-
duction volumes in the US.
'The sales decline was primarily the
result of lower overall global demand,
lower selling prices in connection with
lower raw material costs and unfa-
vourable foreign currency translation,'
Ingle adds. The decline was partially
offset by volume growth in Brazil due
to the operation's strength and ability
to quickly respond to pandemic-relat-
ed demand fluctuations. Net sales
have surged month-on-month,
though, driving a 64% increase over
the fourth quarter of fiscal 2020.
Fotobijschrift
kaderkop
??
sustainability without coMproMise
Eastman has expanded its portfolio with Naia Renew, a fibre sourced from
60% wood pulp and 40% recycled waste plastics. 'Naia Renew cellulosic
fibre is traceable with certified biodegradability that captures the value of
hard-to-recycle materials that would otherwise be destined for landfills,'
says Ruth Farrell, global marketing director of textiles for Eastman.
The recycled plastics feedstock is generated via Eastman's patented carbon
renewal technology. 'This is an integrated, molecular recycling technology
that breaks down waste plastics, such as post-consumer carpet fibre and
plastic packaging materials, into basic molecular building blocks for the
manufacture of new products including fibre.'
Farrell stresses that the yarn can be produced at scale to deliver sustainabili-
ty 'without compromise' to the fashion world. Brand partnerships will be
announced soon.
Unifi aims to recycle 30 billion plastic bottles into yarn by 2030.
54-55_fashion-plasticfibres.indd 55 11-11-20 15:33