Plastics Special 2020
Subscribe
Page 11 from: Plastics Special 2020
PLASTICS SPECIAL 43recyclinginternational.com | November/December | 2020 non-profit company owned by Danish breweries. The company has recently commissioned a new beverage pack- aging sorting plant, designed and built by Stadler. W...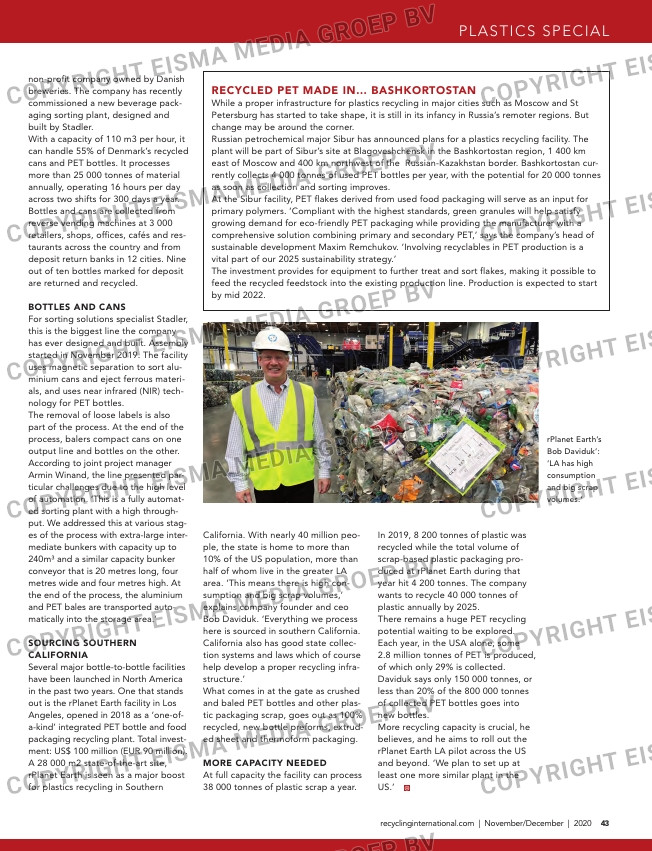 PLASTICS SPECIAL
43recyclinginternational.com | November/December | 2020
non-profit company owned by Danish
breweries. The company has recently
commissioned a new beverage pack-
aging sorting plant, designed and
built by Stadler.
With a capacity of 110 m3 per hour, it
can handle 55% of Denmark's recycled
cans and PET bottles. It processes
more than 25 000 tonnes of material
annually, operating 16 hours per day
across two shifts for 300 days a year.
Bottles and cans are collected from
reverse vending machines at 3 000
retailers, shops, offices, cafés and res-
taurants across the country and from
deposit return banks in 12 cities. Nine
out of ten bottles marked for deposit
are returned and recycled.
BOTTLES AND CANS
For sorting solutions specialist Stadler,
this is the biggest line the company
has ever designed and built. Assembly
started in November 2019. The facility
uses magnetic separation to sort alu-
minium cans and eject ferrous materi-
als, and uses near infrared (NIR) tech-
nology for PET bottles.
The removal of loose labels is also
part of the process. At the end of the
process, balers compact cans on one
output line and bottles on the other.
According to joint project manager
Armin Winand, the line presented par-
ticular challenges due to the high level
of automation. 'This is a fully automat-
ed sorting plant with a high through-
put. We addressed this at various stag-
es of the process with extra-large inter-
mediate bunkers with capacity up to
240m³ and a similar capacity bunker
conveyor that is 20 metres long, four
metres wide and four metres high. At
the end of the process, the aluminium
and PET bales are transported auto-
matically into the storage area.'
SOURCING SOUTHERN
CALIFORNIA
Several major bottle-to-bottle facilities
have been launched in North America
in the past two years. One that stands
out is the rPlanet Earth facility in Los
Angeles, opened in 2018 as a 'one-of-
a-kind' integrated PET bottle and food
packaging recycling plant. Total invest-
ment: US$ 100 million (EUR 90 million).
A 28 000 m2 state-of-the-art site,
rPlanet Earth is seen as a major boost
for plastics recycling in Southern
California. With nearly 40 million peo-
ple, the state is home to more than
10% of the US population, more than
half of whom live in the greater LA
area. 'This means there is high con-
sumption and big scrap volumes,'
explains company founder and ceo
Bob Daviduk. 'Everything we process
here is sourced in southern California.
California also has good state collec-
tion systems and laws which of course
help develop a proper recycling infra-
structure.'
What comes in at the gate as crushed
and baled PET bottles and other plas-
tic packaging scrap, goes out as 100%
recycled, new bottle preforms, extrud-
ed sheet and thermoform packaging.
MORE CAPACITY NEEDED
At full capacity the facility can process
38 000 tonnes of plastic scrap a year.
In 2019, 8 200 tonnes of plastic was
recycled while the total volume of
scrap-based plastic packaging pro-
duced at rPlanet Earth during that
year hit 4 200 tonnes. The company
wants to recycle 40 000 tonnes of
plastic annually by 2025.
There remains a huge PET recycling
potential waiting to be explored.
Each year, in the USA alone, some
2.8 million tonnes of PET is produced,
of which only 29% is collected.
Daviduk says only 150 000 tonnes, or
less than 20% of the 800 000 tonnes
of collected PET bottles goes into
new bottles.
More recycling capacity is crucial, he
believes, and he aims to roll out the
rPlanet Earth LA pilot across the US
and beyond. 'We plan to set up at
least one more similar plant in the
US.'
Fotobijschrift
rPlanet Earth's
Bob Daviduk':
'LA has high
consumption
and big scrap
volumes.'
KADERKOP
??
RECYCLED PET MADE IN… BASHKORTOSTAN
While a proper infrastructure for plastics recycling in major cities such as Moscow and St
Petersburg has started to take shape, it is still in its infancy in Russia's remoter regions. But
change may be around the corner.
Russian petrochemical major Sibur has announced plans for a plastics recycling facility. The
plant will be part of Sibur's site at Blagoveshchensk in the Bashkortostan region, 1 400 km
east of Moscow and 400 km northwest of the Russian-Kazakhstan border. Bashkortostan cur-
rently collects 4 000 tonnes of used PET bottles per year, with the potential for 20 000 tonnes
as soon as collection and sorting improves.
At the Sibur facility, PET flakes derived from used food packaging will serve as an input for
primary polymers. 'Compliant with the highest standards, green granules will help satisfy
growing demand for eco-friendly PET packaging while providing the manufacturer with a
comprehensive solution combining primary and secondary PET,' says the company's head of
sustainable development Maxim Remchukov. 'Involving recyclables in PET production is a
vital part of our 2025 sustainability strategy.'
The investment provides for equipment to further treat and sort flakes, making it possible to
feed the recycled feedstock into the existing production line. Production is expected to start
by mid 2022.
42-43_bottle-to-bottle.indd 43 11-11-20 14:26