Plastics Special 2020
Subscribe
Page 10 from: Plastics Special 2020
42 Scrap import bans in Asia, ever-stricter rules on shipping plastic waste over bor- ders and across oceans, and growing demand for the use of recycled materials in new products are all spurring innovative domestic processing businesse...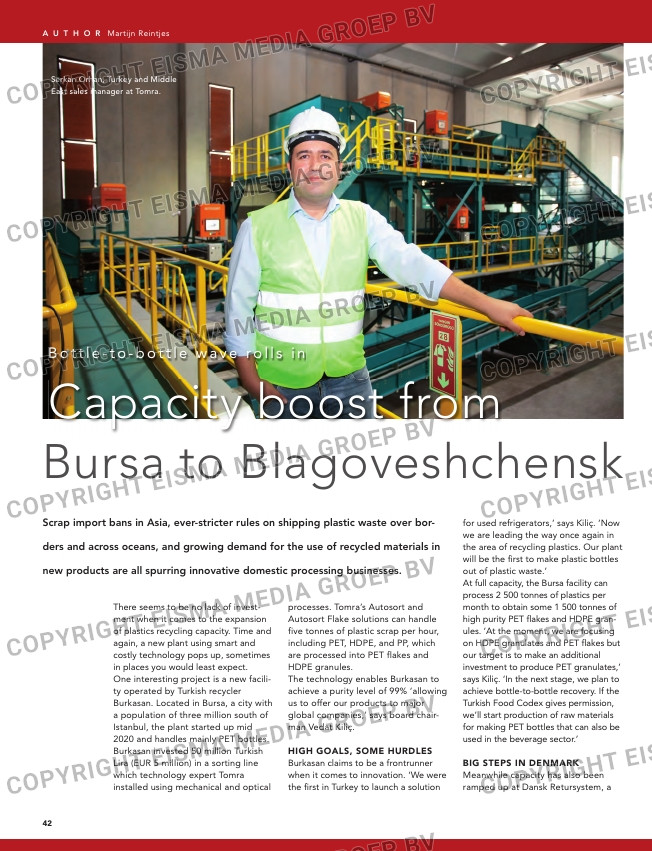 42
Scrap import bans in Asia, ever-stricter rules on shipping plastic waste over bor-
ders and across oceans, and growing demand for the use of recycled materials in
new products are all spurring innovative domestic processing businesses.
non-profit company owned by Danish
breweries. The company has recently
commissioned a new beverage pack-
aging sorting plant, designed and
built by Stadler.
With a capacity of 110 m3 per hour, it
can handle 55% of Denmark's recycled
cans and PET bottles. It processes
more than 25 000 tonnes of material
annually, operating 16 hours per day
across two shifts for 300 days a year.
Bottles and cans are collected from
reverse vending machines at 3 000
retailers, shops, offices, cafés and res-
taurants across the country and from
deposit return banks in 12 cities. Nine
out of ten bottles marked for deposit
are returned and recycled.
BOTTLES AND CANS
For sorting solutions specialist Stadler,
this is the biggest line the company
has ever designed and built. Assembly
started in November 2019. The facility
uses magnetic separation to sort alu-
minium cans and eject ferrous materi-
als, and uses near infrared (NIR) tech-
nology for PET bottles.
The removal of loose labels is also
part of the process. At the end of the
process, balers compact cans on one
output line and bottles on the other.
According to joint project manager
Armin Winand, the line presented par-
ticular challenges due to the high level
of automation. 'This is a fully automat-
ed sorting plant with a high through-
put. We addressed this at various stag-
es of the process with extra-large inter-
mediate bunkers with capacity up to
240m³ and a similar capacity bunker
conveyor that is 20 metres long, four
metres wide and four metres high. At
the end of the process, the aluminium
and PET bales are transported auto-
matically into the storage area.'
SOURCING SOUTHERN
CALIFORNIA
Several major bottle-to-bottle facilities
have been launched in North America
in the past two years. One that stands
out is the rPlanet Earth facility in Los
Angeles, opened in 2018 as a 'one-of-
a-kind' integrated PET bottle and food
packaging recycling plant. Total invest-
ment: US$ 100 million (EUR 90 million).
A 28 000 m2 state-of-the-art site,
rPlanet Earth is seen as a major boost
for plastics recycling in Southern
There seems to be no lack of invest-
ment when it comes to the expansion
of plastics recycling capacity. Time and
again, a new plant using smart and
costly technology pops up, sometimes
in places you would least expect.
One interesting project is a new facili-
ty operated by Turkish recycler
Burkasan. Located in Bursa, a city with
a population of three million south of
Istanbul, the plant started up mid
2020 and handles mainly PET bottles.
Burkasan invested 50 million Turkish
Lira (EUR 5 million) in a sorting line
which technology expert Tomra
installed using mechanical and optical
processes. Tomra's Autosort and
Autosort Flake solutions can handle
five tonnes of plastic scrap per hour,
including PET, HDPE, and PP, which
are processed into PET flakes and
HDPE granules.
The technology enables Burkasan to
achieve a purity level of 99% 'allowing
us to offer our products to major
global companies,' says board chair-
man Vedat Kiliç.
HIGH GOALS, SOME HURDLES
Burkasan claims to be a frontrunner
when it comes to innovation. 'We were
the first in Turkey to launch a solution
for used refrigerators,' says Kiliç. 'Now
we are leading the way once again in
the area of recycling plastics. Our plant
will be the first to make plastic bottles
out of plastic waste.'
At full capacity, the Bursa facility can
process 2 500 tonnes of plastics per
month to obtain some 1 500 tonnes of
high purity PET flakes and HDPE gran-
ules. 'At the moment, we are focusing
on HDPE granulates and PET flakes but
our target is to make an additional
investment to produce PET granulates,'
says Kiliç. 'In the next stage, we plan to
achieve bottle-to-bottle recovery. If the
Turkish Food Codex gives permission,
we'll start production of raw materials
for making PET bottles that can also be
used in the beverage sector.'
BIG STEPS IN DENMARK
Meanwhile capacity has also been
ramped up at Dansk Retursystem, a
A U T H O R Martijn Reintjes
Capacity boost from
B o t t l e – t o – b o t t l e w a v e ro l l s i n
Bursa to Blagoveshchensk
Serkan Orhan, Turkey and Middle
East sales manager at Tomra.
42-43_bottle-to-bottle.indd 42 11-11-20 14:26