Out now: winter issue!
Subscribe
Page 83 from: Out now: winter issue!
beck's 83recyclinginternational.com | November/December | 2021 Fotobijschrift KaderKop ?? Finding humour in Coronavirus The Covid-19 pandemic is a haven for conspiracy theorists and those sowing misinforma- tion. On the oth...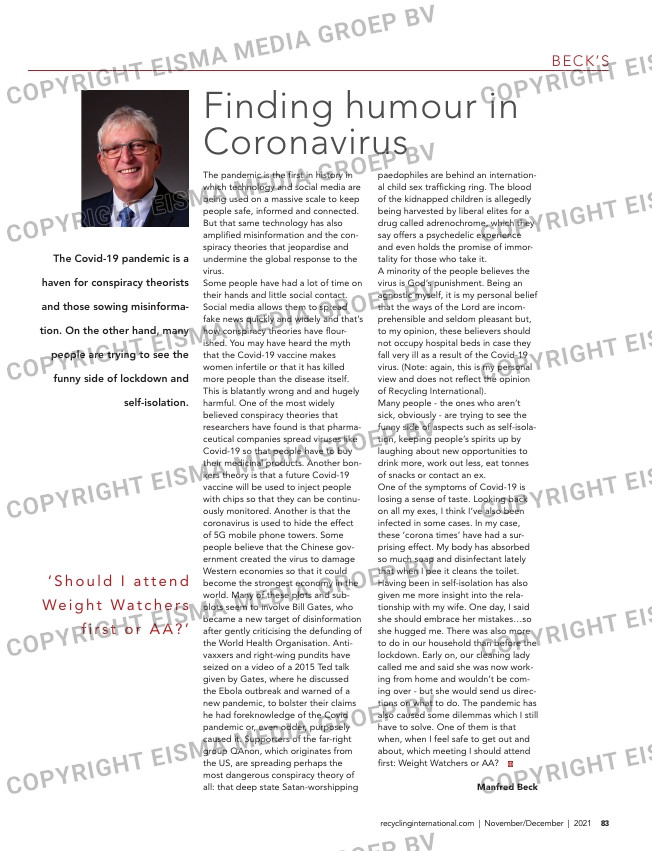 beck's
83recyclinginternational.com | November/December | 2021
Fotobijschrift
KaderKop
??
Finding humour in
Coronavirus
The Covid-19 pandemic is a
haven for conspiracy theorists
and those sowing misinforma-
tion. On the other hand, many
people are trying to see the
funny side of lockdown and
self-isolation.
The pandemic is the first in history in
which technology and social media are
being used on a massive scale to keep
people safe, informed and connected.
But that same technology has also
amplified misinformation and the con-
spiracy theories that jeopardise and
undermine the global response to the
virus.
Some people have had a lot of time on
their hands and little social contact.
Social media allows them to spread
fake news quickly and widely and that's
how conspiracy theories have flour-
ished. You may have heard the myth
that the Covid-19 vaccine makes
women infertile or that it has killed
more people than the disease itself.
This is blatantly wrong and and hugely
harmful. One of the most widely
believed conspiracy theories that
researchers have found is that pharma-
ceutical companies spread viruses like
Covid-19 so that people have to buy
their medicinal products. Another bon-
kers theory is that a future Covid-19
vaccine will be used to inject people
with chips so that they can be continu-
ously monitored. Another is that the
coronavirus is used to hide the effect
of 5G mobile phone towers. Some
people believe that the Chinese gov-
ernment created the virus to damage
Western economies so that it could
become the strongest economy in the
world. Many of these plots and sub-
plots seem to involve Bill Gates, who
became a new target of disinformation
after gently criticising the defunding of
the World Health Organisation. Anti-
vaxxers and right-wing pundits have
seized on a video of a 2015 Ted talk
given by Gates, where he discussed
the Ebola outbreak and warned of a
new pandemic, to bolster their claims
he had foreknowledge of the Covid
pandemic or, even odder, purposely
caused it. Supporters of the far-right
group QAnon, which originates from
the US, are spreading perhaps the
most dangerous conspiracy theory of
all: that deep state Satan-worshipping
paedophiles are behind an internation-
al child sex trafficking ring. The blood
of the kidnapped children is allegedly
being harvested by liberal elites for a
drug called adrenochrome, which they
say offers a psychedelic experience
and even holds the promise of immor-
tality for those who take it.
A minority of the people believes the
virus is God's punishment. Being an
agnostic myself, it is my personal belief
that the ways of the Lord are incom-
prehensible and seldom pleasant but,
to my opinion, these believers should
not occupy hospital beds in case they
fall very ill as a result of the Covid-19
virus. (Note: again, this is my personal
view and does not reflect the opinion
of Recycling International).
Many people – the ones who aren't
sick, obviously – are trying to see the
funny side of aspects such as self-isola-
tion, keeping people's spirits up by
laughing about new opportunities to
drink more, work out less, eat tonnes
of snacks or contact an ex.
One of the symptoms of Covid-19 is
losing a sense of taste. Looking back
on all my exes, I think I've also been
infected in some cases. In my case,
these 'corona times' have had a sur-
prising effect. My body has absorbed
so much soap and disinfectant lately
that when I pee it cleans the toilet.
Having been in self-isolation has also
given me more insight into the rela-
tionship with my wife. One day, I said
she should embrace her mistakes…so
she hugged me. There was also more
to do in our household than before the
lockdown. Early on, our cleaning lady
called me and said she was now work-
ing from home and wouldn't be com-
ing over – but she would send us direc-
tions on what to do. The pandemic has
also caused some dilemmas which I still
have to solve. One of them is that
when, when I feel safe to get out and
about, which meeting I should attend
first: Weight Watchers or AA?
Manfred Beck
' S h o u l d I a t t e n d
We i g h t Wa t c h e r s
f i r s t o r A A ? '
83_becks.indd 83 10-11-21 15:23