Recycling International November issue | 2021
Subscribe
Page 81 from: Recycling International November issue | 2021
In the Laboratory 81recyclinginternational.com | November/December | 2021 reclaiming valuable battery metals with ultrasonic waves The word 'ultrasound' probably makes you think of hospitals and parenthood rather than metals ...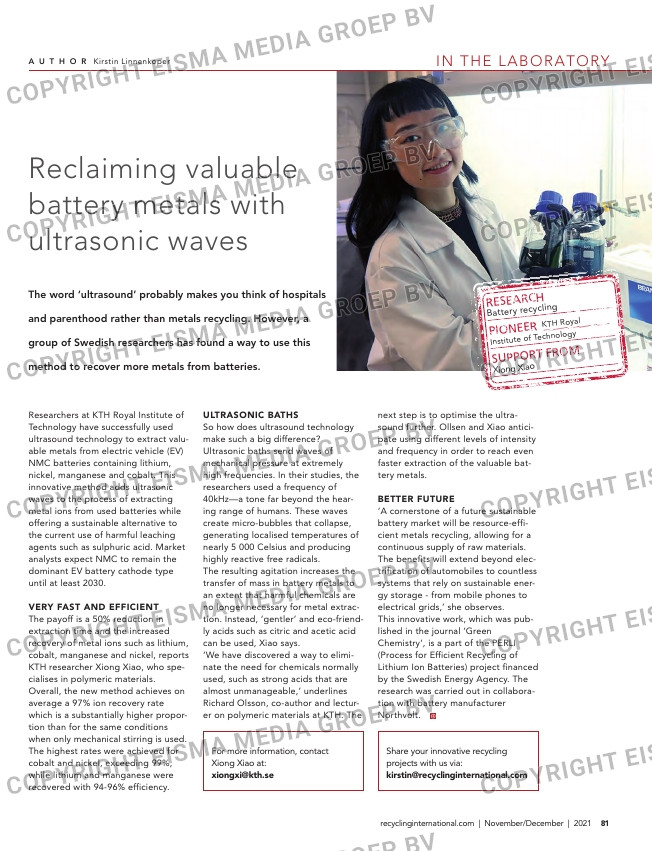 In the Laboratory
81recyclinginternational.com | November/December | 2021
reclaiming valuable
battery metals with
ultrasonic waves
The word 'ultrasound' probably makes you think of hospitals
and parenthood rather than metals recycling. However, a
group of Swedish researchers has found a way to use this
method to recover more metals from batteries.
Researchers at KTH Royal Institute of
Technology have successfully used
ultrasound technology to extract valu-
able metals from electric vehicle (EV)
NMC batteries containing lithium,
nickel, manganese and cobalt. This
innovative method adds ultrasonic
waves to the process of extracting
metal ions from used batteries while
offering a sustainable alternative to
the current use of harmful leaching
agents such as sulphuric acid. Market
analysts expect NMC to remain the
dominant EV battery cathode type
until at least 2030.
Very fast and efficient
The payoff is a 50% reduction in
extraction time and the increased
recovery of metal ions such as lithium,
cobalt, manganese and nickel, reports
KTH researcher Xiong Xiao, who spe-
cialises in polymeric materials.
Overall, the new method achieves on
average a 97% ion recovery rate
which is a substantially higher propor-
tion than for the same conditions
when only mechanical stirring is used.
The highest rates were achieved for
cobalt and nickel, exceeding 99%,
while lithium and manganese were
recovered with 94-96% efficiency.
Ultrasonic baths
So how does ultrasound technology
make such a big difference?
Ultrasonic baths send waves of
mechanical pressure at extremely
high frequencies. In their studies, the
researchers used a frequency of
40kHz—a tone far beyond the hear-
ing range of humans. These waves
create micro-bubbles that collapse,
generating localised temperatures of
nearly 5 000 Celsius and producing
highly reactive free radicals.
The resulting agitation increases the
transfer of mass in battery metals to
an extent that harmful chemicals are
no longer necessary for metal extrac-
tion. Instead, 'gentler' and eco-friend-
ly acids such as citric and acetic acid
can be used, Xiao says.
'We have discovered a way to elimi-
nate the need for chemicals normally
used, such as strong acids that are
almost unmanageable,' underlines
Richard Olsson, co-author and lectur-
er on polymeric materials at KTH. The
next step is to optimise the ultra-
sound further. Ollsen and Xiao antici-
pate using different levels of intensity
and frequency in order to reach even
faster extraction of the valuable bat-
tery metals.
better fUtUre
'A cornerstone of a future sustainable
battery market will be resource-effi-
cient metals recycling, allowing for a
continuous supply of raw materials.
The benefits will extend beyond elec-
trification of automobiles to countless
systems that rely on sustainable ener-
gy storage – from mobile phones to
electrical grids,' she observes.
This innovative work, which was pub-
lished in the journal 'Green
Chemistry', is a part of the PERLI
(Process for Efficient Recycling of
Lithium Ion Batteries) project financed
by the Swedish Energy Agency. The
research was carried out in collabora-
tion with battery manufacturer
Northvolt.
For more information, contact
Xiong Xiao at:
[email protected]
Share your innovative recycling
projects with us via:
[email protected]
a u T H o r Kirstin Linnenkoper
RESEARCH
PIONEER __
_________
SUPPORT FR
OM
Battery rec
ycling
Xiong Xiao
KTH Roy
al
Institute of
Technolog
y
81_inthelab.indd 81 10-11-21 15:23