Out now: winter issue!
Subscribe
Page 77 from: Out now: winter issue!
paper 77recyclinginternational.com | November/December | 2021 CONTRIbuTINg TO ThE RECOVEREd PaPER MaRkET aNalySIS: * Ken McEntee, The Paper Stock Report (paperstockreport.com) * Robin Latchem OCC, accounting for 62% of the tot...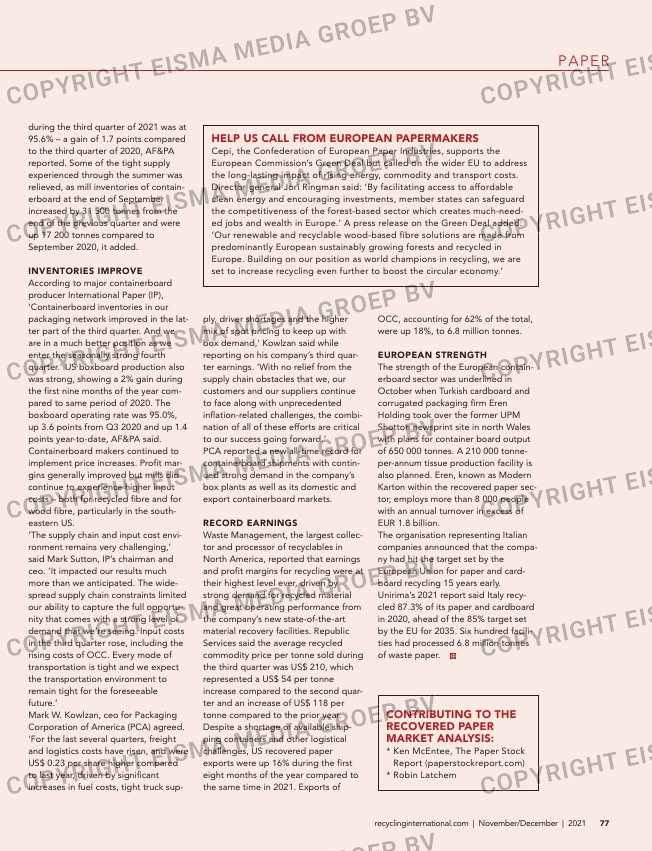 paper
77recyclinginternational.com | November/December | 2021
CONTRIbuTINg TO ThE
RECOVEREd PaPER
MaRkET aNalySIS:
* Ken McEntee, The Paper Stock
Report (paperstockreport.com)
* Robin Latchem
OCC, accounting for 62% of the total,
were up 18%, to 6.8 million tonnes.
EuROPEaN STRENgTh
The strength of the European contain-
erboard sector was underlined in
October when Turkish cardboard and
corrugated packaging firm Eren
Holding took over the former UPM
Shotton newsprint site in north Wales
with plans for container board output
of 650 000 tonnes. A 210 000 tonne-
per-annum tissue production facility is
also planned. Eren, known as Modern
Karton within the recovered paper sec-
tor, employs more than 8 000 people
with an annual turnover in excess of
EUR 1.8 billion.
The organisation representing Italian
companies announced that the compa-
ny had hit the target set by the
European Union for paper and card-
board recycling 15 years early.
Unirima's 2021 report said Italy recy-
cled 87.3% of its paper and cardboard
in 2020, ahead of the 85% target set
by the EU for 2035. Six hundred facili-
ties had processed 6.8 million tonnes
of waste paper.
hElP uS Call FROM EuROPEaN PaPERMakERS
Cepi, the Confederation of European Paper Industries, supports the
European Commission's Green Deal but called on the wider EU to address
the long-lasting impact of rising energy, commodity and transport costs.
Director general Jori Ringman said: 'By facilitating access to affordable
clean energy and encouraging investments, member states can safeguard
the competitiveness of the forest-based sector which creates much-need-
ed jobs and wealth in Europe.' A press release on the Green Deal added:
'Our renewable and recyclable wood-based fibre solutions are made from
predominantly European sustainably growing forests and recycled in
Europe. Building on our position as world champions in recycling, we are
set to increase recycling even further to boost the circular economy.'
ply, driver shortages and the higher
mix of spot pricing to keep up with
box demand,' Kowlzan said while
reporting on his company's third quar-
ter earnings. 'With no relief from the
supply chain obstacles that we, our
customers and our suppliers continue
to face along with unprecedented
inflation-related challenges, the combi-
nation of all of these efforts are critical
to our success going forward.'
PCA reported a new all-time record for
containerboard shipments with contin-
ued strong demand in the company's
box plants as well as its domestic and
export containerboard markets.
RECORd EaRNINgS
Waste Management, the largest collec-
tor and processor of recyclables in
North America, reported that earnings
and profit margins for recycling were at
their highest level ever, driven by
strong demand for recycled material
and great operating performance from
the company's new state-of-the-art
material recovery facilities. Republic
Services said the average recycled
commodity price per tonne sold during
the third quarter was US$ 210, which
represented a US$ 54 per tonne
increase compared to the second quar-
ter and an increase of US$ 118 per
tonne compared to the prior year.
Despite a shortage of available ship-
ping containers and other logistical
challenges, US recovered paper
exports were up 16% during the first
eight months of the year compared to
the same time in 2021. Exports of
during the third quarter of 2021 was at
95.6% – a gain of 1.7 points compared
to the third quarter of 2020, AF&PA
reported. Some of the tight supply
experienced through the summer was
relieved, as mill inventories of contain-
erboard at the end of September
increased by 31 500 tonnes from the
end of the previous quarter and were
up 17 200 tonnes compared to
September 2020, it added.
INVENTORIES IMPROVE
According to major containerboard
producer International Paper (IP),
'Containerboard inventories in our
packaging network improved in the lat-
ter part of the third quarter. And we
are in a much better position as we
enter the seasonally strong fourth
quarter.' US boxboard production also
was strong, showing a 2% gain during
the first nine months of the year com-
pared to same period of 2020. The
boxboard operating rate was 95.0%,
up 3.6 points from Q3 2020 and up 1.4
points year-to-date, AF&PA said.
Containerboard makers continued to
implement price increases. Profit mar-
gins generally improved but mills did
continue to experience higher input
costs – both for recycled fibre and for
wood fibre, particularly in the south-
eastern US.
'The supply chain and input cost envi-
ronment remains very challenging,'
said Mark Sutton, IP's chairman and
ceo. 'It impacted our results much
more than we anticipated. The wide-
spread supply chain constraints limited
our ability to capture the full opportu-
nity that comes with a strong level of
demand that we're seeing. Input costs
in the third quarter rose, including the
rising costs of OCC. Every mode of
transportation is tight and we expect
the transportation environment to
remain tight for the foreseeable
future.'
Mark W. Kowlzan, ceo for Packaging
Corporation of America (PCA) agreed.
'For the last several quarters, freight
and logistics costs have risen, and were
US$ 0.23 per share higher compared
to last year, driven by significant
increases in fuel costs, tight truck sup-
76-77_mapaper.indd 77 10-11-21 14:46