Out now: winter issue!
Subscribe
Page 72 from: Out now: winter issue!
market analysis Prices buoyant but global trade remains chaotic Recyclers are watching developments in India and Malaysia as authorities look to boost the quality of secondary materials. economy will also slow significantly. 'Chin...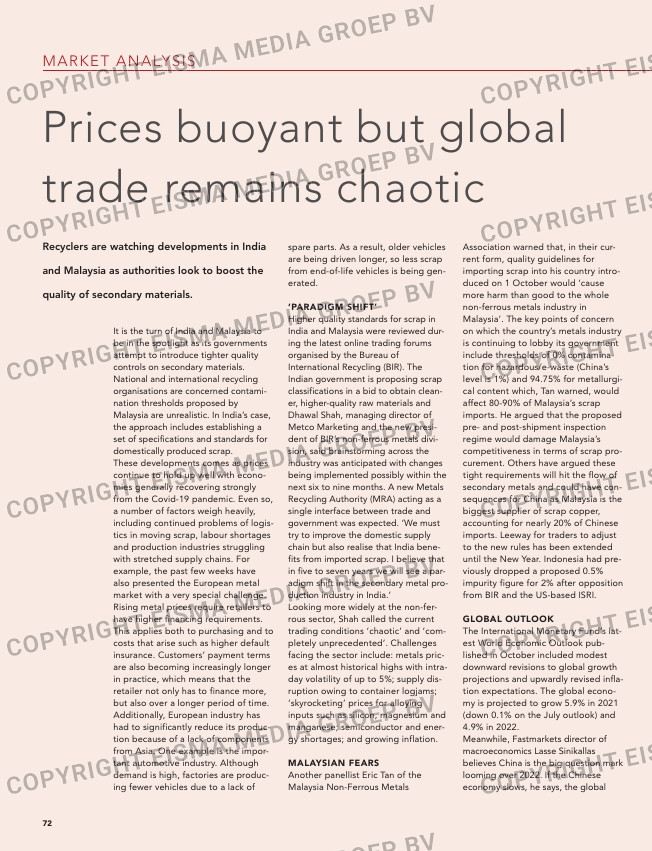 market analysis
Prices buoyant but global
trade remains chaotic
Recyclers are watching developments in India
and Malaysia as authorities look to boost the
quality of secondary materials.
economy will also slow significantly.
'China represents roughly 20% of the
global economy in 2021 but more than
30% of total global economic growth –
in other words, it's picking up the slack
from Europe and other slow-recovery
regions,' he argues, noting that nation-
al debt levels are high, supply-side and
logistics issues persist and inflation is
rising. 'In the next few months, we'll be
watching central banks closely to see
whether and how they'll intervene. Of
course, we'll be watching China's eco-
nomic indicators most keenly – any
deviation from forecast there will have
a ripple effect through the entire glob-
al economy.'
COMPANY NEWS
Copper giant Aurubis has unveiled a
new slogan – Tomorrow Metals by
Aurubis – to emphasise the group's
focus on sustainability. The new slo-
gan is backed by key performance
72
spare parts. As a result, older vehicles
are being driven longer, so less scrap
from end-of-life vehicles is being gen-
erated.
'PARADIGM SHIFT'
Higher quality standards for scrap in
India and Malaysia were reviewed dur-
ing the latest online trading forums
organised by the Bureau of
International Recycling (BIR). The
Indian government is proposing scrap
classifications in a bid to obtain clean-
er, higher-quality raw materials and
Dhawal Shah, managing director of
Metco Marketing and the new presi-
dent of BIR's non-ferrous metals divi-
sion, said brainstorming across the
industry was anticipated with changes
being implemented possibly within the
next six to nine months. A new Metals
Recycling Authority (MRA) acting as a
single interface between trade and
government was expected. 'We must
try to improve the domestic supply
chain but also realise that India bene-
fits from imported scrap. I believe that
in five to seven years we will see a par-
adigm shift in the secondary metal pro-
duction industry in India.'
Looking more widely at the non-fer-
rous sector, Shah called the current
trading conditions 'chaotic' and 'com-
pletely unprecedented'. Challenges
facing the sector include: metals pric-
es at almost historical highs with intra-
day volatility of up to 5%; supply dis-
ruption owing to container logjams;
'skyrocketing' prices for alloying
inputs such as silicon, magnesium and
manganese; semiconductor and ener-
gy shortages; and growing inflation.
MALAYSIAN FEARS
Another panellist Eric Tan of the
Malaysia Non-Ferrous Metals
Association warned that, in their cur-
rent form, quality guidelines for
importing scrap into his country intro-
duced on 1 October would 'cause
more harm than good to the whole
non-ferrous metals industry in
Malaysia'. The key points of concern
on which the country's metals industry
is continuing to lobby its government
include thresholds of 0% contamina-
tion for hazardous/e-waste (China's
level is 1%) and 94.75% for metallurgi-
cal content which, Tan warned, would
affect 80-90% of Malaysia's scrap
imports. He argued that the proposed
pre- and post-shipment inspection
regime would damage Malaysia's
competitiveness in terms of scrap pro-
curement. Others have argued these
tight requirements will hit the flow of
secondary metals and could have con-
sequences for China as Malaysia is the
biggest supplier of scrap copper,
accounting for nearly 20% of Chinese
imports. Leeway for traders to adjust
to the new rules has been extended
until the New Year. Indonesia had pre-
viously dropped a proposed 0.5%
impurity figure for 2% after opposition
from BIR and the US-based ISRI.
GLOBAL OUTLOOK
The International Monetary Fund's lat-
est World Economic Outlook pub-
lished in October included modest
downward revisions to global growth
projections and upwardly revised infla-
tion expectations. The global econo-
my is projected to grow 5.9% in 2021
(down 0.1% on the July outlook) and
4.9% in 2022.
Meanwhile, Fastmarkets director of
macroeconomics Lasse Sinikallas
believes China is the big question mark
looming over 2022. If the Chinese
economy slows, he says, the global
e-Waste Consultancy Services
Ultra Modular & Cost Eff ecti ve Soluti on for
Circular e-Waste Management
• Market Feasibility Study & Sustainable Business Model
• Tailored and Innovati ve Technology Design
• State-of-the-art plant set up for e-Waste Recycling, Precious
and Base Metals Recovery and Refi ning
• PGM Salts & Other By-Products Manufacturing
• Polluti on control and Treatment equipment
• Integrated Analyti cal Laboratory
• Jewelry, Batt ery, Mining, Dental, Auto catalyst, Tyre scrap
recovery and refi ning
• Installati on, Commercializati on & Training
• Permits & Licenses
• Global Best Practi ces & Certi fi cati ons (ISO, OHSAS, R2 etc.,)
• Workshops, Awareness Programs, EPR soluti ons
• Carbon Credit Accounti ng & ERP Soluti onVANS CHEMISTRY PTE LTD
#21-81, WCEGA Tower,
21 Bukit Batok Crescent,
Singapore 658065
+65-98717295
[email protected]
www.vanschemistry.com
Ag

Pt Au CuCo

PdRu Rh

q Market Feasibility Study & Sustainable Business Model
q Tailored and In ovative Technology Design
q State-of-the-art plant set up for e-Waste Recycling, Precious
and Base Metals Recovery and Refining
q PGM Salts & Other By-Products Manufacturing
q Pollution control and Treatment equipment
q Integrated Analytical Laboratory
q Jewelry, Battery, Mini g, Dental, Auto catalyst, Tyre scrap
recovery and refining
q Installation, Com ercialization & Training
q Permits & Licenses
q Global Best Practices & Certifications (ISO, OHSAS, R2 etc.,)
q Workshops, Awareness Programs, EPR solutions
q Carbon Credit Accounting & ERP Solution
e-Waste Cons lt cy Services
Ultra odular Cost Effective Solution for
Circular e- aste anage ent
Global Technology
Partner on

e-Waste Management

It is the turn of India and Malaysia to
be in the spotlight as its governments
attempt to introduce tighter quality
controls on secondary materials.
National and international recycling
organisations are concerned contami-
nation thresholds proposed by
Malaysia are unrealistic. In India's case,
the approach includes establishing a
set of specifications and standards for
domestically produced scrap.
These developments comes as prices
continue to hold up well with econo-
mies generally recovering strongly
from the Covid-19 pandemic. Even so,
a number of factors weigh heavily,
including continued problems of logis-
tics in moving scrap, labour shortages
and production industries struggling
with stretched supply chains. For
example, the past few weeks have
also presented the European metal
market with a very special challenge.
Rising metal prices require retailers to
have higher financing requirements.
This applies both to purchasing and to
costs that arise such as higher default
insurance. Customers' payment terms
are also becoming increasingly longer
in practice, which means that the
retailer not only has to finance more,
but also over a longer period of time.
Additionally, European industry has
had to significantly reduce its produc-
tion because of a lack of components
from Asia. One example is the impor-
tant automotive industry. Although
demand is high, factories are produc-
ing fewer vehicles due to a lack of
72-73-74-75_manon-ferrous.indd 72 10-11-21 14:45