Out now: winter issue!
Subscribe
Page 65 from: Out now: winter issue!
65recyclinginternational.com | November/December | 2021 trends & updates mexico plastics recycling deal a 'lifetime amBition' UK entrepreneur Carlos Ludlow-Palafox has achieved the goal of taking his innovative plastic recycl...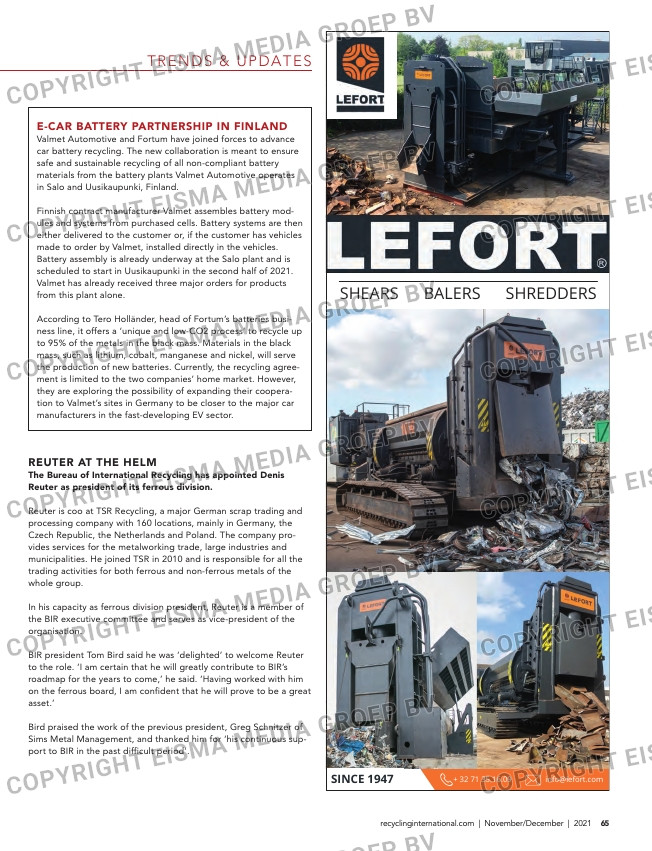 65recyclinginternational.com | November/December | 2021
trends & updates
mexico plastics recycling deal a 'lifetime amBition'
UK entrepreneur Carlos Ludlow-Palafox has achieved the goal of taking his innovative plastic
recycling technology to his home country of Mexico in a bid to achieve full circularity of food-
grade packaging.
Nestlé Mexico has signed an agreement to use the microwave-induced pyrolysis technology
developed by Ludlow-Palafox's company Enval to process flexible plastic packaging in Mexico,
including multilayer flexible and aluminium-laminated plastics.
UK-based company Greenback Recycling Technologies will build the facility for what is the first
time Nestlé has established such an arrangement outside of Europe.
The Enval process transforms plastics into oil feedstock to produce new plastic. Furthermore, it
is the only technology in the world capable of recycling plastic aluminium laminates by splitting
them into high-value oil and aluminium with a low-carbon footprint.
The project will enable the recycling of approximately 6 000 tonnes of flexible plastic packag-
ing in its first year with sustained growth in both volume and installed capacity expected over
time. In addition, Nestlé will invest in the adaptation to the Mexican market of Greenback's
eco2Veritas circularity platform, which provides complete traceability of the neutralisation and
recycling process.
Ludlow-Palafox, founder and ceo of Enval, was a member of the inaugural Recycling
International Top 100. He also featured in the March/April issue when he said it would be a life-
time ambition to take the technology back to his native Mexico. Following the latest announce-
ment, he says the project demonstrates the importance of collaboration between companies at
different stages of the supply chain to tackle the challenge of plastics in the environment.
'At Enval, we know that plastics are not the enemy and that these materials have a valuable role
in our daily lives. However, we also know that there is no reason they should end up in the sea
or on top of a mountain. Our technology allows the recycling of packaging that was previously
considered unrecyclable, and we are delighted that our first plant, in collaboration with an
FMCG as committed to sustainability as Nestlé and in partnership with Greenback, will be soon
operating in Mexico.'
reuter at the helm
the Bureau of international recycling has appointed denis
reuter as president of its ferrous division.
Reuter is coo at TSR Recycling, a major German scrap trading and
processing company with 160 locations, mainly in Germany, the
Czech Republic, the Netherlands and Poland. The company pro-
vides services for the metalworking trade, large industries and
municipalities. He joined TSR in 2010 and is responsible for all the
trading activities for both ferrous and non-ferrous metals of the
whole group.
In his capacity as ferrous division president, Reuter is a member of
the BIR executive committee and serves as vice-president of the
organisation.
BIR president Tom Bird said he was 'delighted' to welcome Reuter
to the role. 'I am certain that he will greatly contribute to BIR's
roadmap for the years to come,' he said. 'Having worked with him
on the ferrous board, I am confident that he will prove to be a great
asset.'
Bird praised the work of the previous president, Greg Schnitzer of
Sims Metal Management, and thanked him for 'his continuous sup-
port to BIR in the past difficult period'.
SHEARS BALERS SHREDDERS
[email protected]SINCE 1947 + 32 71 35.16.09
e-car Battery partnership in finland
Valmet Automotive and Fortum have joined forces to advance
car battery recycling. The new collaboration is meant to ensure
safe and sustainable recycling of all non-compliant battery
materials from the battery plants Valmet Automotive operates
in Salo and Uusikaupunki, Finland.
Finnish contract manufacturer Valmet assembles battery mod-
ules and systems from purchased cells. Battery systems are then
either delivered to the customer or, if the customer has vehicles
made to order by Valmet, installed directly in the vehicles.
Battery assembly is already underway at the Salo plant and is
scheduled to start in Uusikaupunki in the second half of 2021.
Valmet has already received three major orders for products
from this plant alone.
According to Tero Holländer, head of Fortum's batteries busi-
ness line, it offers a 'unique and low-CO2 process' to recycle up
to 95% of the metals in the black mass. Materials in the black
mass, such as lithium, cobalt, manganese and nickel, will serve
the production of new batteries. Currently, the recycling agree-
ment is limited to the two companies' home market. However,
they are exploring the possibility of expanding their coopera-
tion to Valmet's sites in Germany to be closer to the major car
manufacturers in the fast-developing EV sector.
62-63-64-65_trendsupdatesii.indd 65 11-11-21 09:18