Out now: winter issue!
Subscribe
Page 60 from: Out now: winter issue!
60 Carbon fibres sector chasing new highs In a world striving to switch to cleaner energy and cut the weight of transport, demands are growing that the materials needed to create this future should, ultimately, be recycled. Will tech...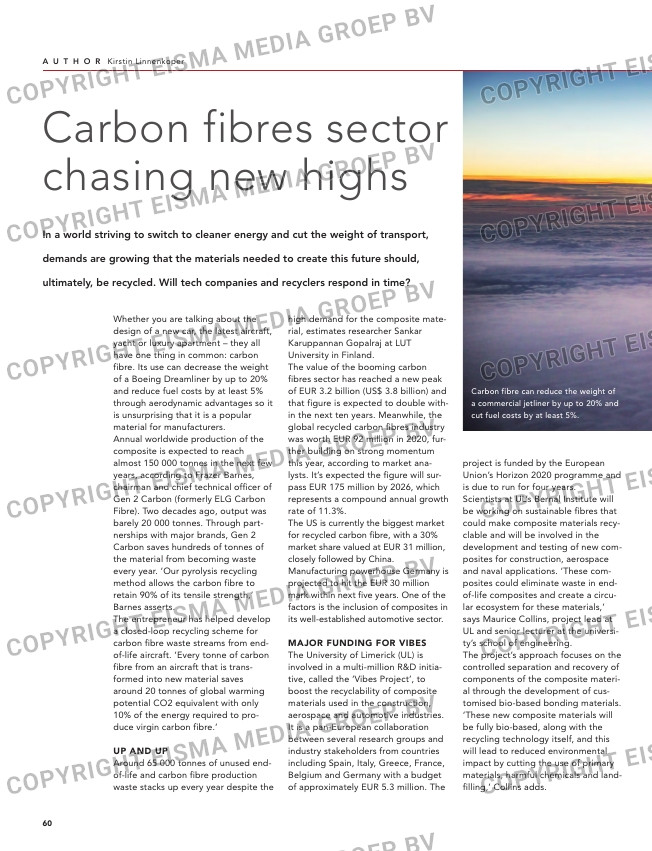 60
Carbon fibres sector
chasing new highs
In a world striving to switch to cleaner energy and cut the weight of transport,
demands are growing that the materials needed to create this future should,
ultimately, be recycled. Will tech companies and recyclers respond in time?
Vibes builds on research conducted at
UL that started with 'Libre', a project
that sought to free the composite
industry of its reliance on oil-based
production.
The power of wind
It is technically feasible to recycle
around 85% of wind turbines although
it is far from common practice. Now, a
new solution developed by the
Circular Economy for Thermosets
Epoxy Composites initiative involves
the recycling of epoxy resins, the
highly stable polymer chains used in
turbine blades.
Parties working on this include wind
energy provider Vestas, epoxy pro-
ducer Olin, Aarhaus University and the
Danish Technological Institute.
Together, they hope to present a solu-
tion to be adopted for industrial use
within three years. To date, Vestas has
installed more than 78 000 turbines
globally, jointly generating more than
136GW of wind energy.
The technology consists of two stag-
es. First, thermoset composites are
Whether you are talking about the
design of a new car, the latest aircraft,
yacht or luxury apartment – they all
have one thing in common: carbon
fibre. Its use can decrease the weight
of a Boeing Dreamliner by up to 20%
and reduce fuel costs by at least 5%
through aerodynamic advantages so it
is unsurprising that it is a popular
material for manufacturers.
Annual worldwide production of the
composite is expected to reach
almost 150 000 tonnes in the next few
years, according to Frazer Barnes,
chairman and chief technical officer of
Gen 2 Carbon (formerly ELG Carbon
Fibre). Two decades ago, output was
barely 20 000 tonnes. Through part-
nerships with major brands, Gen 2
Carbon saves hundreds of tonnes of
the material from becoming waste
every year. 'Our pyrolysis recycling
method allows the carbon fibre to
retain 90% of its tensile strength,'
Barnes asserts.
The entrepreneur has helped develop
a closed-loop recycling scheme for
carbon fibre waste streams from end-
of-life aircraft. 'Every tonne of carbon
fibre from an aircraft that is trans-
formed into new material saves
around 20 tonnes of global warming
potential CO2 equivalent with only
10% of the energy required to pro-
duce virgin carbon fibre.'
Up and Up
Around 65 000 tonnes of unused end-
of-life and carbon fibre production
waste stacks up every year despite the
high demand for the composite mate-
rial, estimates researcher Sankar
Karuppannan Gopalraj at LUT
University in Finland.
The value of the booming carbon
fibres sector has reached a new peak
of EUR 3.2 billion (US$ 3.8 billion) and
that figure is expected to double with-
in the next ten years. Meanwhile, the
global recycled carbon fibres industry
was worth EUR 92 million in 2020, fur-
ther building on strong momentum
this year, according to market ana-
lysts. It's expected the figure will sur-
pass EUR 175 million by 2026, which
represents a compound annual growth
rate of 11.3%.
The US is currently the biggest market
for recycled carbon fibre, with a 30%
market share valued at EUR 31 million,
closely followed by China.
Manufacturing powerhouse Germany is
projected to hit the EUR 30 million
mark within next five years. One of the
factors is the inclusion of composites in
its well-established automotive sector.
Major fUnding for Vibes
The University of Limerick (UL) is
involved in a multi-million R&D initia-
tive, called the 'Vibes Project', to
boost the recyclability of composite
materials used in the construction,
aerospace and automotive industries.
It is a pan-European collaboration
between several research groups and
industry stakeholders from countries
including Spain, Italy, Greece, France,
Belgium and Germany with a budget
of approximately EUR 5.3 million. The
project is funded by the European
Union's Horizon 2020 programme and
is due to run for four years.
Scientists at UL's Bernal Institute will
be working on sustainable fibres that
could make composite materials recy-
clable and will be involved in the
development and testing of new com-
posites for construction, aerospace
and naval applications. 'These com-
posites could eliminate waste in end-
of-life composites and create a circu-
lar ecosystem for these materials,'
says Maurice Collins, project lead at
UL and senior lecturer at the universi-
ty's school of engineering.
The project's approach focuses on the
controlled separation and recovery of
components of the composite materi-
al through the development of cus-
tomised bio-based bonding materials.
'These new composite materials will
be fully bio-based, along with the
recycling technology itself, and this
will lead to reduced environmental
impact by cutting the use of primary
materials, harmful chemicals and land-
filling,' Collins adds.
a u t h o r Kirstin Linnenkoper
Carbon fibre can reduce the weight of
a commercial jetliner by up to 20% and
cut fuel costs by at least 5%.
60-61_carbonfibres.indd 60 10-11-21 14:39