Out now: winter issue!
Subscribe
Page 58 from: Out now: winter issue!
58 It's harvest time for ocean plastics An estimated 1.2 and 2.5 million tonnes of end-of-life plastic are carried down riv- ers into the oceans every year. The term 'Great Pacific Garbage Patch' has cemented itself into the voca...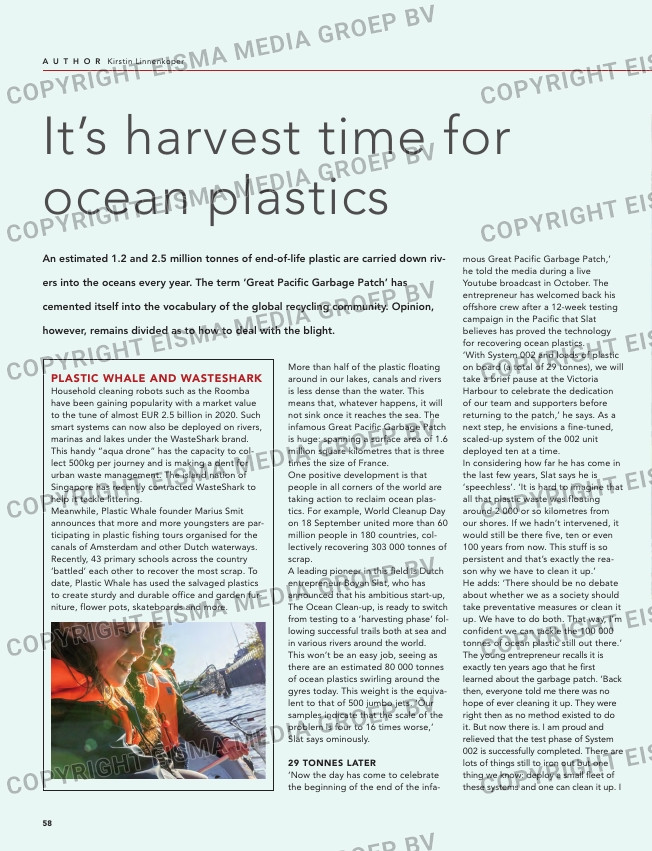 58
It's harvest time for
ocean plastics
An estimated 1.2 and 2.5 million tonnes of end-of-life plastic are carried down riv-
ers into the oceans every year. The term 'Great Pacific Garbage Patch' has
cemented itself into the vocabulary of the global recycling community. Opinion,
however, remains divided as to how to deal with the blight.
want to thank everyone for their sup-
port getting us to this point.'
Turning off The Tap
Slat and his team have created a
range of accessories made from ocean
waste. The first item created is sym-
bolic, to represent the sustainable
vision, namely a pair of blue sunglass-
es. Over 80% of the limited edition
shades, made from the first scrap
(HDPE) collected in 2019, has been
sold. They are designed to be easily
More than half of the plastic floating
around in our lakes, canals and rivers
is less dense than the water. This
means that, whatever happens, it will
not sink once it reaches the sea. The
infamous Great Pacific Garbage Patch
is huge: spanning a surface area of 1.6
million square kilometres that is three
times the size of France.
One positive development is that
people in all corners of the world are
taking action to reclaim ocean plas-
tics. For example, World Cleanup Day
on 18 September united more than 60
million people in 180 countries, col-
lectively recovering 303 000 tonnes of
scrap.
A leading pioneer in this field is Dutch
entrepreneur Boyan Slat, who has
announced that his ambitious start-up,
The Ocean Clean-up, is ready to switch
from testing to a 'harvesting phase' fol-
lowing successful trails both at sea and
in various rivers around the world.
This won't be an easy job, seeing as
there are an estimated 80 000 tonnes
of ocean plastics swirling around the
gyres today. This weight is the equiva-
lent to that of 500 jumbo jets. 'Our
samples indicate that the scale of the
problem is four to 16 times worse,'
Slat says ominously.
29 Tonnes laTer
'Now the day has come to celebrate
the beginning of the end of the infa-
mous Great Pacific Garbage Patch,'
he told the media during a live
Youtube broadcast in October. The
entrepreneur has welcomed back his
offshore crew after a 12-week testing
campaign in the Pacific that Slat
believes has proved the technology
for recovering ocean plastics.
'With System 002 and loads of plastic
on board (a total of 29 tonnes), we will
take a brief pause at the Victoria
Harbour to celebrate the dedication
of our team and supporters before
returning to the patch,' he says. As a
next step, he envisions a fine-tuned,
scaled-up system of the 002 unit
deployed ten at a time.
In considering how far he has come in
the last few years, Slat says he is
'speechless'. 'It is hard to imagine that
all that plastic waste was floating
around 2 000 or so kilometres from
our shores. If we hadn't intervened, it
would still be there five, ten or even
100 years from now. This stuff is so
persistent and that's exactly the rea-
son why we have to clean it up.'
He adds: 'There should be no debate
about whether we as a society should
take preventative measures or clean it
up. We have to do both. That way, I'm
confident we can tackle the 100 000
tonnes of ocean plastic still out there.'
The young entrepreneur recalls it is
exactly ten years ago that he first
learned about the garbage patch. 'Back
then, everyone told me there was no
hope of ever cleaning it up. They were
right then as no method existed to do
it. But now there is. I am proud and
relieved that the test phase of System
002 is successfully completed. There are
lots of things still to iron out but one
thing we know: deploy a small fleet of
these systems and one can clean it up. I
Collected from the ocean: 29 tonnes of plastics.
A u T h O r Kirstin Linnenkoper
plasTic Whale and WasTeshark
Household cleaning robots such as the Roomba
have been gaining popularity with a market value
to the tune of almost EUR 2.5 billion in 2020. Such
smart systems can now also be deployed on rivers,
marinas and lakes under the WasteShark brand.
This handy "aqua drone" has the capacity to col-
lect 500kg per journey and is making a dent for
urban waste management. The island nation of
Singapore has recently contracted WasteShark to
help it tackle littering.
Meanwhile, Plastic Whale founder Marius Smit
announces that more and more youngsters are par-
ticipating in plastic fishing tours organised for the
canals of Amsterdam and other Dutch waterways.
Recently, 43 primary schools across the country
'battled' each other to recover the most scrap. To
date, Plastic Whale has used the salvaged plastics
to create sturdy and durable office and garden fur-
niture, flower pots, skateboards and more.
58-59_worldcleanupday.indd 58 11-11-21 09:18