Out now: winter issue!
Subscribe
Page 54 from: Out now: winter issue!
54 The wow factor of recycled plastics 'It's been a busy year – a year of growth for us,' says Willemijn Peeters, ceo of Searious Business. The Dutch entrepreneur is espe- cially proud her company has helped Morocco clean up ...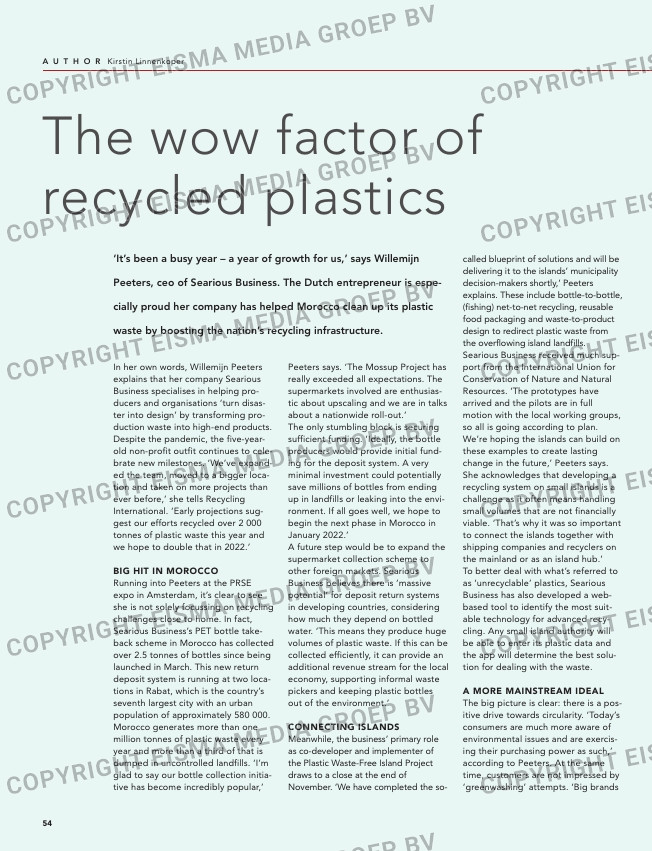 54
The wow factor of
recycled plastics
'It's been a busy year – a year of growth for us,' says Willemijn
Peeters, ceo of Searious Business. The Dutch entrepreneur is espe-
cially proud her company has helped Morocco clean up its plastic
waste by boosting the nation's recycling infrastructure.
are recognising that this is not a trend
that is going away.'
Politicians have also started paying
attention to big sustainability themes.
'You can see this with the decisive
bans on single-use plastic packaging
in Spain and France. I consider it likely
that a new treaty on marine plastic
pollution will be on the agenda at the
United Nations assembly next year.'
Peeters argues that real, radical
change is on the horizon 'and we want
to help accelerate it as fast as possi-
ble'. The entrepreneur adds: 'We
come across so many innovative new
ways of using recycled plastic during
our work, we have set up an expo
space in our office to showcase them.'
This includes furniture and decorative
objects sourced both from land and
sea.
A major area of interest for Peeters
and her team is pushing for extended
producer responsibility in the fishing
industry to prevent nets and gear
from being discarded at sea. 'We have
partnered with the flooring company
Interface which is recycling used fish-
ing nets into carpet tiles.'
Her company is also involved in a proj-
ect to recycle unwanted CDs into
designer furniture while another part-
ner, Van Plestik, uses innovative 3D
printing techniques to create chairs
and decorative objects from scrap.
'What we find most exciting, though,
is to see regular use of recycled con-
tent. Think about it: there is no reason
why recycled plastic can't be used in
any non-food item. So, when we can
help our clients incorporate recycled
plastic into their products without
downgrading either in function or aes-
thetics, that's what we call real suc-
cess.'
In her own words, Willemijn Peeters
explains that her company Searious
Business specialises in helping pro-
ducers and organisations 'turn disas-
ter into design' by transforming pro-
duction waste into high-end products.
Despite the pandemic, the five-year-
old non-profit outfit continues to cele-
brate new milestones. 'We've expand-
ed the team, moved to a bigger loca-
tion and taken on more projects than
ever before,' she tells Recycling
International. 'Early projections sug-
gest our efforts recycled over 2 000
tonnes of plastic waste this year and
we hope to double that in 2022.'
Big hit in Morocco
Running into Peeters at the PRSE
expo in Amsterdam, it's clear to see
she is not solely focussing on recycling
challenges close to home. In fact,
Searious Business's PET bottle take-
back scheme in Morocco has collected
over 2.5 tonnes of bottles since being
launched in March. This new return
deposit system is running at two loca-
tions in Rabat, which is the country's
seventh largest city with an urban
population of approximately 580 000.
Morocco generates more than one
million tonnes of plastic waste every
year and more than a third of that is
dumped in uncontrolled landfills. 'I'm
glad to say our bottle collection initia-
tive has become incredibly popular,'
Peeters says. 'The Mossup Project has
really exceeded all expectations. The
supermarkets involved are enthusias-
tic about upscaling and we are in talks
about a nationwide roll-out.'
The only stumbling block is securing
sufficient funding. 'Ideally, the bottle
producers would provide initial fund-
ing for the deposit system. A very
minimal investment could potentially
save millions of bottles from ending
up in landfills or leaking into the envi-
ronment. If all goes well, we hope to
begin the next phase in Morocco in
January 2022.'
A future step would be to expand the
supermarket collection scheme to
other foreign markets. Searious
Business believes there is 'massive
potential' for deposit return systems
in developing countries, considering
how much they depend on bottled
water. 'This means they produce huge
volumes of plastic waste. If this can be
collected efficiently, it can provide an
additional revenue stream for the local
economy, supporting informal waste
pickers and keeping plastic bottles
out of the environment.'
connecting islands
Meanwhile, the business' primary role
as co-developer and implementer of
the Plastic Waste-Free Island Project
draws to a close at the end of
November. 'We have completed the so-
called blueprint of solutions and will be
delivering it to the islands' municipality
decision-makers shortly,' Peeters
explains. These include bottle-to-bottle,
(fishing) net-to-net recycling, reusable
food packaging and waste-to-product
design to redirect plastic waste from
the overflowing island landfills.
Searious Business received much sup-
port from the International Union for
Conservation of Nature and Natural
Resources. 'The prototypes have
arrived and the pilots are in full
motion with the local working groups,
so all is going according to plan.
We're hoping the islands can build on
these examples to create lasting
change in the future,' Peeters says.
She acknowledges that developing a
recycling system on small islands is a
challenge as it often means handling
small volumes that are not financially
viable. 'That's why it was so important
to connect the islands together with
shipping companies and recyclers on
the mainland or as an island hub.'
To better deal with what's referred to
as 'unrecyclable' plastics, Searious
Business has also developed a web-
based tool to identify the most suit-
able technology for advanced recy-
cling. Any small island authority will
be able to enter its plastic data and
the app will determine the best solu-
tion for dealing with the waste.
a More MainstreaM ideal
The big picture is clear: there is a pos-
itive drive towards circularity. 'Today's
consumers are much more aware of
environmental issues and are exercis-
ing their purchasing power as such,'
according to Peeters. At the same
time, customers are not impressed by
'greenwashing' attempts. 'Big brands
a u T h o r Kirstin Linnenkoper
54-55_spotlightmorocco.indd 54 11-11-21 09:18