Out now: winter issue!
Subscribe
Page 47 from: Out now: winter issue!
47recyclinginternational.com | November/December | 2021 PlASticS SPeciAl ability pledges at a global level. Now, these fast moving consumer goods (FMCG) brands are also looking for supplies of high-quality recycled plastic in Afri...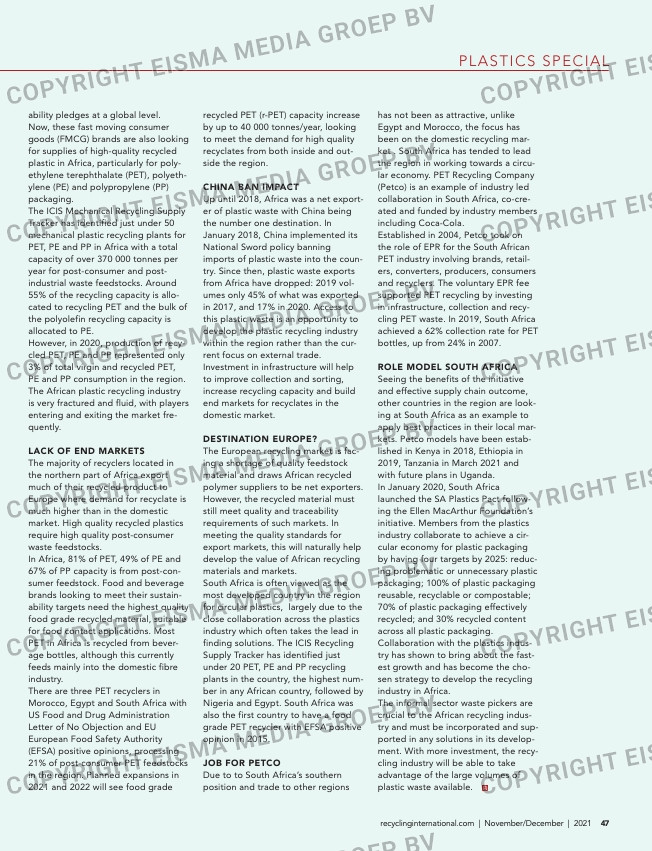 47recyclinginternational.com | November/December | 2021
PlASticS SPeciAl
ability pledges at a global level.
Now, these fast moving consumer
goods (FMCG) brands are also looking
for supplies of high-quality recycled
plastic in Africa, particularly for poly-
ethylene terephthalate (PET), polyeth-
ylene (PE) and polypropylene (PP)
packaging.
The ICIS Mechanical Recycling Supply
Tracker has identified just under 50
mechanical plastic recycling plants for
PET, PE and PP in Africa with a total
capacity of over 370 000 tonnes per
year for post-consumer and post-
industrial waste feedstocks. Around
55% of the recycling capacity is allo-
cated to recycling PET and the bulk of
the polyolefin recycling capacity is
allocated to PE.
However, in 2020, production of recy-
cled PET, PE and PP represented only
3% of total virgin and recycled PET,
PE and PP consumption in the region.
The African plastic recycling industry
is very fractured and fluid, with players
entering and exiting the market fre-
quently.
Lack of end markets
The majority of recyclers located in
the northern part of Africa export
much of their recycled product to
Europe where demand for recyclate is
much higher than in the domestic
market. High quality recycled plastics
require high quality post-consumer
waste feedstocks.
In Africa, 81% of PET, 49% of PE and
67% of PP capacity is from post-con-
sumer feedstock. Food and beverage
brands looking to meet their sustain-
ability targets need the highest quality
food grade recycled material, suitable
for food contact applications. Most
PET in Africa is recycled from bever-
age bottles, although this currently
feeds mainly into the domestic fibre
industry.
There are three PET recyclers in
Morocco, Egypt and South Africa with
US Food and Drug Administration
Letter of No Objection and EU
European Food Safety Authority
(EFSA) positive opinions, processing
21% of post-consumer PET feedstocks
in the region. Planned expansions in
2021 and 2022 will see food grade
recycled PET (r-PET) capacity increase
by up to 40 000 tonnes/year, looking
to meet the demand for high quality
recyclates from both inside and out-
side the region.
china Ban impact
Up until 2018, Africa was a net export-
er of plastic waste with China being
the number one destination. In
January 2018, China implemented its
National Sword policy banning
imports of plastic waste into the coun-
try. Since then, plastic waste exports
from Africa have dropped: 2019 vol-
umes only 45% of what was exported
in 2017, and 17% in 2020. Access to
this plastic waste is an opportunity to
develop the plastic recycling industry
within the region rather than the cur-
rent focus on external trade.
Investment in infrastructure will help
to improve collection and sorting,
increase recycling capacity and build
end markets for recyclates in the
domestic market.
destination europe?
The European recycling market is fac-
ing a shortage of quality feedstock
material and draws African recycled
polymer suppliers to be net exporters.
However, the recycled material must
still meet quality and traceability
requirements of such markets. In
meeting the quality standards for
export markets, this will naturally help
develop the value of African recycling
materials and markets.
South Africa is often viewed as the
most developed country in the region
for circular plastics, largely due to the
close collaboration across the plastics
industry which often takes the lead in
finding solutions. The ICIS Recycling
Supply Tracker has identified just
under 20 PET, PE and PP recycling
plants in the country, the highest num-
ber in any African country, followed by
Nigeria and Egypt. South Africa was
also the first country to have a food
grade PET recycler with EFSA positive
opinion in 2015.
JoB for petco
Due to to South Africa's southern
position and trade to other regions
has not been as attractive, unlike
Egypt and Morocco, the focus has
been on the domestic recycling mar-
ket . South Africa has tended to lead
the region in working towards a circu-
lar economy. PET Recycling Company
(Petco) is an example of industry led
collaboration in South Africa, co-cre-
ated and funded by industry members
including Coca-Cola.
Established in 2004, Petco took on
the role of EPR for the South African
PET industry involving brands, retail-
ers, converters, producers, consumers
and recyclers. The voluntary EPR fee
supported PET recycling by investing
in infrastructure, collection and recy-
cling PET waste. In 2019, South Africa
achieved a 62% collection rate for PET
bottles, up from 24% in 2007.
roLe modeL south africa
Seeing the benefits of the initiative
and effective supply chain outcome,
other countries in the region are look-
ing at South Africa as an example to
apply best practices in their local mar-
kets. Petco models have been estab-
lished in Kenya in 2018, Ethiopia in
2019, Tanzania in March 2021 and
with future plans in Uganda.
In January 2020, South Africa
launched the SA Plastics Pact follow-
ing the Ellen MacArthur Foundation's
initiative. Members from the plastics
industry collaborate to achieve a cir-
cular economy for plastic packaging
by having four targets by 2025: reduc-
ing problematic or unnecessary plastic
packaging; 100% of plastic packaging
reusable, recyclable or compostable;
70% of plastic packaging effectively
recycled; and 30% recycled content
across all plastic packaging.
Collaboration with the plastics indus-
try has shown to bring about the fast-
est growth and has become the cho-
sen strategy to develop the recycling
industry in Africa.
The informal sector waste pickers are
crucial to the African recycling indus-
try and must be incorporated and sup-
ported in any solutions in its develop-
ment. With more investment, the recy-
cling industry will be able to take
advantage of the large volumes of
plastic waste available.
Fotobijschrift
kaderkop
??
46-47_bestpractices.indd 47 11-11-21 09:00