Out now: winter issue!
Subscribe
Page 45 from: Out now: winter issue!
45recyclinginternational.com | November/December | 2021 PlasTics sPecial on boosting the recyclability of the PC/ABS fractions, as this is a quickly growing waste stream. 'We are striv- ing to be the first company in Europe, pref...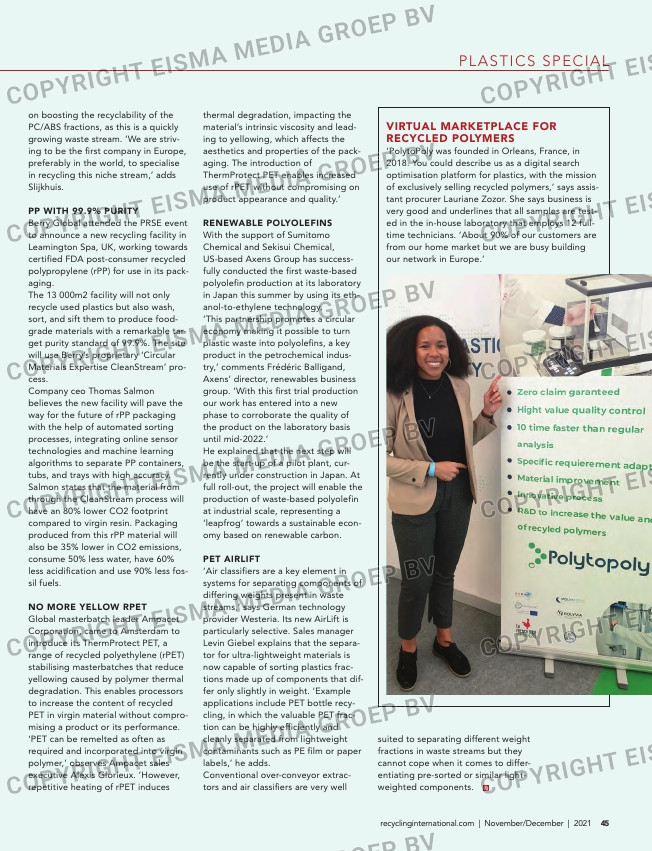 45recyclinginternational.com | November/December | 2021
PlasTics sPecial
on boosting the recyclability of the
PC/ABS fractions, as this is a quickly
growing waste stream. 'We are striv-
ing to be the first company in Europe,
preferably in the world, to specialise
in recycling this niche stream,' adds
Slijkhuis.
PP with 99.9% Purity
Berry Global attended the PRSE event
to announce a new recycling facility in
Leamington Spa, UK, working towards
certified FDA post-consumer recycled
polypropylene (rPP) for use in its pack-
aging.
The 13 000m2 facility will not only
recycle used plastics but also wash,
sort, and sift them to produce food-
grade materials with a remarkable tar-
get purity standard of 99.9%. The site
will use Berry's proprietary 'Circular
Materials Expertise CleanStream' pro-
cess.
Company ceo Thomas Salmon
believes the new facility will pave the
way for the future of rPP packaging
with the help of automated sorting
processes, integrating online sensor
technologies and machine learning
algorithms to separate PP containers,
tubs, and trays with high accuracy.
Salmon states that the material from
through the CleanStream process will
have an 80% lower CO2 footprint
compared to virgin resin. Packaging
produced from this rPP material will
also be 35% lower in CO2 emissions,
consume 50% less water, have 60%
less acidification and use 90% less fos-
sil fuels.
No more yellow rPet
Global masterbatch leader Ampacet
Corporation, came to Amsterdam to
introduce its ThermProtect PET, a
range of recycled polyethylene (rPET)
stabilising masterbatches that reduce
yellowing caused by polymer thermal
degradation. This enables processors
to increase the content of recycled
PET in virgin material without compro-
mising a product or its performance.
'PET can be remelted as often as
required and incorporated into virgin
polymer,' observes Ampacet sales
executive Alexis Glorieux. 'However,
repetitive heating of rPET induces
thermal degradation, impacting the
material's intrinsic viscosity and lead-
ing to yellowing, which affects the
aesthetics and properties of the pack-
aging. The introduction of
ThermProtect PET enables increased
use of rPET without compromising on
product appearance and quality.'
reNewable PolyolefiNS
With the support of Sumitomo
Chemical and Sekisui Chemical,
US-based Axens Group has success-
fully conducted the first waste-based
polyolefin production at its laboratory
in Japan this summer by using its eth-
anol-to-ethylene technology.
'This partnership promotes a circular
economy making it possible to turn
plastic waste into polyolefins, a key
product in the petrochemical indus-
try,' comments Frédéric Balligand,
Axens' director, renewables business
group. 'With this first trial production
our work has entered into a new
phase to corroborate the quality of
the product on the laboratory basis
until mid-2022.'
He explained that the next step will
be the start-up of a pilot plant, cur-
rently under construction in Japan. At
full roll-out, the project will enable the
production of waste-based polyolefin
at industrial scale, representing a
'leapfrog' towards a sustainable econ-
omy based on renewable carbon.
Pet airlift
'Air classifiers are a key element in
systems for separating components of
differing weights present in waste
streams,' says German technology
provider Westeria. Its new AirLift is
particularly selective. Sales manager
Levin Giebel explains that the separa-
tor for ultra-lightweight materials is
now capable of sorting plastics frac-
tions made up of components that dif-
fer only slightly in weight. 'Example
applications include PET bottle recy-
cling, in which the valuable PET frac-
tion can be highly efficiently and
cleanly separated from lightweight
contaminants such as PE film or paper
labels,' he adds.
Conventional over-conveyor extrac-
tors and air classifiers are very well
suited to separating different weight
fractions in waste streams but they
cannot cope when it comes to differ-
entiating pre-sorted or similar light-
weighted components.
Fotobijschrift
kaderkoP
??
Virtual marketPlaCe for
reCyCled PolymerS
'PolytoPoly was founded in Orleans, France, in
2018. You could describe us as a digital search
optimisation platform for plastics, with the mission
of exclusively selling recycled polymers,' says assis-
tant procurer Lauriane Zozor. She says business is
very good and underlines that all samples are test-
ed in the in-house laboratory that employs 12 full-
time technicians. 'About 90% of our customers are
from our home market but we are busy building
our network in Europe.'
44-45_plasticsspecialintro.indd 45 11-11-21 08:59