Out now: winter issue!
Subscribe
Page 43 from: Out now: winter issue!
TRADE SHOW 43recyclinginternational.com | November/December | 2021 This allowed Barradas, a family com- pany Rui runs with his daughter Nina, to understand the ins-and-outs of recycling technology. 'How many machines are on the m...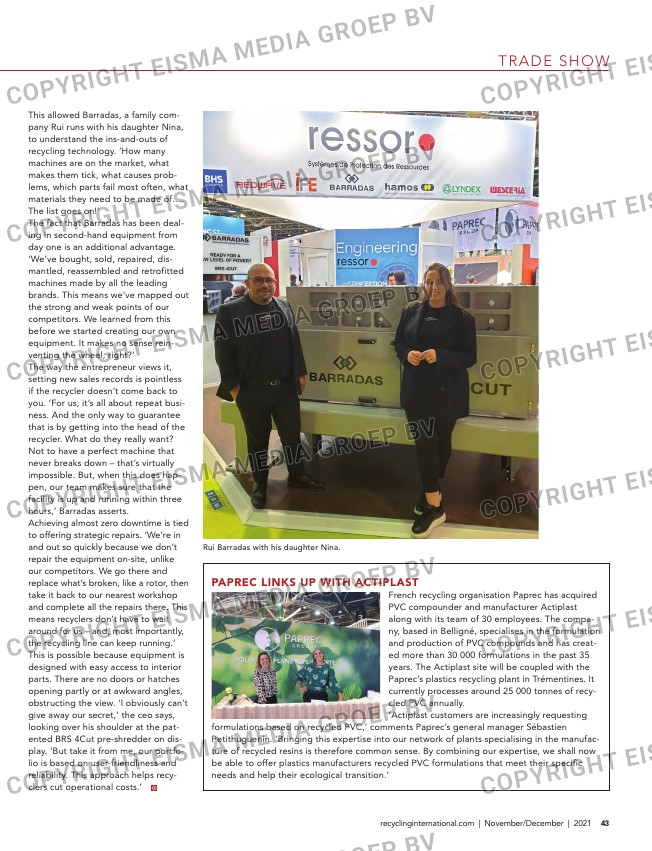 TRADE SHOW
43recyclinginternational.com | November/December | 2021
This allowed Barradas, a family com-
pany Rui runs with his daughter Nina,
to understand the ins-and-outs of
recycling technology. 'How many
machines are on the market, what
makes them tick, what causes prob-
lems, which parts fail most often, what
materials they need to be made of….
The list goes on!'
The fact that Barradas has been deal-
ing in second-hand equipment from
day one is an additional advantage.
'We've bought, sold, repaired, dis-
mantled, reassembled and retrofitted
machines made by all the leading
brands. This means we've mapped out
the strong and weak points of our
competitors. We learned from this
before we started creating our own
equipment. It makes no sense rein-
venting the wheel, right?'
The way the entrepreneur views it,
setting new sales records is pointless
if the recycler doesn't come back to
you. 'For us, it's all about repeat busi-
ness. And the only way to guarantee
that is by getting into the head of the
recycler. What do they really want?
Not to have a perfect machine that
never breaks down – that's virtually
impossible. But, when this does hap-
pen, our team makes sure that the
facility is up and running within three
hours,' Barradas asserts.
Achieving almost zero downtime is tied
to offering strategic repairs. 'We're in
and out so quickly because we don't
repair the equipment on-site, unlike
our competitors. We go there and
replace what's broken, like a rotor, then
take it back to our nearest workshop
and complete all the repairs there. This
means recyclers don't have to wait
around for us – and, most importantly,
the recycling line can keep running.'
This is possible because equipment is
designed with easy access to interior
parts. There are no doors or hatches
opening partly or at awkward angles,
obstructing the view. 'I obviously can't
give away our secret,' the ceo says,
looking over his shoulder at the pat-
ented BRS 4Cut pre-shredder on dis-
play. 'But take it from me, our portfo-
lio is based on user-friendliness and
reliability. This approach helps recy-
clers cut operational costs.'
'Everyone is in a very good mood.
Recyclers are full of enthusiasm and so
are our neighbours at other booths. It
seems like we're all ready for the next
chapter: life after coronavirus.'
backing FeMale innoVation
The crew at Hensel Recycling echo
this sentiment. 'It's been far too long.
So good to see you – would you like
some champagne?' asks Anna
Marchisio (business development
manager) when she runs into
Recycling International in Lyon. She is
eager to share what the precious
metal recycling specialist has been up
to in the last two years.
A project dear to her heart is creating
a platform for female innovators to
network and share their expertise,
called Women in PGM. (More details
on this initiative will follow as
Recycling International will publish a
series of articles shining a spotlight on
female trailblazers in coming issues.)
'Also, in January this year we became a
member of the BEST4HY consortium.
This R&D project is financed by the EU
as part of the Horizon 2020 programme
and hopes to improve the recycling of
fuel cells, recovering the valuable pre-
cious metals inside,' Marchisio explains.
Recyclers and institutes in France, Italy,
Germany, Estonia and Slovenia have
joined forces to realise this.
'Fuel cells have gained momentum as
energy converters in both stationary
and mobile applications – these are
coated with platinum, palladium and
ruthenium. It's still early days when it
comes to recycling them, though. We
hope to help improve best practices.'
alMost zero DowntiMe
'It's great to see so many people
attending Pollutec; we've barely had
time to eat lunch,' laughs Rui Barradas,
ceo of German tech provider Barradas.
He underlines that it's not just about
being innovative and closing deals –
it's also about offering great customer
service. 'In the 24 years we've been in
operation, this has always been our
foundation. Literally, because we start-
ed out as a maintenance company,
focussing on repair work and delivering
spare parts.'
paprec links up with actiplast
French recycling organisation Paprec has acquired
PVC compounder and manufacturer Actiplast
along with its team of 30 employees. The compa-
ny, based in Belligné, specialises in the formulation
and production of PVC compounds and has creat-
ed more than 30 000 formulations in the past 35
years. The Actiplast site will be coupled with the
Paprec's plastics recycling plant in Trémentines. It
currently processes around 25 000 tonnes of recy-
cled PVC annually.
'Actiplast customers are increasingly requesting
formulations based on recycled PVC,' comments Paprec's general manager Sébastien
Petithuguenin. 'Bringing this expertise into our network of plants specialising in the manufac-
ture of recycled resins is therefore common sense. By combining our expertise, we shall now
be able to offer plastics manufacturers recycled PVC formulations that meet their specific
needs and help their ecological transition.'
Rui Barradas with his daughter Nina.
38-39-40-41-42-43_pollutechighlights.indd 43 11-11-21 08:59