Out now: winter issue!
Subscribe
Page 40 from: Out now: winter issue!
40 The young women add that the tech world is no longer an industry exclu- sively for men. 'As a next generation company, with most of our team fresh out of college, we probably view the waste management sector rather non- traditiona...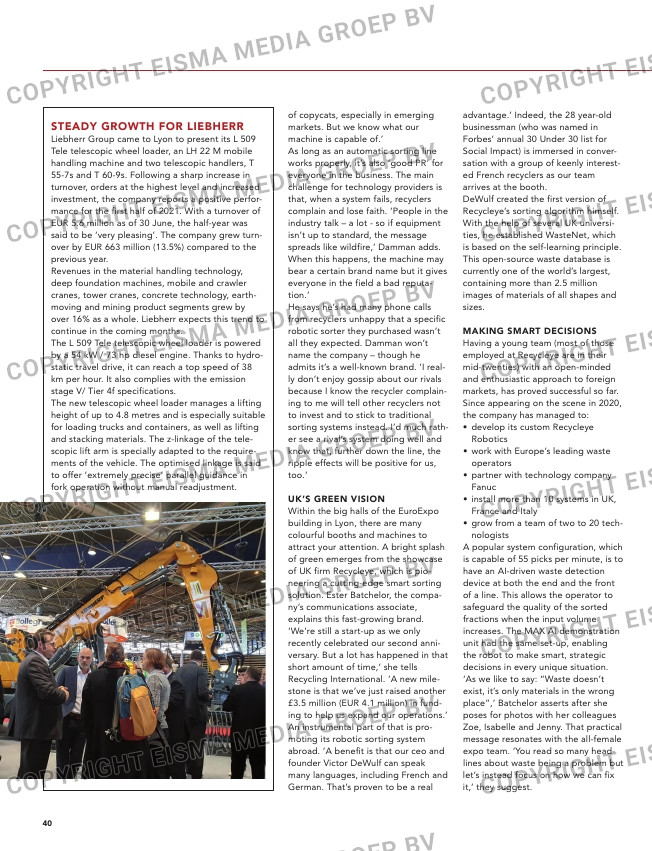 40
The young women add that the tech
world is no longer an industry exclu-
sively for men. 'As a next generation
company, with most of our team fresh
out of college, we probably view the
waste management sector rather non-
traditionally,' Batchelor states.
Recycleye is described as a non-hier-
archical, modern company that wel-
comes personal input and creativity
and celebrates rather than fears the
power of AI.
'You know, it's been a strange journey.
We happened to launch our technolo-
gy in the middle of the pandemic,'
Batchelor recalls. 'Naturally, no one
could have anticipated what challeng-
es we would face in 2020. But I'm glad
to say the lockdown lifestyle and coro-
navirus aftermath didn't impact our
day-to-day operations much.'
In a sense, it was good timing that
Recycleye was still busy fine-tuning its
solutions and preparing to present the
robotic system to the industry when
Covid-19 struck. 'The situation gave
us extra time to focus on R&D and
recruiting new talent while running
of copycats, especially in emerging
markets. But we know what our
machine is capable of.'
As long as an automatic sorting line
works properly, it's also 'good PR' for
everyone in the business. The main
challenge for technology providers is
that, when a system fails, recyclers
complain and lose faith. 'People in the
industry talk – a lot – so if equipment
isn't up to standard, the message
spreads like wildfire,' Damman adds.
When this happens, the machine may
bear a certain brand name but it gives
everyone in the field a bad reputa-
tion.'
He says he's had many phone calls
from recyclers unhappy that a specific
robotic sorter they purchased wasn't
all they expected. Damman won't
name the company – though he
admits it's a well-known brand. 'I real-
ly don't enjoy gossip about our rivals
because I know the recycler complain-
ing to me will tell other recyclers not
to invest and to stick to traditional
sorting systems instead. I'd much rath-
er see a rival's system doing well and
know that, further down the line, the
ripple effects will be positive for us,
too.'
uk's green Vision
Within the big halls of the EuroExpo
building in Lyon, there are many
colourful booths and machines to
attract your attention. A bright splash
of green emerges from the showcase
of UK firm Recycleye, which is pio-
neering a cutting-edge smart sorting
solution. Ester Batchelor, the compa-
ny's communications associate,
explains this fast-growing brand.
'We're still a start-up as we only
recently celebrated our second anni-
versary. But a lot has happened in that
short amount of time,' she tells
Recycling International. 'A new mile-
stone is that we've just raised another
£3.5 million (EUR 4.1 million) in fund-
ing to help us expand our operations.'
An instrumental part of that is pro-
moting its robotic sorting system
abroad. 'A benefit is that our ceo and
founder Victor DeWulf can speak
many languages, including French and
German. That's proven to be a real
advantage.' Indeed, the 28 year-old
businessman (who was named in
Forbes' annual 30 Under 30 list for
Social Impact) is immersed in conver-
sation with a group of keenly interest-
ed French recyclers as our team
arrives at the booth.
DeWulf created the first version of
Recycleye's sorting algorithm himself.
With the help of several UK universi-
ties, he established WasteNet, which
is based on the self-learning principle.
This open-source waste database is
currently one of the world's largest,
containing more than 2.5 million
images of materials of all shapes and
sizes.
Making sMart Decisions
Having a young team (most of those
employed at Recycleye are in their
mid-twenties) with an open-minded
and enthusiastic approach to foreign
markets, has proved successful so far.
Since appearing on the scene in 2020,
the company has managed to:
• develop its custom Recycleye
Robotics
• work with Europe's leading waste
operators
• partner with technology company
Fanuc
• install more than 10 systems in UK,
France and Italy
• grow from a team of two to 20 tech-
nologists
A popular system configuration, which
is capable of 55 picks per minute, is to
have an AI-driven waste detection
device at both the end and the front
of a line. This allows the operator to
safeguard the quality of the sorted
fractions when the input volume
increases. The MAX AI demonstration
unit had the same set-up, enabling
the robot to make smart, strategic
decisions in every unique situation.
'As we like to say: "Waste doesn't
exist, it's only materials in the wrong
place",' Batchelor asserts after she
poses for photos with her colleagues
Zoe, Isabelle and Jenny. That practical
message resonates with the all-female
expo team. 'You read so many head-
lines about waste being a problem but
let's instead focus on how we can fix
it,' they suggest.
steaDy growth For liebherr
Liebherr Group came to Lyon to present its L 509
Tele telescopic wheel loader, an LH 22 M mobile
handling machine and two telescopic handlers, T
55-7s and T 60-9s. Following a sharp increase in
turnover, orders at the highest level and increased
investment, the company reports a positive perfor-
mance for the first half of 2021. With a turnover of
EUR 5.6 million as of 30 June, the half-year was
said to be 'very pleasing'. The company grew turn-
over by EUR 663 million (13.5%) compared to the
previous year.
Revenues in the material handling technology,
deep foundation machines, mobile and crawler
cranes, tower cranes, concrete technology, earth-
moving and mining product segments grew by
over 16% as a whole. Liebherr expects this trend to
continue in the coming months.
The L 509 Tele telescopic wheel loader is powered
by a 54 kW / 73 hp diesel engine. Thanks to hydro-
static travel drive, it can reach a top speed of 38
km per hour. It also complies with the emission
stage V/ Tier 4f specifications.
The new telescopic wheel loader manages a lifting
height of up to 4.8 metres and is especially suitable
for loading trucks and containers, as well as lifting
and stacking materials. The z-linkage of the tele-
scopic lift arm is specially adapted to the require-
ments of the vehicle. The optimised linkage is said
to offer 'extremely precise' parallel guidance in
fork operation without manual readjustment.
38-39-40-41-42-43_pollutechighlights.indd 40 11-11-21 08:59