Out now: winter issue!
Subscribe
Page 30 from: Out now: winter issue!
30 support the competitiveness of the European battery ecosystem,' adds Claude Chanson of Recharge, the advanced rechargeable and lithium batteries industry association in Europe. He envisions 'future-proof' regulation that con...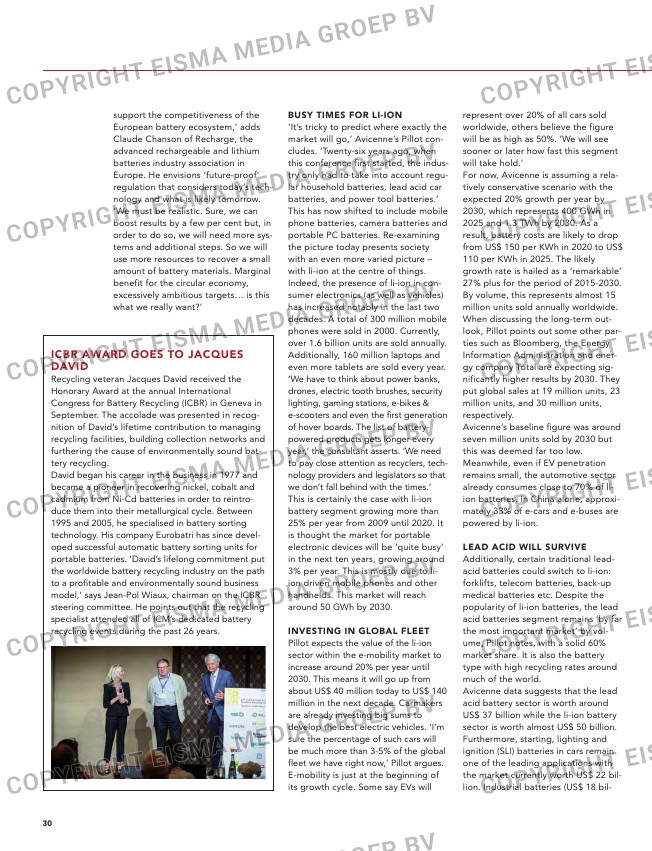 30
support the competitiveness of the
European battery ecosystem,' adds
Claude Chanson of Recharge, the
advanced rechargeable and lithium
batteries industry association in
Europe. He envisions 'future-proof'
regulation that considers today's tech-
nology and what is likely tomorrow.
'We must be realistic. Sure, we can
boost results by a few per cent but, in
order to do so, we will need more sys-
tems and additional steps. So we will
use more resources to recover a small
amount of battery materials. Marginal
benefit for the circular economy,
excessively ambitious targets… is this
what we really want?'
Busy times for li-ion
'It's tricky to predict where exactly the
market will go,' Avicenne's Pillot con-
cludes. 'Twenty-six years ago, when
this conference first started, the indus-
try only had to take into account regu-
lar household batteries, lead acid car
batteries, and power tool batteries.'
This has now shifted to include mobile
phone batteries, camera batteries and
portable PC batteries. Re-examining
the picture today presents society
with an even more varied picture –
with li-ion at the centre of things.
Indeed, the presence of li-ion in con-
sumer electronics (as well as vehicles)
has increased notably in the last two
decades. A total of 300 million mobile
phones were sold in 2000. Currently,
over 1.6 billion units are sold annually.
Additionally, 160 million laptops and
even more tablets are sold every year.
'We have to think about power banks,
drones, electric tooth brushes, security
lighting, gaming stations, e-bikes &
e-scooters and even the first generation
of hover boards. The list of battery-
powered products gets longer every
year,' the consultant asserts. 'We need
to pay close attention as recyclers, tech-
nology providers and legislators so that
we don't fall behind with the times.'
This is certainly the case with li-ion
battery segment growing more than
25% per year from 2009 until 2020. It
is thought the market for portable
electronic devices will be 'quite busy'
in the next ten years, growing around
3% per year. This is mostly due to li-
ion driven mobile phones and other
handhelds. This market will reach
around 50 GWh by 2030.
investing in gloBal fleet
Pillot expects the value of the li-ion
sector within the e-mobility market to
increase around 20% per year until
2030. This means it will go up from
about US$ 40 million today to US$ 140
million in the next decade. Carmakers
are already investing big sums to
develop the best electric vehicles. 'I'm
sure the percentage of such cars will
be much more than 3-5% of the global
fleet we have right now,' Pillot argues.
E-mobility is just at the beginning of
its growth cycle. Some say EVs will
represent over 20% of all cars sold
worldwide, others believe the figure
will be as high as 50%. 'We will see
sooner or later how fast this segment
will take hold.'
For now, Avicenne is assuming a rela-
tively conservative scenario with the
expected 20% growth per year by
2030, which represents 400 GWh in
2025 and 1.3 TWh by 2030. As a
result, battery costs are likely to drop
from US$ 150 per KWh in 2020 to US$
110 per KWh in 2025. The likely
growth rate is hailed as a 'remarkable'
27% plus for the period of 2015-2030.
By volume, this represents almost 15
million units sold annually worldwide.
When discussing the long-term out-
look, Pillot points out some other par-
ties such as Bloomberg, the Energy
Information Administration and ener-
gy company Total are expecting sig-
nificantly higher results by 2030. They
put global sales at 19 million units, 23
million units, and 30 million units,
respectively.
Avicenne's baseline figure was around
seven million units sold by 2030 but
this was deemed far too low.
Meanwhile, even if EV penetration
remains small, the automotive sector
already consumes close to 70% of li-
ion batteries. In China alone, approxi-
mately 33% of e-cars and e-buses are
powered by li-ion.
lead acid will survive
Additionally, certain traditional lead-
acid batteries could switch to li-ion:
forklifts, telecom batteries, back-up
medical batteries etc. Despite the
popularity of li-ion batteries, the lead
acid batteries segment remains 'by far
the most important market' by vol-
ume, Pillot notes, with a solid 60%
market share. It is also the battery
type with high recycling rates around
much of the world.
Avicenne data suggests that the lead
acid battery sector is worth around
US$ 37 billion while the li-ion battery
sector is worth almost US$ 50 billion.
Furthermore, starting, lighting and
ignition (SLI) batteries in cars remain
one of the leading applications with
the market currently worth US$ 22 bil-
lion. Industrial batteries (US$ 18 bil-
lion) are also popular, followed by
portable batteries (US$ 9 billion),
e-bikes (US$ 4.5 billion) and power
tools (US$ 2.5 billion).
'Sometimes people come up to me to
ask whether the lead acid market will
survive the li-ion invasion,' Pillot says
jokingly. 'To that, I say; "Yes, I am
quite sure" because there is still a
small but decent growth curve in that
segment.' In fact, it will expand from
415 MWh in 2020 to 495 MWh by
2030, which will be about one-third of
the total battery market share (by
chemistry) that year.
In terms of the market value of the
pack, the lead acid battery sector
worth US$ 37 billion will grow to
approximately US$ 40 billion by 2025
and US$ 48 billion by 2030.
Battery prices are a bone of conten-
tion for the entire industry: almost
70% of the battery cell price is based
on the components and materials
required. As such, more producers are
trying to further reduce the cobalt
content in their batteries. Cheaper
batteries coming onto the market will
instead contain more nickel which will
notably impact on energy density and
the overall performance of the bat-
tery, reducing the battery life cycle.
Pillot cautions: 'Adjusting battery
chemistry is a balancing act.'
new collection record
Despite the pandemic, Call2Recycle
managed to collect over 3 800 tonnes
of batteries across North America.
'That's a new record for us,' says Leo
Raudys, the organisation's incoming
ceo and president as of January 2021.
Most were primary batteries, followed
by li-ion batteries, nickel cadmium bat-
teries, small sealed lead acid batteries
and nickel metal hydride batteries.
'We've got the first figures for 2021
ready, detailing results for January until
August. They indicate pretty healthy
collection rates,' Raudys tells dele-
gates. There was a 17% fall (680
tonnes) in the primary battery segment
but Call2Recycle noticed 6% (1 540
tonnes) more rechargeable batteries
came in comparing year-on-year.
Factoring in other chemistries, this
leaves a drop of just 2.5% by weight.
icBr award goes to Jacques
david
Recycling veteran Jacques David received the
Honorary Award at the annual International
Congress for Battery Recycling (ICBR) in Geneva in
September. The accolade was presented in recog-
nition of David's lifetime contribution to managing
recycling facilities, building collection networks and
furthering the cause of environmentally sound bat-
tery recycling.
David began his career in the business in 1977 and
became a pioneer in recovering nickel, cobalt and
cadmium from Ni-Cd batteries in order to reintro-
duce them into their metallurgical cycle. Between
1995 and 2005, he specialised in battery sorting
technology. His company Eurobatri has since devel-
oped successful automatic battery sorting units for
portable batteries. 'David's lifelong commitment put
the worldwide battery recycling industry on the path
to a profitable and environmentally sound business
model,' says Jean-Pol Wiaux, chairman on the ICBR
steering committee. He points out that the recycling
specialist attended all of ICM's dedicated battery
recycling events during the past 26 years.
26-27-28-29-30-31_batterycongress.indd 30 10-11-21 15:29