Out now: winter issue!
Subscribe
Page 27 from: Out now: winter issue!
BATTERIES 27recyclinginternational.com | November/December | 2021 'Looking ahead, this represents a very healthy growth rate averaging roughly 9% over the next ten years,' says Christophe Pillot of Avicenne Energy. 'The big ...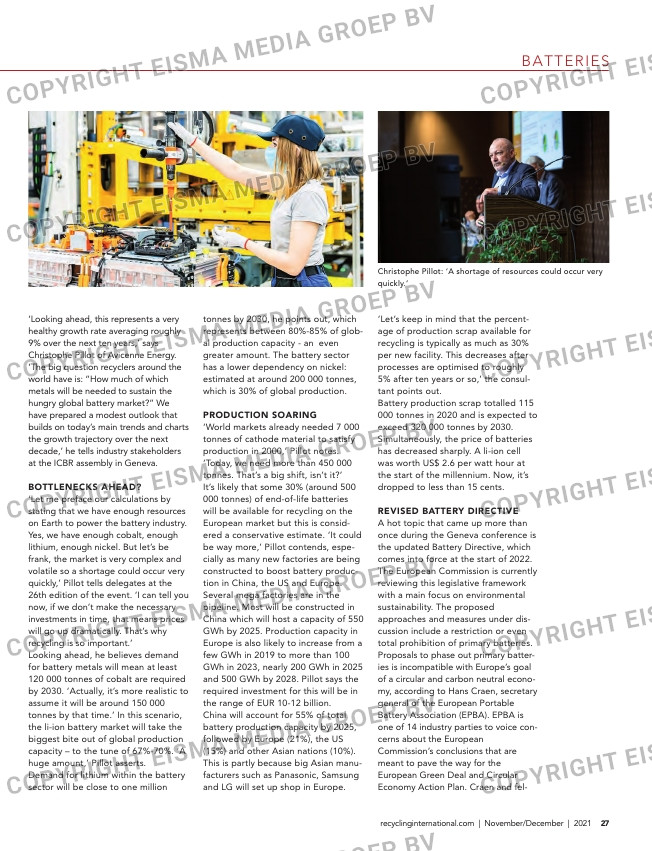 BATTERIES
27recyclinginternational.com | November/December | 2021
'Looking ahead, this represents a very
healthy growth rate averaging roughly
9% over the next ten years,' says
Christophe Pillot of Avicenne Energy.
'The big question recyclers around the
world have is: "How much of which
metals will be needed to sustain the
hungry global battery market?" We
have prepared a modest outlook that
builds on today's main trends and charts
the growth trajectory over the next
decade,' he tells industry stakeholders
at the ICBR assembly in Geneva.
Bottlenecks ahead?
'Let me preface our calculations by
stating that we have enough resources
on Earth to power the battery industry.
Yes, we have enough cobalt, enough
lithium, enough nickel. But let's be
frank, the market is very complex and
volatile so a shortage could occur very
quickly,' Pillot tells delegates at the
26th edition of the event. 'I can tell you
now, if we don't make the necessary
investments in time, that means prices
will go up dramatically. That's why
recycling is so important.'
Looking ahead, he believes demand
for battery metals will mean at least
120 000 tonnes of cobalt are required
by 2030. 'Actually, it's more realistic to
assume it will be around 150 000
tonnes by that time.' In this scenario,
the li-ion battery market will take the
biggest bite out of global production
capacity – to the tune of 67%-70%. 'A
huge amount,' Pillot asserts.
Demand for lithium within the battery
sector will be close to one million
tonnes by 2030, he points out, which
represents between 80%-85% of glob-
al production capacity – an even
greater amount. The battery sector
has a lower dependency on nickel:
estimated at around 200 000 tonnes,
which is 30% of global production.
Production soaring
'World markets already needed 7 000
tonnes of cathode material to satisfy
production in 2000,' Pillot notes.
'Today, we need more than 450 000
tonnes. That's a big shift, isn't it?'
It's likely that some 30% (around 500
000 tonnes) of end-of-life batteries
will be available for recycling on the
European market but this is consid-
ered a conservative estimate. 'It could
be way more,' Pillot contends, espe-
cially as many new factories are being
constructed to boost battery produc-
tion in China, the US and Europe.
Several mega factories are in the
pipeline. Most will be constructed in
China which will host a capacity of 550
GWh by 2025. Production capacity in
Europe is also likely to increase from a
few GWh in 2019 to more than 100
GWh in 2023, nearly 200 GWh in 2025
and 500 GWh by 2028. Pillot says the
required investment for this will be in
the range of EUR 10-12 billion.
China will account for 55% of total
battery production capacity by 2025,
followed by Europe (21%), the US
(15%) and other Asian nations (10%).
This is partly because big Asian manu-
facturers such as Panasonic, Samsung
and LG will set up shop in Europe.
'Let's keep in mind that the percent-
age of production scrap available for
recycling is typically as much as 30%
per new facility. This decreases after
processes are optimised to roughly
5% after ten years or so,' the consul-
tant points out.
Battery production scrap totalled 115
000 tonnes in 2020 and is expected to
exceed 320 000 tonnes by 2030.
Simultaneously, the price of batteries
has decreased sharply. A li-ion cell
was worth US$ 2.6 per watt hour at
the start of the millennium. Now, it's
dropped to less than 15 cents.
revised Battery directive
A hot topic that came up more than
once during the Geneva conference is
the updated Battery Directive, which
comes into force at the start of 2022.
The European Commission is currently
reviewing this legislative framework
with a main focus on environmental
sustainability. The proposed
approaches and measures under dis-
cussion include a restriction or even
total prohibition of primary batteries.
Proposals to phase out primary batter-
ies is incompatible with Europe's goal
of a circular and carbon neutral econo-
my, according to Hans Craen, secretary
general of the European Portable
Battery Association (EPBA). EPBA is
one of 14 industry parties to voice con-
cerns about the European
Commission's conclusions that are
meant to pave the way for the
European Green Deal and Circular
Economy Action Plan. Craen and fel-
Fotobijschrift
Christophe Pillot: 'A shortage of resources could occur very
quickly.'
kaderkoP
??
26-27-28-29-30-31_batterycongress.indd 27 10-11-21 15:28