Out now: winter issue!
Subscribe
Page 20 from: Out now: winter issue!
panizzolo boost for Roster's end-of-waste treatment cycle Roster Ltd has been operating throughout Europe in the field of demolition for over 30 years and has also been active in recycling the scrap generated by these project...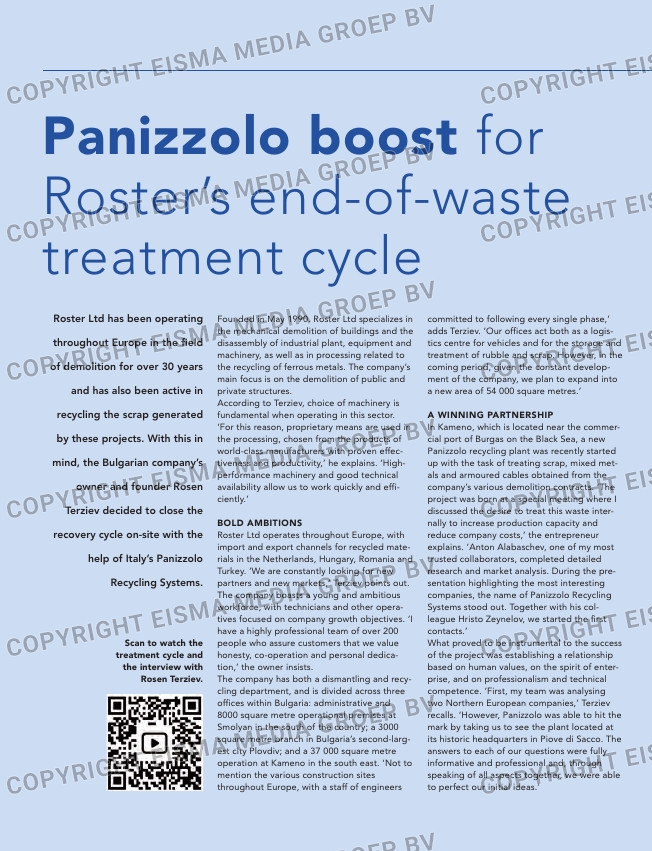 panizzolo boost for
Roster's end-of-waste
treatment cycle
Roster Ltd has been operating
throughout Europe in the field
of demolition for over 30 years
and has also been active in
recycling the scrap generated
by these projects. With this in
mind, the Bulgarian company's
owner and founder Rosen
Terziev decided to close the
recovery cycle on-site with the
help of Italy's Panizzolo
Recycling Systems.
Founded in May 1990, Roster Ltd specializes in
the mechanical demolition of buildings and the
disassembly of industrial plant, equipment and
machinery, as well as in processing related to
the recycling of ferrous metals. The company's
main focus is on the demolition of public and
private structures.
According to Terziev, choice of machinery is
fundamental when operating in this sector.
'For this reason, proprietary means are used in
the processing, chosen from the products of
world-class manufacturers with proven effec-
tiveness and productivity,' he explains. 'High-
performance machinery and good technical
availability allow us to work quickly and effi-
ciently.'
Bold AmBitions
Roster Ltd operates throughout Europe, with
import and export channels for recycled mate-
rials in the Netherlands, Hungary, Romania and
Turkey. 'We are constantly looking for new
partners and new markets,' Terziev points out.
The company boasts a young and ambitious
workforce, with technicians and other opera-
tives focused on company growth objectives. 'I
have a highly professional team of over 200
people who assure customers that we value
honesty, co-operation and personal dedica-
tion,' the owner insists.
The company has both a dismantling and recy-
cling department, and is divided across three
offices within Bulgaria: administrative and
8000 square metre operational premises at
Smolyan in the south of the country; a 3000
square metre branch in Bulgaria's second-larg-
est city Plovdiv; and a 37 000 square metre
operation at Kameno in the south east. 'Not to
mention the various construction sites
throughout Europe, with a staff of engineers
committed to following every single phase,'
adds Terziev. 'Our offices act both as a logis-
tics centre for vehicles and for the storage and
treatment of rubble and scrap. However, in the
coming period, given the constant develop-
ment of the company, we plan to expand into
a new area of 54 000 square metres.'
A winning pArtnership
In Kameno, which is located near the commer-
cial port of Burgas on the Black Sea, a new
Panizzolo recycling plant was recently started
up with the task of treating scrap, mixed met-
als and armoured cables obtained from the
company's various demolition contracts. 'The
project was born at a special meeting where I
discussed the desire to treat this waste inter-
nally to increase production capacity and
reduce company costs,' the entrepreneur
explains. 'Anton Alabaschev, one of my most
trusted collaborators, completed detailed
research and market analysis. During the pre-
sentation highlighting the most interesting
companies, the name of Panizzolo Recycling
Systems stood out. Together with his col-
league Hristo Zeynelov, we started the first
contacts.'
What proved to be instrumental to the success
of the project was establishing a relationship
based on human values, on the spirit of enter-
prise, and on professionalism and technical
competence. 'First, my team was analysing
two Northern European companies,' Terziev
recalls. 'However, Panizzolo was able to hit the
mark by taking us to see the plant located at
its historic headquarters in Piove di Sacco. The
answers to each of our questions were fully
informative and professional and, through
speaking of all aspects together, we were able
to perfect our initial ideas.'
The entrepreneur underlines that price was
never the main factor. 'During our
conversations at the Panizzolo plant, we saw a
staff with a great desire to work and to build a
truly complete plant for the recycling of mixed
materials,' says Terziev. 'This is precisely what
made us choose Panizzolo Recycling Systems.'
From wAste to secondAry rAw
mAteriAl
The installed system guarantees Roster a flexi-
ble, 'end of waste' treatment based on con-
verting an input such as mixed metals, electric
motors, WEEE and mixed armoured cables
into a granular product which can be classified
as a secondary raw material.
Scrap is subjected to different processing
phases, starting with volume reduction via a PZ
2H 1500 R (2x132kW) shredder and grinding
using the Flex 1000 hammer mill (250 kW, up
to 11 tonnes per hour), followed by appropri-
ate systems for separating the output material.
An independent treatment line is dedicated to
the Panizzolo recycling facility with the pur-
pose of enhancing certain fractions leaving the
aforementioned plant, such as granular metals
like copper, brass, aluminium and steel.
'Our demolition waste represents mainly a
mixture of iron and electrical material,' Terziev
explains. 'We needed a system that could
cope with this heavy material stream and the
scan to watch the
treatment cycle and
the interview with
rosen terziev.
20-21_panizzolo.indd 20 10-11-21 14:19