Out now: winter issue!
Subscribe
Page 19 from: Out now: winter issue!
19recyclinginternational.com | November/December | 2021 MARKETS tion among the public that there was indeed a shortage. Naturally, this resulted in vicious feedback loop, in which vehicle owners topped up just in case. Within days...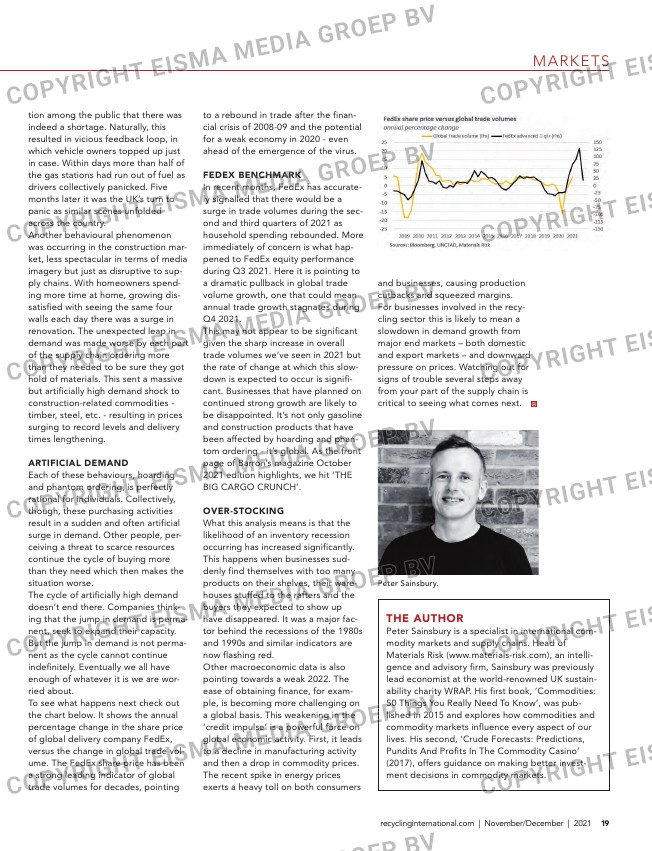 19recyclinginternational.com | November/December | 2021
MARKETS
tion among the public that there was
indeed a shortage. Naturally, this
resulted in vicious feedback loop, in
which vehicle owners topped up just
in case. Within days more than half of
the gas stations had run out of fuel as
drivers collectively panicked. Five
months later it was the UK's turn to
panic as similar scenes unfolded
across the country.
Another behavioural phenomenon
was occurring in the construction mar-
ket, less spectacular in terms of media
imagery but just as disruptive to sup-
ply chains. With homeowners spend-
ing more time at home, growing dis-
satisfied with seeing the same four
walls each day there was a surge in
renovation. The unexpected leap in
demand was made worse by each part
of the supply chain ordering more
than they needed to be sure they got
hold of materials. This sent a massive
but artificially high demand shock to
construction-related commodities –
timber, steel, etc. – resulting in prices
surging to record levels and delivery
times lengthening.
ARTIFICIAL DEMAND
Each of these behaviours, hoarding
and phantom ordering, is perfectly
rational for individuals. Collectively,
though, these purchasing activities
result in a sudden and often artificial
surge in demand. Other people, per-
ceiving a threat to scarce resources
continue the cycle of buying more
than they need which then makes the
situation worse.
The cycle of artificially high demand
doesn't end there. Companies think-
ing that the jump in demand is perma-
nent, seek to expand their capacity.
But the jump in demand is not perma-
nent as the cycle cannot continue
indefinitely. Eventually we all have
enough of whatever it is we are wor-
ried about.
To see what happens next check out
the chart below. It shows the annual
percentage change in the share price
of global delivery company FedEx,
versus the change in global trade vol-
ume. The FedEx share price has been
a strong leading indicator of global
trade volumes for decades, pointing
to a rebound in trade after the finan-
cial crisis of 2008-09 and the potential
for a weak economy in 2020 – even
ahead of the emergence of the virus.
FEDEX BENCHMARK
In recent months, FedEx has accurate-
ly signalled that there would be a
surge in trade volumes during the sec-
ond and third quarters of 2021 as
household spending rebounded. More
immediately of concern is what hap-
pened to FedEx equity performance
during Q3 2021. Here it is pointing to
a dramatic pullback in global trade
volume growth, one that could mean
annual trade growth stagnates during
Q4 2021.
This may not appear to be significant
given the sharp increase in overall
trade volumes we've seen in 2021 but
the rate of change at which this slow-
down is expected to occur is signifi-
cant. Businesses that have planned on
continued strong growth are likely to
be disappointed. It's not only gasoline
and construction products that have
been affected by hoarding and phan-
tom ordering – it's global. As the front
page of Barron's magazine October
2021 edition highlights, we hit 'THE
BIG CARGO CRUNCH'.
OVER-STOCKING
What this analysis means is that the
likelihood of an inventory recession
occurring has increased significantly.
This happens when businesses sud-
denly find themselves with too many
products on their shelves, their ware-
houses stuffed to the rafters and the
buyers they expected to show up
have disappeared. It was a major fac-
tor behind the recessions of the 1980s
and 1990s and similar indicators are
now flashing red.
Other macroeconomic data is also
pointing towards a weak 2022. The
ease of obtaining finance, for exam-
ple, is becoming more challenging on
a global basis. This weakening in the
'credit impulse' is a powerful force on
global economic activity. First, it leads
to a decline in manufacturing activity
and then a drop in commodity prices.
The recent spike in energy prices
exerts a heavy toll on both consumers
and businesses, causing production
cutbacks and squeezed margins.
For businesses involved in the recy-
cling sector this is likely to mean a
slowdown in demand growth from
major end markets – both domestic
and export markets – and downward
pressure on prices. Watching out for
signs of trouble several steps away
from your part of the supply chain is
critical to seeing what comes next.
Fotobijschrift
Peter Sainsbury.
KADERKOp
??
THE AUTHOR
Peter Sainsbury is a specialist in international com-
modity markets and supply chains. Head of
Materials Risk (www.materials-risk.com), an intelli-
gence and advisory firm, Sainsbury was previously
lead economist at the world-renowned UK sustain-
ability charity WRAP. His first book, 'Commodities:
50 Things You Really Need To Know', was pub-
lished in 2015 and explores how commodities and
commodity markets influence every aspect of our
lives. His second, 'Crude Forecasts: Predictions,
Pundits And Profits In The Commodity Casino'
(2017), offers guidance on making better invest-
ment decisions in commodity markets.
18-19_commodityexpert.indd 19 10-11-21 14:15