Out now: winter issue!
Subscribe
Page 17 from: Out now: winter issue!
17recyclinginternational.com | November/December | 2021 BIR CONFERENCE latest BIR conference in Brussels, the first staged physically for two years because of Covid. A ban or tighter restrictions would have a devastating effect on...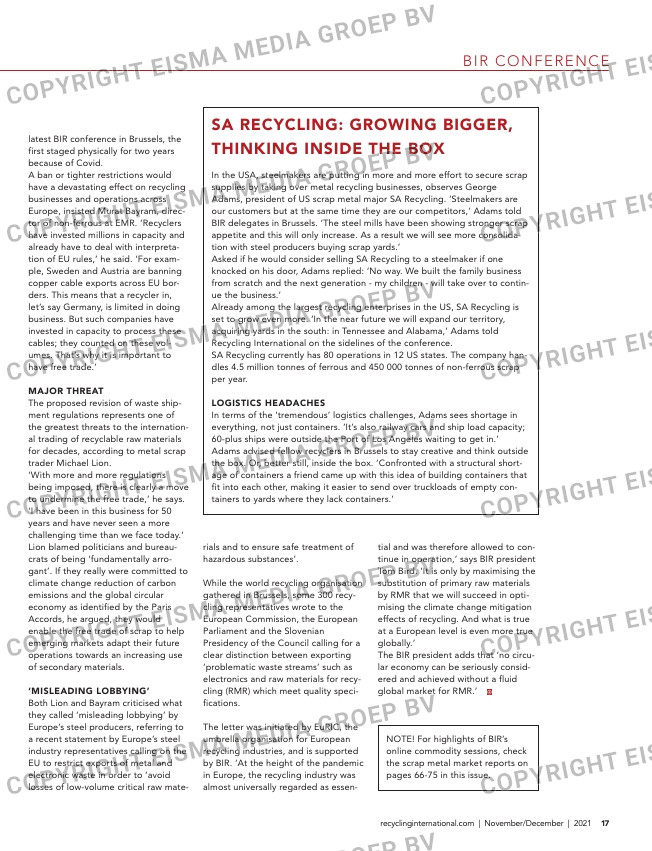 17recyclinginternational.com | November/December | 2021
BIR CONFERENCE
latest BIR conference in Brussels, the
first staged physically for two years
because of Covid.
A ban or tighter restrictions would
have a devastating effect on recycling
businesses and operations across
Europe, insisted Murat Bayram, direc-
tor of non-ferrous at EMR. 'Recyclers
have invested millions in capacity and
already have to deal with interpreta-
tion of EU rules,' he said. 'For exam-
ple, Sweden and Austria are banning
copper cable exports across EU bor-
ders. This means that a recycler in,
let's say Germany, is limited in doing
business. But such companies have
invested in capacity to process these
cables; they counted on these vol-
umes. That's why it is important to
have free trade.'
MAJOR THREAT
The proposed revision of waste ship-
ment regulations represents one of
the greatest threats to the internation-
al trading of recyclable raw materials
for decades, according to metal scrap
trader Michael Lion.
'With more and more regulations
being imposed, there is clearly a move
to undermine the free trade,' he says.
'I have been in this business for 50
years and have never seen a more
challenging time than we face today.'
Lion blamed politicians and bureau-
crats of being 'fundamentally arro-
gant'. If they really were committed to
climate change reduction of carbon
emissions and the global circular
economy as identified by the Paris
Accords, he argued, they would
enable the free trade of scrap to help
emerging markets adapt their future
operations towards an increasing use
of secondary materials.
'MISLEADING LOBBYING'
Both Lion and Bayram criticised what
they called 'misleading lobbying' by
Europe's steel producers, referring to
a recent statement by Europe's steel
industry representatives calling on the
EU to restrict exports of metal and
electronic waste in order to 'avoid
losses of low-volume critical raw mate-
rials and to ensure safe treatment of
hazardous substances'.
While the world recycling organisation
gathered in Brussels, some 300 recy-
cling representatives wrote to the
European Commission, the European
Parliament and the Slovenian
Presidency of the Council calling for a
clear distinction between exporting
'problematic waste streams' such as
electronics and raw materials for recy-
cling (RMR) which meet quality speci-
fications.
The letter was initiated by EuRIC, the
umbrella organisation for European
recycling industries, and is supported
by BIR. 'At the height of the pandemic
in Europe, the recycling industry was
almost universally regarded as essen-
tial and was therefore allowed to con-
tinue in operation,' says BIR president
Tom Bird. 'It is only by maximising the
substitution of primary raw materials
by RMR that we will succeed in opti-
mising the climate change mitigation
effects of recycling. And what is true
at a European level is even more true
globally.'
The BIR president adds that 'no circu-
lar economy can be seriously consid-
ered and achieved without a fluid
global market for RMR.'
Fotobijschrift
KADERKOp
??
SA REcYcLING: GROwING BIGGER,
THINKING INSIDE THE BOx
In the USA, steelmakers are putting in more and more effort to secure scrap
supplies by taking over metal recycling businesses, observes George
Adams, president of US scrap metal major SA Recycling. 'Steelmakers are
our customers but at the same time they are our competitors,' Adams told
BIR delegates in Brussels. 'The steel mills have been showing stronger scrap
appetite and this will only increase. As a result we will see more consolida-
tion with steel producers buying scrap yards.'
Asked if he would consider selling SA Recycling to a steelmaker if one
knocked on his door, Adams replied: 'No way. We built the family business
from scratch and the next generation – my children – will take over to contin-
ue the business.'
Already among the largest recycling enterprises in the US, SA Recycling is
set to grow even more. 'In the near future we will expand our territory,
acquiring yards in the south: in Tennessee and Alabama,' Adams told
Recycling International on the sidelines of the conference.
SA Recycling currently has 80 operations in 12 US states. The company han-
dles 4.5 million tonnes of ferrous and 450 000 tonnes of non-ferrous scrap
per year.
LOGISTIcS HEADAcHES
In terms of the 'tremendous' logistics challenges, Adams sees shortage in
everything, not just containers. 'It's also railway cars and ship load capacity;
60-plus ships were outside the Port of Los Angeles waiting to get in.'
Adams advised fellow recyclers in Brussels to stay creative and think outside
the box. Or, better still, inside the box. 'Confronted with a structural short-
age of containers a friend came up with this idea of building containers that
fit into each other, making it easier to send over truckloads of empty con-
tainers to yards where they lack containers.'
NOTE! For highlights of BIR's
online commodity sessions, check
the scrap metal market reports on
pages 66-75 in this issue.
16-17_birhighlights.indd 17 10-11-21 13:26