Out now: winter issue!
Subscribe
Page 14 from: Out now: winter issue!
14 lEaRning fRom thE woRld's bEst dEposit REtURn systEms Sorting specialist Tomra says deposit return schemes are essential for boosting recy- cling rates but many fail to reach their full potential. The conclusion is key to a new whi...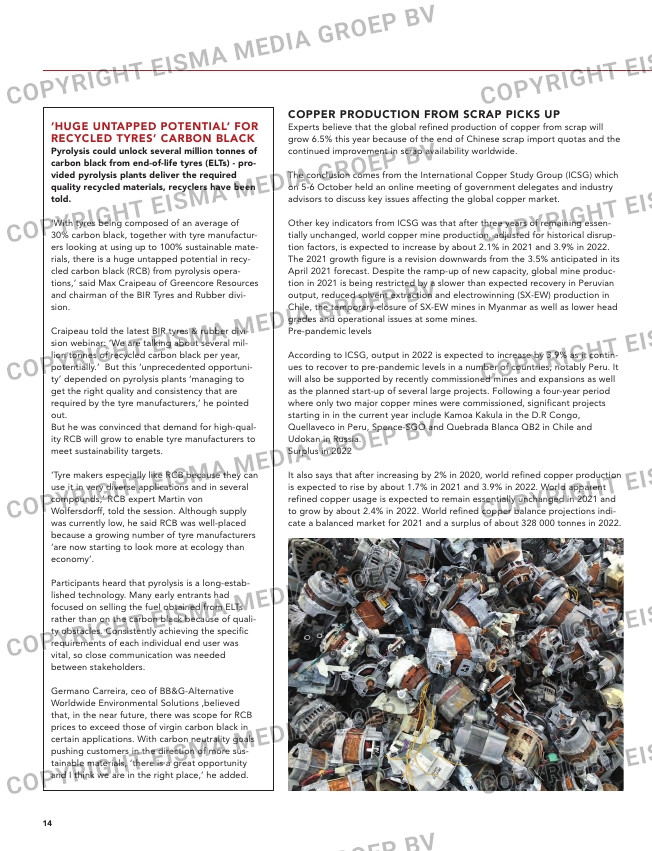 14
lEaRning fRom thE woRld's bEst dEposit REtURn
systEms
Sorting specialist Tomra says deposit return schemes are essential for boosting recy-
cling rates but many fail to reach their full potential.
The conclusion is key to a new white paper from the company entitled 'Rewarding recy-
cling' and it organised a webinar to discuss recycling best practices, looking specifically
at plastics recycling and collection schemes.
Deposit return systems work by incentivising recycling with collection points generally
installed at commercial hotspots such as retail stores. 'It's an extremely effective mecha-
nism for changing consumer behaviour in a positive way,' says Mike Noel, governmen-
tal affairs manager at Tomra. 'The thing is, not all schemes are reaching their potential.
So what makes the difference? What are some schemes doing right or wrong?
The sorting company, which has over 45 years' experience innovating and managing
deposit return systems in 40 markets, has published a detailed analysis on the topic.
Norway, where Tomra's headquarters is based, relies mostly on manual return points to
handle discarded goods and scrap materials.
In fact, while only about 25% of collection points are automated they deliver more than
90% of the volume. Tomra points out that automatic collection points equipped with built-
in baling solutions can make transport four times more efficient, greatly reducing costs.
Plastic beverage bottle collection rates are 47% without a deposit scheme and 94%
with one – the average figure for Europe, according to a 2020 Eunomia report. In the
US, the average figures are 27% without a scheme and 72% with one. 'This could prob-
ably be boosted to 88% if it is a high performing scheme,' Noel states.
The Eunomia data shows Germany in first position, followed by the Netherlands,
Finland, Lithuania, and Denmark. The states at the top of the US list are Michigan and
Oregon with collections rate of around 89% and 80% respectively. Canada scores well,
too, at just under 80%.
Massachusetts and Connecticut are at the bottom at around 50% – the same figure report-
ed for Queensland in Australia. New York does a little better, managing just over 60%.
Breaking it down on a ratio of recyclables returned at collection points per consumer,
Norway comes out on top. The country, with a population of 5.3 million people, has 15
000 collection points which equates to one drop-off point for every 355 consumers.
Germany's return rate is higher at 98% and it has 130 000 collection points for its popu-
lation of 83 million, which is one for every 638 people.
Michigan, with 9.9 million inhabitants, has 13 500 collection points, one for every 739
people. California, which has a recycling rate of 62%, presents quite a different picture
with a population of 39.5 million and only 1 219 collection points, one for every 32 411
people. 'This is the price of inconvenience; it explains why the collection figure has
been stagnant for years,' says Tomra.
The location of a collection centre is crucial. 'Busy urban areas will require more drop-
off options compared to suburban or rural areas,' the report says. For example, there
are 0.3 collection points in Norway per square kilometre. This rate is far higher in the
capital of Oslo, where there are 11 points per square kilometre.
Tomra argues that a specific app for consumers and businesses is an important tool to
increase collection rates.
'hUgE UntappEd potEntial' foR
REcyclEd tyREs' caRbon black
pyrolysis could unlock several million tonnes of
carbon black from end-of-life tyres (Elts) – pro-
vided pyrolysis plants deliver the required
quality recycled materials, recyclers have been
told.
'With tyres being composed of an average of
30% carbon black, together with tyre manufactur-
ers looking at using up to 100% sustainable mate-
rials, there is a huge untapped potential in recy-
cled carbon black (RCB) from pyrolysis opera-
tions,' said Max Craipeau of Greencore Resources
and chairman of the BIR Tyres and Rubber divi-
sion.
Craipeau told the latest BIR tyres & rubber divi-
sion webinar: 'We are talking about several mil-
lion tonnes of recycled carbon black per year,
potentially.' But this 'unprecedented opportuni-
ty' depended on pyrolysis plants 'managing to
get the right quality and consistency that are
required by the tyre manufacturers,' he pointed
out.
But he was convinced that demand for high-qual-
ity RCB will grow to enable tyre manufacturers to
meet sustainability targets.
'Tyre makers especially like RCB because they can
use it in very diverse applications and in several
compounds,' RCB expert Martin von
Wolfersdorff, told the session. Although supply
was currently low, he said RCB was well-placed
because a growing number of tyre manufacturers
'are now starting to look more at ecology than
economy'.
Participants heard that pyrolysis is a long-estab-
lished technology. Many early entrants had
focused on selling the fuel obtained from ELTs
rather than on the carbon black because of quali-
ty obstacles. Consistently achieving the specific
requirements of each individual end user was
vital, so close communication was needed
between stakeholders.
Germano Carreira, ceo of BB&G-Alternative
Worldwide Environmental Solutions ,believed
that, in the near future, there was scope for RCB
prices to exceed those of virgin carbon black in
certain applications. With carbon neutrality goals
pushing customers in the direction of more sus-
tainable materials, 'there is a great opportunity
and I think we are in the right place,' he added.
coppER pRodUction fRom scRap picks Up
Experts believe that the global refined production of copper from scrap will
grow 6.5% this year because of the end of Chinese scrap import quotas and the
continued improvement in scrap availability worldwide.
The conclusion comes from the International Copper Study Group (ICSG) which
on 5-6 October held an online meeting of government delegates and industry
advisors to discuss key issues affecting the global copper market.
Other key indicators from ICSG was that after three years of remaining essen-
tially unchanged, world copper mine production, adjusted for historical disrup-
tion factors, is expected to increase by about 2.1% in 2021 and 3.9% in 2022.
The 2021 growth figure is a revision downwards from the 3.5% anticipated in its
April 2021 forecast. Despite the ramp-up of new capacity, global mine produc-
tion in 2021 is being restricted by a slower than expected recovery in Peruvian
output, reduced solvent extraction and electrowinning (SX-EW) production in
Chile, the temporary closure of SX-EW mines in Myanmar as well as lower head
grades and operational issues at some mines.
Pre-pandemic levels
According to ICSG, output in 2022 is expected to increase by 3.9% as it contin-
ues to recover to pre-pandemic levels in a number of countries, notably Peru. It
will also be supported by recently commissioned mines and expansions as well
as the planned start-up of several large projects. Following a four-year period
where only two major copper mines were commissioned, significant projects
starting in in the current year include Kamoa Kakula in the D.R Congo,
Quellaveco in Peru, Spence-SGO and Quebrada Blanca QB2 in Chile and
Udokan in Russia.
Surplus in 2022
It also says that after increasing by 2% in 2020, world refined copper production
is expected to rise by about 1.7% in 2021 and 3.9% in 2022. World apparent
refined copper usage is expected to remain essentially unchanged in 2021 and
to grow by about 2.4% in 2022. World refined copper balance projections indi-
cate a balanced market for 2021 and a surplus of about 328 000 tonnes in 2022.
08-09-10-11-12-13-14-15_trendsupdates.indd 14 11-11-21 09:36