Out now: winter issue!
Subscribe
Page 12 from: Out now: winter issue!
12 histoRic coin makER taRgEts E-wastE The Royal Mint, the historic producer of coins for the UK and other countries, is to recover gold and possibly other metals from e-waste such as end-of-life mobile phones. It has signed an agreement...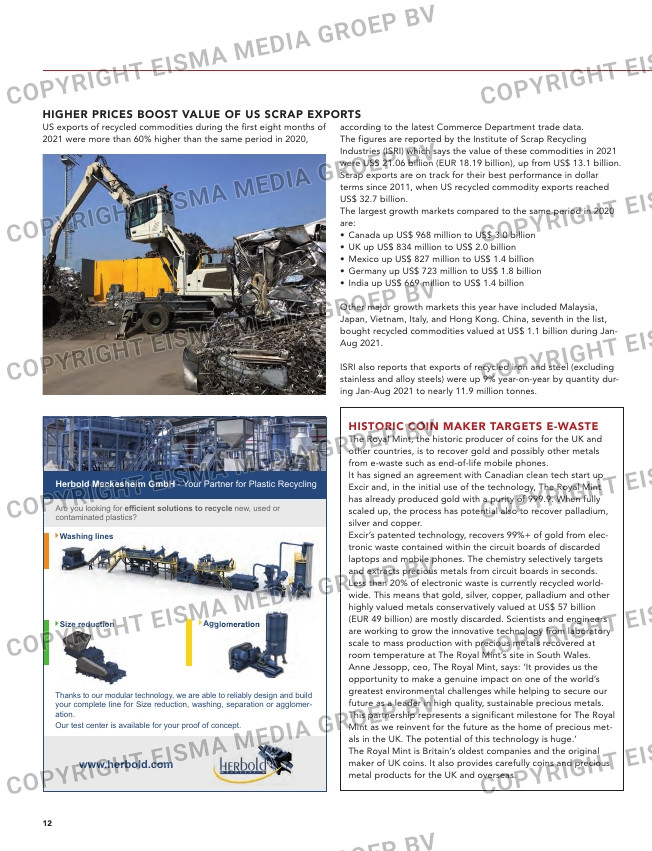 12
histoRic coin makER taRgEts E-wastE
The Royal Mint, the historic producer of coins for the UK and
other countries, is to recover gold and possibly other metals
from e-waste such as end-of-life mobile phones.
It has signed an agreement with Canadian clean tech start up
Excir and, in the initial use of the technology, The Royal Mint
has already produced gold with a purity of 999.9. When fully
scaled up, the process has potential also to recover palladium,
silver and copper.
Excir's patented technology, recovers 99%+ of gold from elec-
tronic waste contained within the circuit boards of discarded
laptops and mobile phones. The chemistry selectively targets
and extracts precious metals from circuit boards in seconds.
Less than 20% of electronic waste is currently recycled world-
wide. This means that gold, silver, copper, palladium and other
highly valued metals conservatively valued at US$ 57 billion
(EUR 49 billion) are mostly discarded. Scientists and engineers
are working to grow the innovative technology from laboratory
scale to mass production with precious metals recovered at
room temperature at The Royal Mint's site in South Wales.
Anne Jessopp, ceo, The Royal Mint, says: 'It provides us the
opportunity to make a genuine impact on one of the world's
greatest environmental challenges while helping to secure our
future as a leader in high quality, sustainable precious metals.
This partnership represents a significant milestone for The Royal
Mint as we reinvent for the future as the home of precious met-
als in the UK. The potential of this technology is huge.'
The Royal Mint is Britain's oldest companies and the original
maker of UK coins. It also provides carefully coins and precious
metal products for the UK and overseas.
highER pRicEs boost ValUE of Us scRap ExpoRts
US exports of recycled commodities during the first eight months of
2021 were more than 60% higher than the same period in 2020,
according to the latest Commerce Department trade data.
The figures are reported by the Institute of Scrap Recycling
Industries (ISRI) which says the value of these commodities in 2021
were US$ 21.06 billion (EUR 18.19 billion), up from US$ 13.1 billion.
Scrap exports are on track for their best performance in dollar
terms since 2011, when US recycled commodity exports reached
US$ 32.7 billion.
The largest growth markets compared to the same period in 2020
are:
• Canada up US$ 968 million to US$ 3.0 billion
• UK up US$ 834 million to US$ 2.0 billion
• Mexico up US$ 827 million to US$ 1.4 billion
• Germany up US$ 723 million to US$ 1.8 billion
• India up US$ 669 million to US$ 1.4 billion
Other major growth markets this year have included Malaysia,
Japan, Vietnam, Italy, and Hong Kong. China, seventh in the list,
bought recycled commodities valued at US$ 1.1 billion during Jan-
Aug 2021.
ISRI also reports that exports of recycled iron and steel (excluding
stainless and alloy steels) were up 9% year-on-year by quantity dur-
ing Jan-Aug 2021 to nearly 11.9 million tonnes.
Herbold Meckesheim GmbH – Your Partner for Plastic Recycling
Are you looking for efficient solutions to recycle new, used or
contaminated plastics?
Washing lines

Size reduction

www.herbold.com

Agglomeration

Thanks to our modular technology, we are able to reliably design and build
your complete line for Size reduction, washing, separation or agglomer-
ation.
Our test center is available for your proof of concept.
aURUbis stolbERg looks to
REopEn plant aftER flooding
Production of semi-finished copper and copper
alloy products has resumed at the Aurubis
Stolberg plant, after the facility in the German
state of North Rhine-Westphalia was crippled by
last summer's serious flooding in the region.
Manufacturing at the Aurubis subsidiary, which
employs 400 people, was so severe the company
declared force majeure on 16 July. Following
extensive cleaning and repair work, the company is
now on a schedule to restart production at
Stolberg, saying it will be possible to start manu-
facturing certain strip products in a limited produc-
tion capacity starting in early November.
'The manufacturing start for additional product
groups can't be predicted at the moment because
the repairs won't be completed until a later date,'
a company statement says. 'Parts of wire manufac-
turing should also resume production starting in
mid-November.'
All of the property damage and damage due to
operational failure caused by the flooding have
been covered by insurance.
08-09-10-11-12-13-14-15_trendsupdates.indd 12 11-11-21 09:35