Out now: winter issue!
Subscribe
Page 11 from: Out now: winter issue!
trends & updates 11recyclinginternational.com | November/December | 2021 'a placE whERE nEw idEas aRE boRn' solutions that are indispensable for any sorting and recycling plant looking to successfully upgrade plastics.' At ...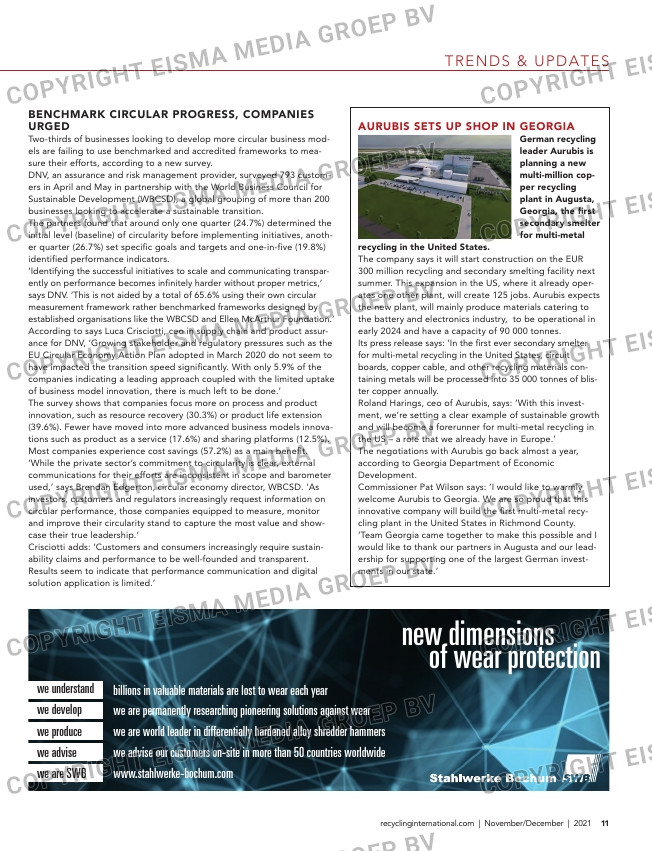 trends & updates
11recyclinginternational.com | November/December | 2021
'a placE whERE nEw idEas aRE boRn'
solutions that are indispensable for any sorting and recycling plant
looking to successfully upgrade plastics.'
At the opening event, strong emphasis was also put on the new
trends in plastics recycling and the implication these trends have on
the industry. One of the trends is seen in a discrepancy of input and
output qualities, says Tomra. 'Whereas input materials are expected
to come with lower qualities, the required output must feature the
highest qualities possible.'
aURUbis sEts Up shop in gEoRgia
german recycling
leader aurubis is
planning a new
multi-million cop-
per recycling
plant in augusta,
georgia, the first
secondary smelter
for multi-metal
recycling in the United states.
The company says it will start construction on the EUR
300 million recycling and secondary smelting facility next
summer. This expansion in the US, where it already oper-
ates one other plant, will create 125 jobs. Aurubis expects
the new plant, will mainly produce materials catering to
the battery and electronics industry, to be operational in
early 2024 and have a capacity of 90 000 tonnes.
Its press release says: 'In the first ever secondary smelter
for multi-metal recycling in the United States, circuit
boards, copper cable, and other recycling materials con-
taining metals will be processed into 35 000 tonnes of blis-
ter copper annually.
Roland Harings, ceo of Aurubis, says: 'With this invest-
ment, we're setting a clear example of sustainable growth
and will become a forerunner for multi-metal recycling in
the US – a role that we already have in Europe.'
The negotiations with Aurubis go back almost a year,
according to Georgia Department of Economic
Development.
Commissioner Pat Wilson says: 'I would like to warmly
welcome Aurubis to Georgia. We are so proud that this
innovative company will build the first multi-metal recy-
cling plant in the United States in Richmond County.
'Team Georgia came together to make this possible and I
would like to thank our partners in Augusta and our lead-
ership for supporting one of the largest German invest-
ments in our state.'
bEnchmaRk ciRcUlaR pRogREss, companiEs
URgEd
Two-thirds of businesses looking to develop more circular business mod-
els are failing to use benchmarked and accredited frameworks to mea-
sure their efforts, according to a new survey.
DNV, an assurance and risk management provider, surveyed 793 custom-
ers in April and May in partnership with the World Business Council for
Sustainable Development (WBCSD), a global grouping of more than 200
businesses looking to accelerate a sustainable transition.
The partners found that around only one quarter (24.7%) determined the
initial level (baseline) of circularity before implementing initiatives, anoth-
er quarter (26.7%) set specific goals and targets and one-in-five (19.8%)
identified performance indicators.
'Identifying the successful initiatives to scale and communicating transpar-
ently on performance becomes infinitely harder without proper metrics,'
says DNV. 'This is not aided by a total of 65.6% using their own circular
measurement framework rather benchmarked frameworks designed by
established organisations like the WBCSD and Ellen McArthur Foundation.'
According to says Luca Crisciotti, ceo in supply chain and product assur-
ance for DNV, 'Growing stakeholder and regulatory pressures such as the
EU Circular Economy Action Plan adopted in March 2020 do not seem to
have impacted the transition speed significantly. With only 5.9% of the
companies indicating a leading approach coupled with the limited uptake
of business model innovation, there is much left to be done.'
The survey shows that companies focus more on process and product
innovation, such as resource recovery (30.3%) or product life extension
(39.6%). Fewer have moved into more advanced business models innova-
tions such as product as a service (17.6%) and sharing platforms (12.5%).
Most companies experience cost savings (57.2%) as a main benefit.
'While the private sector's commitment to circularity is clear, external
communications for their efforts are inconsistent in scope and barometer
used,' says Brendan Edgerton, circular economy director, WBCSD. 'As
investors, customers and regulators increasingly request information on
circular performance, those companies equipped to measure, monitor
and improve their circularity stand to capture the most value and show-
case their true leadership.'
Crisciotti adds: 'Customers and consumers increasingly require sustain-
ability claims and performance to be well-founded and transparent.
Results seem to indicate that performance communication and digital
solution application is limited.'
new dimensions
of wear protection
we understand
we produce
we advise
we are SWB
billions in valuable materials are lost to wear each year
we advise our customers on-site in more than 50 countries worldwide
we are world leader in differentially hardened alloy shredder hammers
we are permanently researching pioneering solutions against wear
www.stahlwerke-bochum.com
we develop
dEath toll moUnts at bangladEshi ship-
bREaking yaRds
Campaigners against the breaking of ships in unsophisticated and often ille-
gal yards in Bangladesh say they have recorded the worst quarter in terms
of accidents on the beach at Chattogram.
The Shipbreaking Platform NGO has previously reported seven separate
incidents in which five workers were killed. Now it says there have been two
more fatalities at separate yards. On 18 September, a 26-year-old man fell
from the Oro Singa during cutting operations and on 29 September a falling
iron plate on the Medan killed a 36-year-old.
Shipbreaking Platform says the Ora Singa was sold by an Indonesian compa-
ny, Selebes Sarana, for more than US$ 9 million (EUR 7.7 million) in Batam,
Indonesia. Before reaching Chattogram, the NGO claims, the vessel was
reflagged to Comoros and renamed Singapura.
'According to shipping databases, the cash buyer involved in the sale was
GMS, one of the most well-known dealers of end-of-life ships,' Shipbreaking
Platform asserts. 'GMS, which is behind a significant share of the total ton-
nage beached in the Indian subcontinent every year, praises itself as a sus-
tainable leader of the sector. Yet, it keeps dealing with the worst ship-break-
ing destinations on the planet.'
GMS has also been linked to shipping practices which are currently being
investigated by enforcement authorities in the UK and Iceland.
Recycling International has asked GMS to comment on the claims.
08-09-10-11-12-13-14-15_trendsupdates.indd 11 11-11-21 09:35