Out now: winter issue!
Subscribe
Page 10 from: Out now: winter issue!
10 'a placE whERE nEw idEas aRE boRn' Sorting solutions provider Tomra has opened a test centre in Parma, Italy to develop new applications and solutions in PE and PET flake sorting. Under the theme of 'Testing is believing', To...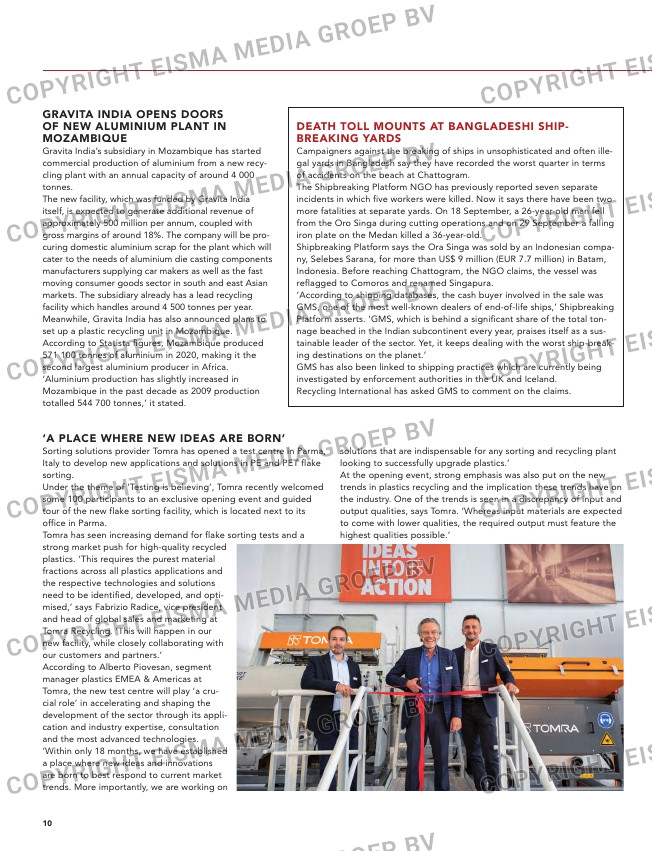 10
'a placE whERE nEw idEas aRE boRn'
Sorting solutions provider Tomra has opened a test centre in Parma,
Italy to develop new applications and solutions in PE and PET flake
sorting.
Under the theme of 'Testing is believing', Tomra recently welcomed
some 100 participants to an exclusive opening event and guided
tour of the new flake sorting facility, which is located next to its
office in Parma.
Tomra has seen increasing demand for flake sorting tests and a
strong market push for high-quality recycled
plastics. 'This requires the purest material
fractions across all plastics applications and
the respective technologies and solutions
need to be identified, developed, and opti-
mised,' says Fabrizio Radice, vice president
and head of global sales and marketing at
Tomra Recycling. 'This will happen in our
new facility, while closely collaborating with
our customers and partners.'
According to Alberto Piovesan, segment
manager plastics EMEA & Americas at
Tomra, the new test centre will play 'a cru-
cial role' in accelerating and shaping the
development of the sector through its appli-
cation and industry expertise, consultation
and the most advanced technologies.
'Within only 18 months, we have established
a place where new ideas and innovations
are born to best respond to current market
trends. More importantly, we are working on
solutions that are indispensable for any sorting and recycling plant
looking to successfully upgrade plastics.'
At the opening event, strong emphasis was also put on the new
trends in plastics recycling and the implication these trends have on
the industry. One of the trends is seen in a discrepancy of input and
output qualities, says Tomra. 'Whereas input materials are expected
to come with lower qualities, the required output must feature the
highest qualities possible.'
gRaVita india opEns dooRs
of nEw alUminiUm plant in
mozambiqUE
Gravita India's subsidiary in Mozambique has started
commercial production of aluminium from a new recy-
cling plant with an annual capacity of around 4 000
tonnes.
The new facility, which was funded by Gravita India
itself, is expected to generate additional revenue of
approximately 500 million per annum, coupled with
gross margins of around 18%. The company will be pro-
curing domestic aluminium scrap for the plant which will
cater to the needs of aluminium die casting components
manufacturers supplying car makers as well as the fast
moving consumer goods sector in south and east Asian
markets. The subsidiary already has a lead recycling
facility which handles around 4 500 tonnes per year.
Meanwhile, Gravita India has also announced plans to
set up a plastic recycling unit in Mozambique.
According to Statista figures, Mozambique produced
571 100 tonnes of aluminium in 2020, making it the
second largest aluminium producer in Africa.
'Aluminium production has slightly increased in
Mozambique in the past decade as 2009 production
totalled 544 700 tonnes,' it stated.
bEnchmaRk ciRcUlaR pRogREss, companiEs
URgEd
Two-thirds of businesses looking to develop more circular business mod-
els are failing to use benchmarked and accredited frameworks to mea-
sure their efforts, according to a new survey.
DNV, an assurance and risk management provider, surveyed 793 custom-
ers in April and May in partnership with the World Business Council for
Sustainable Development (WBCSD), a global grouping of more than 200
businesses looking to accelerate a sustainable transition.
The partners found that around only one quarter (24.7%) determined the
initial level (baseline) of circularity before implementing initiatives, anoth-
er quarter (26.7%) set specific goals and targets and one-in-five (19.8%)
identified performance indicators.
'Identifying the successful initiatives to scale and communicating transpar-
ently on performance becomes infinitely harder without proper metrics,'
says DNV. 'This is not aided by a total of 65.6% using their own circular
measurement framework rather benchmarked frameworks designed by
established organisations like the WBCSD and Ellen McArthur Foundation.'
According to says Luca Crisciotti, ceo in supply chain and product assur-
ance for DNV, 'Growing stakeholder and regulatory pressures such as the
EU Circular Economy Action Plan adopted in March 2020 do not seem to
have impacted the transition speed significantly. With only 5.9% of the
companies indicating a leading approach coupled with the limited uptake
of business model innovation, there is much left to be done.'
The survey shows that companies focus more on process and product
innovation, such as resource recovery (30.3%) or product life extension
(39.6%). Fewer have moved into more advanced business models innova-
tions such as product as a service (17.6%) and sharing platforms (12.5%).
Most companies experience cost savings (57.2%) as a main benefit.
'While the private sector's commitment to circularity is clear, external
communications for their efforts are inconsistent in scope and barometer
used,' says Brendan Edgerton, circular economy director, WBCSD. 'As
investors, customers and regulators increasingly request information on
circular performance, those companies equipped to measure, monitor
and improve their circularity stand to capture the most value and show-
case their true leadership.'
Crisciotti adds: 'Customers and consumers increasingly require sustain-
ability claims and performance to be well-founded and transparent.
Results seem to indicate that performance communication and digital
solution application is limited.'
new dimensions
of wear protection
we understand
we produce
we advise
we are SWB
billions in valuable materials are lost to wear each year
we advise our customers on-site in more than 50 countries worldwide
we are world leader in differentially hardened alloy shredder hammers
we are permanently researching pioneering solutions against wear
www.stahlwerke-bochum.com
we develop
dEath toll moUnts at bangladEshi ship-
bREaking yaRds
Campaigners against the breaking of ships in unsophisticated and often ille-
gal yards in Bangladesh say they have recorded the worst quarter in terms
of accidents on the beach at Chattogram.
The Shipbreaking Platform NGO has previously reported seven separate
incidents in which five workers were killed. Now it says there have been two
more fatalities at separate yards. On 18 September, a 26-year-old man fell
from the Oro Singa during cutting operations and on 29 September a falling
iron plate on the Medan killed a 36-year-old.
Shipbreaking Platform says the Ora Singa was sold by an Indonesian compa-
ny, Selebes Sarana, for more than US$ 9 million (EUR 7.7 million) in Batam,
Indonesia. Before reaching Chattogram, the NGO claims, the vessel was
reflagged to Comoros and renamed Singapura.
'According to shipping databases, the cash buyer involved in the sale was
GMS, one of the most well-known dealers of end-of-life ships,' Shipbreaking
Platform asserts. 'GMS, which is behind a significant share of the total ton-
nage beached in the Indian subcontinent every year, praises itself as a sus-
tainable leader of the sector. Yet, it keeps dealing with the worst ship-break-
ing destinations on the planet.'
GMS has also been linked to shipping practices which are currently being
investigated by enforcement authorities in the UK and Iceland.
Recycling International has asked GMS to comment on the claims.
08-09-10-11-12-13-14-15_trendsupdates.indd 10 11-11-21 09:35