Out now: the summer issue!
Subscribe
Page 75 from: Out now: the summer issue!
beck's 75recyclinginternational.com | July/August | 2020 Fotobijschrift KaderKop ?? Back at The Paranoid Parrot (at last) After ten weeks of so-called 'intelligent lockdown', our favourite bar opened its doors again. I...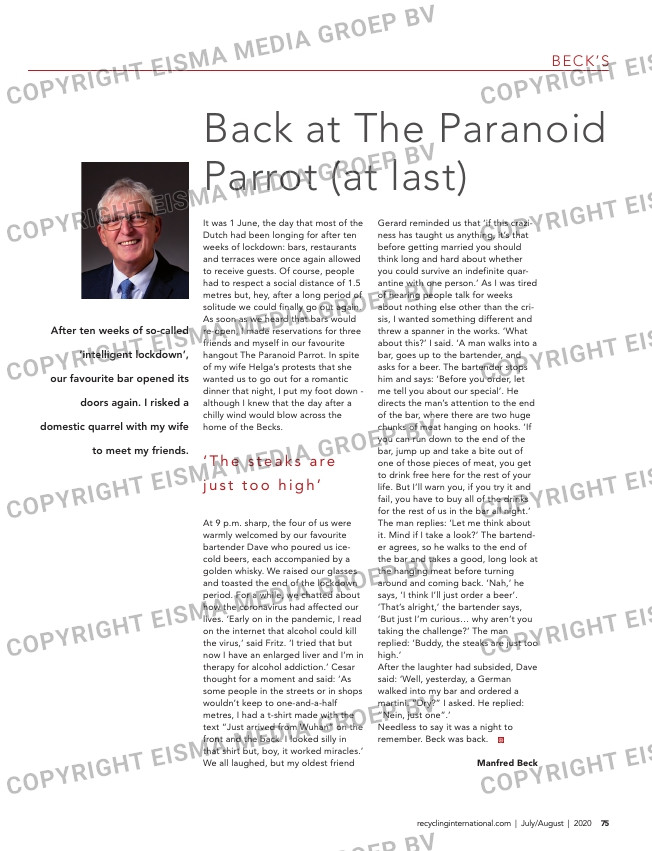 beck's
75recyclinginternational.com | July/August | 2020
Fotobijschrift
KaderKop
??
Back at The Paranoid
Parrot (at last)
After ten weeks of so-called
'intelligent lockdown',
our favourite bar opened its
doors again. I risked a
domestic quarrel with my wife
to meet my friends.
It was 1 June, the day that most of the
Dutch had been longing for after ten
weeks of lockdown: bars, restaurants
and terraces were once again allowed
to receive guests. Of course, people
had to respect a social distance of 1.5
metres but, hey, after a long period of
solitude we could finally go out again.
As soon as we heard that bars would
re-open, I made reservations for three
friends and myself in our favourite
hangout The Paranoid Parrot. In spite
of my wife Helga's protests that she
wanted us to go out for a romantic
dinner that night, I put my foot down –
although I knew that the day after a
chilly wind would blow across the
home of the Becks.
At 9 p.m. sharp, the four of us were
warmly welcomed by our favourite
bartender Dave who poured us ice-
cold beers, each accompanied by a
golden whisky. We raised our glasses
and toasted the end of the lockdown
period. For a while, we chatted about
how the coronavirus had affected our
lives. 'Early on in the pandemic, I read
on the internet that alcohol could kill
the virus,' said Fritz. 'I tried that but
now I have an enlarged liver and I'm in
therapy for alcohol addiction.' Cesar
thought for a moment and said: 'As
some people in the streets or in shops
wouldn't keep to one-and-a-half
metres, I had a t-shirt made with the
text "Just arrived from Wuhan" on the
front and the back. I looked silly in
that shirt but, boy, it worked miracles.'
We all laughed, but my oldest friend
Gerard reminded us that 'if this crazi-
ness has taught us anything, it's that
before getting married you should
think long and hard about whether
you could survive an indefinite quar-
antine with one person.' As I was tired
of hearing people talk for weeks
about nothing else other than the cri-
sis, I wanted something different and
threw a spanner in the works. 'What
about this?' I said. 'A man walks into a
bar, goes up to the bartender, and
asks for a beer. The bartender stops
him and says: 'Before you order, let
me tell you about our special'. He
directs the man's attention to the end
of the bar, where there are two huge
chunks of meat hanging on hooks. 'If
you can run down to the end of the
bar, jump up and take a bite out of
one of those pieces of meat, you get
to drink free here for the rest of your
life. But I'll warn you, if you try it and
fail, you have to buy all of the drinks
for the rest of us in the bar all night.'
The man replies: 'Let me think about
it. Mind if I take a look?' The bartend-
er agrees, so he walks to the end of
the bar and takes a good, long look at
the hanging meat before turning
around and coming back. 'Nah,' he
says, 'I think I'll just order a beer'.
'That's alright,' the bartender says,
'But just I'm curious… why aren't you
taking the challenge?' The man
replied: 'Buddy, the steaks are just too
high.'
After the laughter had subsided, Dave
said: 'Well, yesterday, a German
walked into my bar and ordered a
martini. "Dry?" I asked. He replied:
"Nein, just one".'
Needless to say it was a night to
remember. Beck was back.
Manfred Beck
' T h e s t e a k s a re
j u s t t o o h i g h '
75_becks.indd 75 06-07-20 13:11