Out now: the summer issue!
Subscribe
Page 71 from: Out now: the summer issue!
In the Laboratory 71recyclinginternational.com | July/August | 2020 Strong connection between wastewater and concrete industry Australia's RMIT University has found that steel slag used to treat wastewater can be recycled as an ...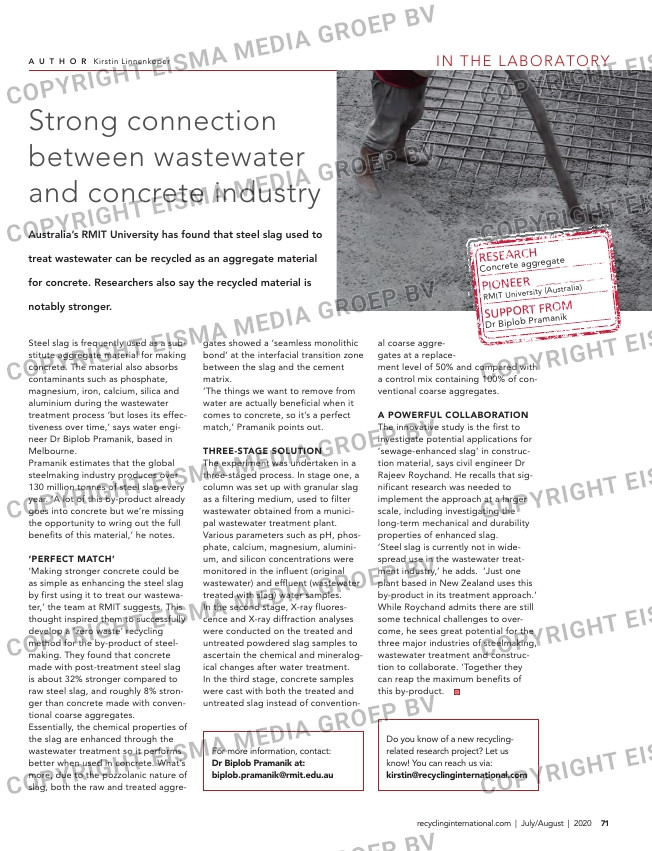 In the Laboratory
71recyclinginternational.com | July/August | 2020
Strong connection
between wastewater
and concrete industry
Australia's RMIT University has found that steel slag used to
treat wastewater can be recycled as an aggregate material
for concrete. Researchers also say the recycled material is
notably stronger.
Steel slag is frequently used as a sub-
stitute aggregate material for making
concrete. The material also absorbs
contaminants such as phosphate,
magnesium, iron, calcium, silica and
aluminium during the wastewater
treatment process 'but loses its effec-
tiveness over time,' says water engi-
neer Dr Biplob Pramanik, based in
Melbourne.
Pramanik estimates that the global
steelmaking industry produces over
130 million tonnes of steel slag every
year. 'A lot of this by-product already
goes into concrete but we're missing
the opportunity to wring out the full
benefits of this material,' he notes.
'Perfect match'
'Making stronger concrete could be
as simple as enhancing the steel slag
by first using it to treat our wastewa-
ter,' the team at RMIT suggests. This
thought inspired them to successfully
develop a 'zero waste' recycling
method for the by-product of steel-
making. They found that concrete
made with post-treatment steel slag
is about 32% stronger compared to
raw steel slag, and roughly 8% stron-
ger than concrete made with conven-
tional coarse aggregates.
Essentially, the chemical properties of
the slag are enhanced through the
wastewater treatment so it performs
better when used in concrete. What's
more, due to the pozzolanic nature of
slag, both the raw and treated aggre-
gates showed a 'seamless monolithic
bond' at the interfacial transition zone
between the slag and the cement
matrix.
'The things we want to remove from
water are actually beneficial when it
comes to concrete, so it's a perfect
match,' Pramanik points out.
three-stage solution
The experiment was undertaken in a
three-staged process. In stage one, a
column was set up with granular slag
as a filtering medium, used to filter
wastewater obtained from a munici-
pal wastewater treatment plant.
Various parameters such as pH, phos-
phate, calcium, magnesium, alumini-
um, and silicon concentrations were
monitored in the influent (original
wastewater) and effluent (wastewater
treated with slag) water samples.
In the second stage, X-ray fluores-
cence and X-ray diffraction analyses
were conducted on the treated and
untreated powdered slag samples to
ascertain the chemical and mineralog-
ical changes after water treatment.
In the third stage, concrete samples
were cast with both the treated and
untreated slag instead of convention-
al coarse aggre-
gates at a replace-
ment level of 50% and compared with
a control mix containing 100% of con-
ventional coarse aggregates.
a Powerful collaboration
The innovative study is the first to
investigate potential applications for
'sewage-enhanced slag' in construc-
tion material, says civil engineer Dr
Rajeev Roychand. He recalls that sig-
nificant research was needed to
implement the approach at a larger
scale, including investigating the
long-term mechanical and durability
properties of enhanced slag.
'Steel slag is currently not in wide-
spread use in the wastewater treat-
ment industry,' he adds. 'Just one
plant based in New Zealand uses this
by-product in its treatment approach.'
While Roychand admits there are still
some technical challenges to over-
come, he sees great potential for the
three major industries of steelmaking,
wastewater treatment and construc-
tion to collaborate. 'Together they
can reap the maximum benefits of
this by-product.
For more information, contact:
Dr biplob Pramanik at:
[email protected]
Do you know of a new recycling-
related research project? Let us
know! You can reach us via:
[email protected]
A U T h o R Kirstin Linnenkoper
RESEARCH
PIONEER __
_________
SUPPORT FR
OM
Concrete a
ggregate
RMIT Unive
rsity (Austr
alia)
Dr Biplob P
ramanik
71_inthelab.indd 71 06-07-20 13:11