Out now: the summer issue!
Subscribe
Page 70 from: Out now: the summer issue!
70 PLASTICSMARKET ANALYSIS Virus shows the value of plastic Single use products come into their own during the pandemic – but recyclers could lose out. The entire plastics sector, whether prime, recycled or scrap has been pro- fo...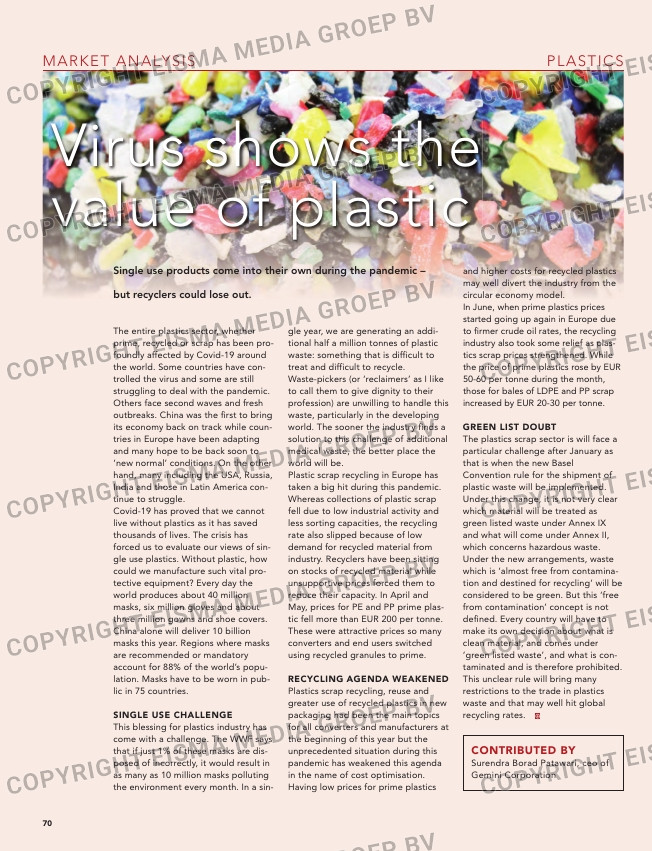 70
PLASTICSMARKET ANALYSIS
Virus shows the
value of plastic
Single use products come into their own during the pandemic –
but recyclers could lose out.
The entire plastics sector, whether
prime, recycled or scrap has been pro-
foundly affected by Covid-19 around
the world. Some countries have con-
trolled the virus and some are still
struggling to deal with the pandemic.
Others face second waves and fresh
outbreaks. China was the first to bring
its economy back on track while coun-
tries in Europe have been adapting
and many hope to be back soon to
'new normal' conditions. On the other
hand, many including the USA, Russia,
India and those in Latin America con-
tinue to struggle.
Covid-19 has proved that we cannot
live without plastics as it has saved
thousands of lives. The crisis has
forced us to evaluate our views of sin-
gle use plastics. Without plastic, how
could we manufacture such vital pro-
tective equipment? Every day the
world produces about 40 million
masks, six million gloves and about
three million gowns and shoe covers.
China alone will deliver 10 billion
masks this year. Regions where masks
are recommended or mandatory
account for 88% of the world's popu-
lation. Masks have to be worn in pub-
lic in 75 countries.
SINGLE USE CHALLENGE
This blessing for plastics industry has
come with a challenge. The WWF says
that if just 1% of these masks are dis-
posed of incorrectly, it would result in
as many as 10 million masks polluting
the environment every month. In a sin-
CONTRIBUTED BY
Surendra Borad Patawari, ceo of
Gemini Corporation
gle year, we are generating an addi-
tional half a million tonnes of plastic
waste: something that is difficult to
treat and difficult to recycle.
Waste-pickers (or 'reclaimers' as I like
to call them to give dignity to their
profession) are unwilling to handle this
waste, particularly in the developing
world. The sooner the industry finds a
solution to this challenge of additional
medical waste, the better place the
world will be.
Plastic scrap recycling in Europe has
taken a big hit during this pandemic.
Whereas collections of plastic scrap
fell due to low industrial activity and
less sorting capacities, the recycling
rate also slipped because of low
demand for recycled material from
industry. Recyclers have been sitting
on stocks of recycled material while
unsupportive prices forced them to
reduce their capacity. In April and
May, prices for PE and PP prime plas-
tic fell more than EUR 200 per tonne.
These were attractive prices so many
converters and end users switched
using recycled granules to prime.
RECYCLING AGENDA WEAKENED
Plastics scrap recycling, reuse and
greater use of recycled plastics in new
packaging had been the main topics
for all converters and manufacturers at
the beginning of this year but the
unprecedented situation during this
pandemic has weakened this agenda
in the name of cost optimisation.
Having low prices for prime plastics
and higher costs for recycled plastics
may well divert the industry from the
circular economy model.
In June, when prime plastics prices
started going up again in Europe due
to firmer crude oil rates, the recycling
industry also took some relief as plas-
tics scrap prices strengthened. While
the price of prime plastics rose by EUR
50-60 per tonne during the month,
those for bales of LDPE and PP scrap
increased by EUR 20-30 per tonne.
GREEN LIST DOUBT
The plastics scrap sector is will face a
particular challenge after January as
that is when the new Basel
Convention rule for the shipment of
plastic waste will be implemented.
Under this change, it is not very clear
which material will be treated as
green listed waste under Annex IX
and what will come under Annex II,
which concerns hazardous waste.
Under the new arrangements, waste
which is 'almost free from contamina-
tion and destined for recycling' will be
considered to be green. But this 'free
from contamination' concept is not
defined. Every country will have to
make its own decision about what is
clean material, and comes under
'green listed waste', and what is con-
taminated and is therefore prohibited.
This unclear rule will bring many
restrictions to the trade in plastics
waste and that may well hit global
recycling rates.
70_maplastics.indd 70 06-07-20 13:10