Out now: the summer issue!
Subscribe
Page 69 from: Out now: the summer issue!
TEXTILESMARKET ANALYSIS Sluggish domestic and export markets frustrate traders Restricted collections and low global demand for used clothing hamper revival during pandemic. 69recyclinginternational.com | July/August | 2020 Alan W...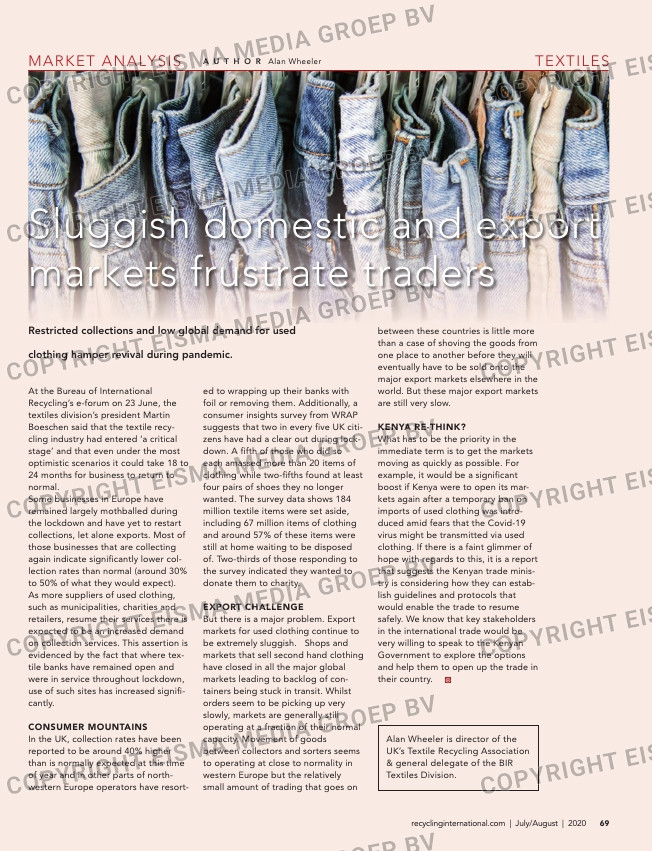 TEXTILESMARKET ANALYSIS
Sluggish domestic and export
markets frustrate traders
Restricted collections and low global demand for used
clothing hamper revival during pandemic.
69recyclinginternational.com | July/August | 2020
Alan Wheeler is director of the
UK's Textile Recycling Association
& general delegate of the BIR
Textiles Division.
At the Bureau of International
Recycling's e-forum on 23 June, the
textiles division's president Martin
Boeschen said that the textile recy-
cling industry had entered 'a critical
stage' and that even under the most
optimistic scenarios it could take 18 to
24 months for business to return to
normal.
Some businesses in Europe have
remained largely mothballed during
the lockdown and have yet to restart
collections, let alone exports. Most of
those businesses that are collecting
again indicate significantly lower col-
lection rates than normal (around 30%
to 50% of what they would expect).
As more suppliers of used clothing,
such as municipalities, charities and
retailers, resume their services there is
expected to be an increased demand
on collection services. This assertion is
evidenced by the fact that where tex-
tile banks have remained open and
were in service throughout lockdown,
use of such sites has increased signifi-
cantly.
CONSUMER MOUNTAINS
In the UK, collection rates have been
reported to be around 40% higher
than is normally expected at this time
of year and in other parts of north-
western Europe operators have resort-
ed to wrapping up their banks with
foil or removing them. Additionally, a
consumer insights survey from WRAP
suggests that two in every five UK citi-
zens have had a clear out during lock-
down. A fifth of those who did so
each amassed more than 20 items of
clothing while two-fifths found at least
four pairs of shoes they no longer
wanted. The survey data shows 184
million textile items were set aside,
including 67 million items of clothing
and around 57% of these items were
still at home waiting to be disposed
of. Two-thirds of those responding to
the survey indicated they wanted to
donate them to charity.
EXPORT CHALLENGE
But there is a major problem. Export
markets for used clothing continue to
be extremely sluggish. Shops and
markets that sell second hand clothing
have closed in all the major global
markets leading to backlog of con-
tainers being stuck in transit. Whilst
orders seem to be picking up very
slowly, markets are generally still
operating at a fraction of their normal
capacity. Movement of goods
between collectors and sorters seems
to operating at close to normality in
western Europe but the relatively
small amount of trading that goes on
between these countries is little more
than a case of shoving the goods from
one place to another before they will
eventually have to be sold onto the
major export markets elsewhere in the
world. But these major export markets
are still very slow.
KENYA RE-THINK?
What has to be the priority in the
immediate term is to get the markets
moving as quickly as possible. For
example, it would be a significant
boost if Kenya were to open its mar-
kets again after a temporary ban on
imports of used clothing was intro-
duced amid fears that the Covid-19
virus might be transmitted via used
clothing. If there is a faint glimmer of
hope with regards to this, it is a report
that suggests the Kenyan trade minis-
try is considering how they can estab-
lish guidelines and protocols that
would enable the trade to resume
safely. We know that key stakeholders
in the international trade would be
very willing to speak to the Kenyan
Government to explore the options
and help them to open up the trade in
their country.
A U T H O R Alan Wheeler
69_matextiles.indd 69 06-07-20 13:10