Out now: the summer issue!
Subscribe
Page 63 from: Out now: the summer issue!
non-ferrous reawakening economies ease fears India has become the largest export market for the US this year with ship- ments up 28% while exports to Malaysia are up 69%. But the gains have been more than offset by reduced shipments ...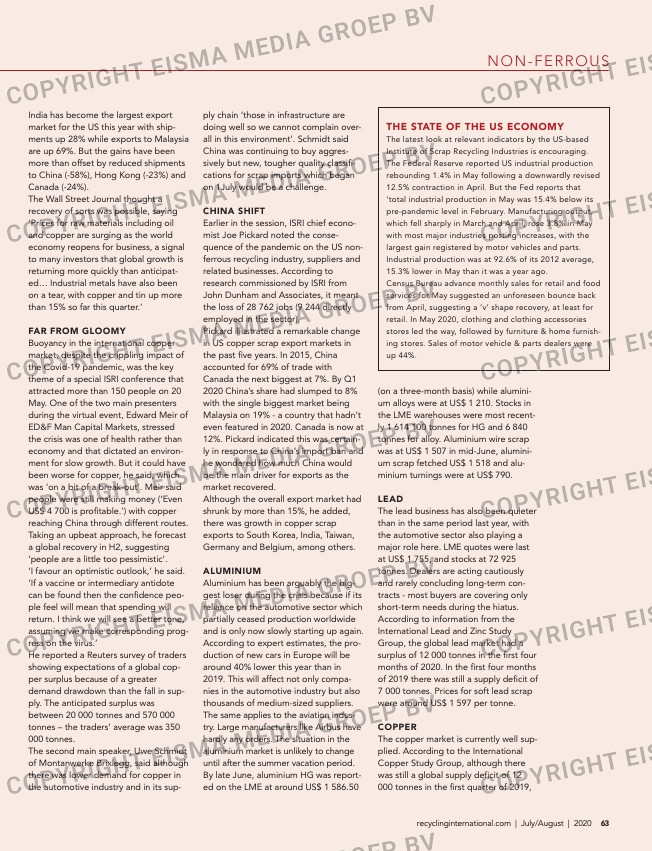 non-ferrous
reawakening economies
ease fears
India has become the largest export
market for the US this year with ship-
ments up 28% while exports to Malaysia
are up 69%. But the gains have been
more than offset by reduced shipments
to China (-58%), Hong Kong (-23%) and
Canada (-24%).
The Wall Street Journal thought a
recovery of sorts was possible, saying
'Prices for raw materials including oil
and copper are surging as the world
economy reopens for business, a signal
to many investors that global growth is
returning more quickly than anticipat-
ed… Industrial metals have also been
on a tear, with copper and tin up more
than 15% so far this quarter.'
FAR FROM GLOOMY
Buoyancy in the international copper
market, despite the crippling impact of
the Covid-19 pandemic, was the key
theme of a special ISRI conference that
attracted more than 150 people on 20
May. One of the two main presenters
during the virtual event, Edward Meir of
ED&F Man Capital Markets, stressed
the crisis was one of health rather than
economy and that dictated an environ-
ment for slow growth. But it could have
been worse for copper, he said, which
was 'on a bit of a break-out'. Meir said
people were still making money ('Even
US$ 4 700 is profitable.') with copper
reaching China through different routes.
Taking an upbeat approach, he forecast
a global recovery in H2, suggesting
'people are a little too pessimistic'.
'I favour an optimistic outlook,' he said.
'If a vaccine or intermediary antidote
can be found then the confidence peo-
ple feel will mean that spending will
return. I think we will see a better tone,
assuming we make corresponding prog-
ress on the virus.'
He reported a Reuters survey of traders
showing expectations of a global cop-
per surplus because of a greater
demand drawdown than the fall in sup-
ply. The anticipated surplus was
between 20 000 tonnes and 570 000
tonnes – the traders' average was 350
000 tonnes.
The second main speaker, Uwe Schmidt
of Montanwerke Brixlegg, said although
there was lower demand for copper in
the automotive industry and in its sup-
ply chain 'those in infrastructure are
doing well so we cannot complain over-
all in this environment'. Schmidt said
China was continuing to buy aggres-
sively but new, tougher quality classifi-
cations for scrap imports which began
on 1July would be a challenge.
CHINA SHIFT
Earlier in the session, ISRI chief econo-
mist Joe Pickard noted the conse-
quence of the pandemic on the US non-
ferrous recycling industry, suppliers and
related businesses. According to
research commissioned by ISRI from
John Dunham and Associates, it meant
the loss of 28 762 jobs (9 244 directly
employed in the sector).
Pickard illustrated a remarkable change
in US copper scrap export markets in
the past five years. In 2015, China
accounted for 69% of trade with
Canada the next biggest at 7%. By Q1
2020 China's share had slumped to 8%
with the single biggest market being
Malaysia on 19% – a country that hadn't
even featured in 2020. Canada is now at
12%. Pickard indicated this was certain-
ly in response to China's import ban and
he wondered how much China would
be the main driver for exports as the
market recovered.
Although the overall export market had
shrunk by more than 15%, he added,
there was growth in copper scrap
exports to South Korea, India, Taiwan,
Germany and Belgium, among others.
ALUMINIUM
Aluminium has been arguably the big-
gest loser during the crisis because if its
reliance on the automotive sector which
partially ceased production worldwide
and is only now slowly starting up again.
According to expert estimates, the pro-
duction of new cars in Europe will be
around 40% lower this year than in
2019. This will affect not only compa-
nies in the automotive industry but also
thousands of medium-sized suppliers.
The same applies to the aviation indus-
try. Large manufacturers like Airbus have
hardly any orders. The situation in the
aluminium market is unlikely to change
until after the summer vacation period.
By late June, aluminium HG was report-
ed on the LME at around US$ 1 586.50
(on a three-month basis) while alumini-
um alloys were at US$ 1 210. Stocks in
the LME warehouses were most recent-
ly 1 614 100 tonnes for HG and 6 840
tonnes for alloy. Aluminium wire scrap
was at US$ 1 507 in mid-June, alumini-
um scrap fetched US$ 1 518 and alu-
minium turnings were at US$ 790.
LEAD
The lead business has also been quieter
than in the same period last year, with
the automotive sector also playing a
major role here. LME quotes were last
at US$ 1 755, and stocks at 72 925
tonnes. Dealers are acting cautiously
and rarely concluding long-term con-
tracts – most buyers are covering only
short-term needs during the hiatus.
According to information from the
International Lead and Zinc Study
Group, the global lead market had a
surplus of 12 000 tonnes in the first four
months of 2020. In the first four months
of 2019 there was still a supply deficit of
7 000 tonnes. Prices for soft lead scrap
were around US$ 1 597 per tonne.
COPPER
The copper market is currently well sup-
plied. According to the International
Copper Study Group, although there
was still a global supply deficit of 12
000 tonnes in the first quarter of 2019,
63recyclinginternational.com | July/August | 2020
THE STATE OF THE US ECONOMY
The latest look at relevant indicators by the US-based
Institute of Scrap Recycling Industries is encouraging.
The Federal Reserve reported US industrial production
rebounding 1.4% in May following a downwardly revised
12.5% contraction in April. But the Fed reports that
'total industrial production in May was 15.4% below its
pre-pandemic level in February. Manufacturing output,
which fell sharply in March and April, rose 3.8% in May
with most major industries posting increases, with the
largest gain registered by motor vehicles and parts.
Industrial production was at 92.6% of its 2012 average,
15.3% lower in May than it was a year ago.
Census Bureau advance monthly sales for retail and food
services for May suggested an unforeseen bounce back
from April, suggesting a 'v' shape recovery, at least for
retail. In May 2020, clothing and clothing accessories
stores led the way, followed by furniture & home furnish-
ing stores. Sales of motor vehicle & parts dealers were
up 44%.
62-63-64_manonferrous.indd 63 06-07-20 13:16