Out now: the summer issue!
Subscribe
Page 62 from: Out now: the summer issue!
market analysis reawakening economies ease fears Non-ferrous scrap traders focus on short-term contracts as business copes with pandemic. India has become the largest export market for the US this year with ship- ments up 28% while ex...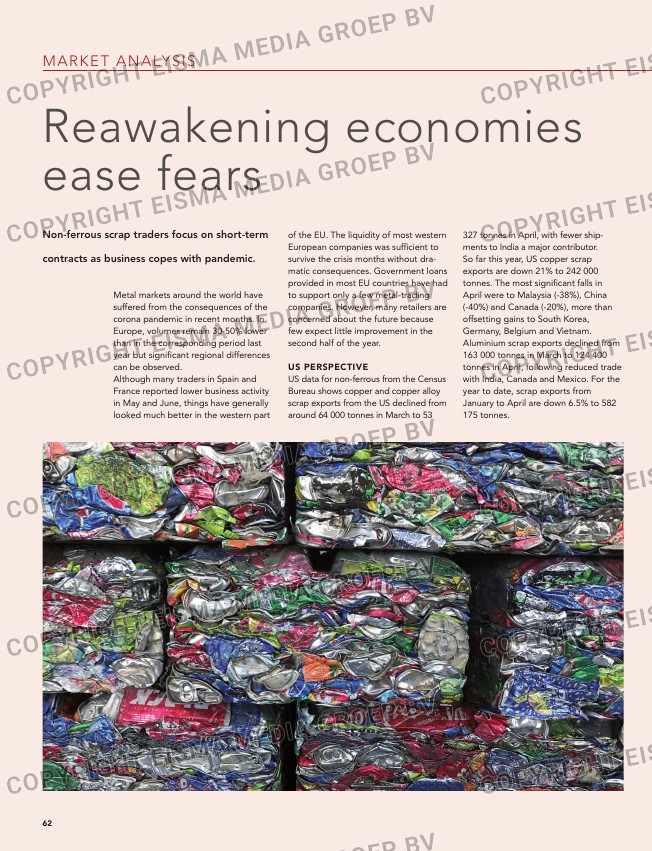 market analysis
reawakening economies
ease fears
Non-ferrous scrap traders focus on short-term
contracts as business copes with pandemic.
India has become the largest export
market for the US this year with ship-
ments up 28% while exports to Malaysia
are up 69%. But the gains have been
more than offset by reduced shipments
to China (-58%), Hong Kong (-23%) and
Canada (-24%).
The Wall Street Journal thought a
recovery of sorts was possible, saying
'Prices for raw materials including oil
and copper are surging as the world
economy reopens for business, a signal
to many investors that global growth is
returning more quickly than anticipat-
ed… Industrial metals have also been
on a tear, with copper and tin up more
than 15% so far this quarter.'
FAR FROM GLOOMY
Buoyancy in the international copper
market, despite the crippling impact of
the Covid-19 pandemic, was the key
theme of a special ISRI conference that
attracted more than 150 people on 20
May. One of the two main presenters
during the virtual event, Edward Meir of
ED&F Man Capital Markets, stressed
the crisis was one of health rather than
economy and that dictated an environ-
ment for slow growth. But it could have
been worse for copper, he said, which
was 'on a bit of a break-out'. Meir said
people were still making money ('Even
US$ 4 700 is profitable.') with copper
reaching China through different routes.
Taking an upbeat approach, he forecast
a global recovery in H2, suggesting
'people are a little too pessimistic'.
'I favour an optimistic outlook,' he said.
'If a vaccine or intermediary antidote
can be found then the confidence peo-
ple feel will mean that spending will
return. I think we will see a better tone,
assuming we make corresponding prog-
ress on the virus.'
He reported a Reuters survey of traders
showing expectations of a global cop-
per surplus because of a greater
demand drawdown than the fall in sup-
ply. The anticipated surplus was
between 20 000 tonnes and 570 000
tonnes – the traders' average was 350
000 tonnes.
The second main speaker, Uwe Schmidt
of Montanwerke Brixlegg, said although
there was lower demand for copper in
the automotive industry and in its sup-
62
Metal markets around the world have
suffered from the consequences of the
corona pandemic in recent months. In
Europe, volumes remain 30-50% lower
than in the corresponding period last
year but significant regional differences
can be observed.
Although many traders in Spain and
France reported lower business activity
in May and June, things have generally
looked much better in the western part
of the EU. The liquidity of most western
European companies was sufficient to
survive the crisis months without dra-
matic consequences. Government loans
provided in most EU countries have had
to support only a few metal-trading
companies. However, many retailers are
concerned about the future because
few expect little improvement in the
second half of the year.
US PERSPECTIVE
US data for non-ferrous from the Census
Bureau shows copper and copper alloy
scrap exports from the US declined from
around 64 000 tonnes in March to 53
327 tonnes in April, with fewer ship-
ments to India a major contributor.
So far this year, US copper scrap
exports are down 21% to 242 000
tonnes. The most significant falls in
April were to Malaysia (-38%), China
(-40%) and Canada (-20%), more than
offsetting gains to South Korea,
Germany, Belgium and Vietnam.
Aluminium scrap exports declined from
163 000 tonnes in March to 124 400
tonnes in April, following reduced trade
with India, Canada and Mexico. For the
year to date, scrap exports from
January to April are down 6.5% to 582
175 tonnes.
62-63-64_manonferrous.indd 62 06-07-20 13:16