Out now: the summer issue!
Subscribe
Page 61 from: Out now: the summer issue!
niCkel & stainless markets struggling as economies contract of this year, compared to a 23 500 tonne supply deficit during the corre- sponding period in 2019. Diminished demand from the electric vehicle mar- ket has been widely ci...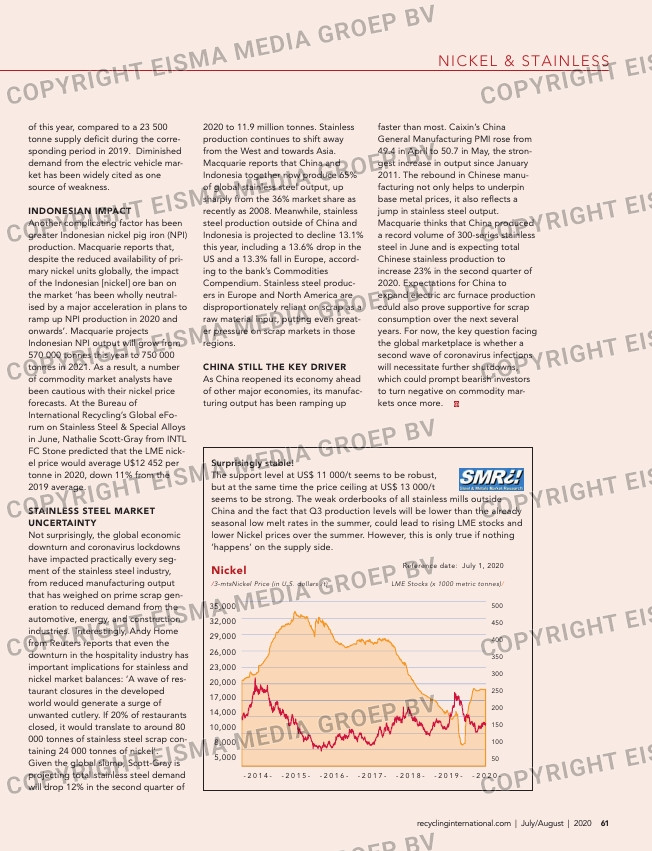 niCkel & stainless
markets struggling as
economies contract
of this year, compared to a 23 500
tonne supply deficit during the corre-
sponding period in 2019. Diminished
demand from the electric vehicle mar-
ket has been widely cited as one
source of weakness.
INDONESIAN IMPACT
Another complicating factor has been
greater Indonesian nickel pig iron (NPI)
production. Macquarie reports that,
despite the reduced availability of pri-
mary nickel units globally, the impact
of the Indonesian [nickel] ore ban on
the market 'has been wholly neutral-
ised by a major acceleration in plans to
ramp up NPI production in 2020 and
onwards'. Macquarie projects
Indonesian NPI output will grow from
570 000 tonnes this year to 750 000
tonnes in 2021. As a result, a number
of commodity market analysts have
been cautious with their nickel price
forecasts. At the Bureau of
International Recycling's Global eFo-
rum on Stainless Steel & Special Alloys
in June, Nathalie Scott-Gray from INTL
FC Stone predicted that the LME nick-
el price would average U$12 452 per
tonne in 2020, down 11% from the
2019 average.
STAINLESS STEEL MARKET
UNCERTAINTY
Not surprisingly, the global economic
downturn and coronavirus lockdowns
have impacted practically every seg-
ment of the stainless steel industry,
from reduced manufacturing output
that has weighed on prime scrap gen-
eration to reduced demand from the
automotive, energy, and construction
industries. Interestingly, Andy Home
from Reuters reports that even the
downturn in the hospitality industry has
important implications for stainless and
nickel market balances: 'A wave of res-
taurant closures in the developed
world would generate a surge of
unwanted cutlery. If 20% of restaurants
closed, it would translate to around 80
000 tonnes of stainless steel scrap con-
taining 24 000 tonnes of nickel'.
Given the global slump, Scott-Gray is
projecting total stainless steel demand
will drop 12% in the second quarter of
2020 to 11.9 million tonnes. Stainless
production continues to shift away
from the West and towards Asia.
Macquarie reports that China and
Indonesia together now produce 65%
of global stainless steel output, up
sharply from the 36% market share as
recently as 2008. Meanwhile, stainless
steel production outside of China and
Indonesia is projected to decline 13.1%
this year, including a 13.6% drop in the
US and a 13.3% fall in Europe, accord-
ing to the bank's Commodities
Compendium. Stainless steel produc-
ers in Europe and North America are
disproportionately reliant on scrap as a
raw material input, putting even great-
er pressure on scrap markets in those
regions.
CHINA STILL THE KEY DRIVER
As China reopened its economy ahead
of other major economies, its manufac-
turing output has been ramping up
Surprisingly stable!
The support level at US$ 11 000/t seems to be robust,
but at the same time the price ceiling at US$ 13 000/t
seems to be strong. The weak orderbooks of all stainless mills outside
China and the fact that Q3 production levels will be lower than the already
seasonal low melt rates in the summer, could lead to rising LME stocks and
lower Nickel prices over the summer. However, this is only true if nothing
'happens' on the supply side.
Nickel
/3-mtsNickel Price (in U.S. dollars /t) LME Stocks (x 1000 metric tonnes)/

– 2 0 1 4 – – 2 0 1 5 – – 2 0 1 6 – – 2 0 1 7 – – 2 0 1 8 – – 2 0 1 9 – – 2 0 2 0 –
Reference date: July 1, 2020
500
450
400
350
300
250
200
150
100
50
35,000
32,000
29,000
26,000
23,000
20,000
17,000
14,000
10,000
8,000
5,000
61recyclinginternational.com | July/August | 2020
faster than most. Caixin's China
General Manufacturing PMI rose from
49.4 in April to 50.7 in May, the stron-
gest increase in output since January
2011. The rebound in Chinese manu-
facturing not only helps to underpin
base metal prices, it also reflects a
jump in stainless steel output.
Macquarie thinks that China produced
a record volume of 300-series stainless
steel in June and is expecting total
Chinese stainless production to
increase 23% in the second quarter of
2020. Expectations for China to
expand electric arc furnace production
could also prove supportive for scrap
consumption over the next several
years. For now, the key question facing
the global marketplace is whether a
second wave of coronavirus infections
will necessitate further shutdowns,
which could prompt bearish investors
to turn negative on commodity mar-
kets once more.
60-61_manickelstainless.indd 61 06-07-20 13:18