Out now: the summer issue!
Subscribe
Page 55 from: Out now: the summer issue!
trends & updates 55recyclinginternational.com | July/August | 2020 track & trace tech tO keep plastic scrap in the lOOp Chemical giant BASF has signed a binding agreement with Security Matters to jointly develop solutions fo...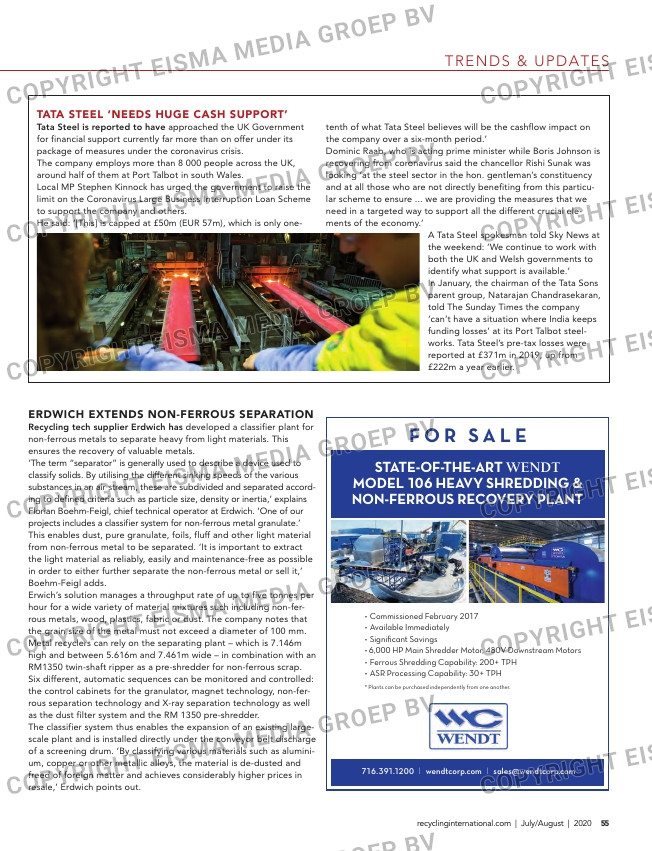 trends & updates
55recyclinginternational.com | July/August | 2020
track & trace tech tO keep plastic scrap in
the lOOp
Chemical giant BASF has signed a binding agreement with Security
Matters to jointly develop solutions for plastics traceability.
Plastics have unique characteristics and, when handled properly, can con-
tribute to a more sustainable and resource efficient future. But recycled
plastic loses mechanical performance properties due to polymer degrada-
tion and residual impurities.
The partnership between BASF and Security Matters is said to hold the
answer to this issue. Security Matters will contribute its technology to
enable physical and digital tracking of closed loop recycling. Its track-and-
trace solution marks polymers with a unique and permanent chemical-based
barcode and links them to a digital twin.
The barcode withstands manufacturing and recycling processes, without
altering the appearance or performance of the object. Using proprietary
technology, the barcode captures a wide variety of information embedded
in the plastic and can be used to authenticate sustainability claims and
greatly enhance sorting accuracy.
The collaboration leverages BASF's extensive experience in plastic addi-
tives, regulatory know-how and understanding of the plastics value chain.
Under the agreement, both companies will also combine their research &
development capabilities and share required resources.
erdwich extends nOn-ferrOus separatiOn
Recycling tech supplier Erdwich has developed a classifier plant for
non-ferrous metals to separate heavy from light materials. This
ensures the recovery of valuable metals.
'The term "separator" is generally used to describe a device used to
classify solids. By utilising the different sinking speeds of the various
substances in an air stream, these are subdivided and separated accord-
ing to defined criteria such as particle size, density or inertia,' explains
Florian Boehm-Feigl, chief technical operator at Erdwich. 'One of our
projects includes a classifier system for non-ferrous metal granulate.'
This enables dust, pure granulate, foils, fluff and other light material
from non-ferrous metal to be separated. 'It is important to extract
the light material as reliably, easily and maintenance-free as possible
in order to either further separate the non-ferrous metal or sell it,'
Boehm-Feigl adds.
Erwich's solution manages a throughput rate of up to five tonnes per
hour for a wide variety of material mixtures such including non-fer-
rous metals, wood, plastics, fabric or dust. The company notes that
the grain size of the metal must not exceed a diameter of 100 mm.
Metal recyclers can rely on the separating plant – which is 7.146m
high and between 5.616m and 7.461m wide – in combination with an
RM1350 twin-shaft ripper as a pre-shredder for non-ferrous scrap.
Six different, automatic sequences can be monitored and controlled:
the control cabinets for the granulator, magnet technology, non-fer-
rous separation technology and X-ray separation technology as well
as the dust filter system and the RM 1350 pre-shredder.
The classifier system thus enables the expansion of an existing large-
scale plant and is installed directly under the conveyor belt discharge
of a screening drum. 'By classifying various materials such as alumini-
um, copper or other metallic alloys, the material is de-dusted and
freed of foreign matter and achieves considerably higher prices in
resale,' Erdwich points out.
swiss car shredders 'wOrking Overtime'
While Europe's
scrap recycling
industry in
general has
been hit hard
by the corona-
virus crisis, sur-
prisingly
enough, some
in the sector
have seen
spectacular
increase of
activity thanks
to the pandem-
ic outbreak.
Like in Switzerland, where shredders have been 'fully booked' since the lock-
down, says Roger Burri of electronics and automotive shredder residue (ASR)
recycler Air Mercury.
The explanation for this, according to Burri, lies in the fact that end of life vehi-
cles in Switzerland could not be deregistered for export, and therefore were not
allowed to leave the country. In addition, there has been a lack of transboundary
transportation capacity. 'Normally, per year on average out of 300 000 discard-
ed cars in Switzerland 50% is exported. Due to coronavirus measures all car
wrecks are now scrapped locally, with shredders working overtime,' Burri
explains to Recycling International. 'As a result, our company has seen bigger
ASR volumes coming in', he adds.
Another trend spotted by the entrepreneur: since the pandemic outbreak there
is spectacular growth of e-scrap volumes in Switzerland. 'Als probably else-
where, the Swiss are cleaning up their cellars and premises and decide to finally
get rid of devices some of which have been stored there for a long time.'
• Commissioned February 2017
• Available Immediately
• Significant Savings
• 6,000 HP Main Shredder Motor, 480V Downstream Motors
• Ferrous Shredding Capability: 200+ TPH
• ASR Processing Capability: 30+ TPH
* Plants can be purchased independently from one another.
STATE-OF-THE-ART WENDT
MODEL 106 HEAVY SHREDDING &
NON-FERROUS RECOVERY PLANT

F O R S A L E

716.391.1200 I wendtcorp.com I [email protected]
tata steel 'needs huge cash suppOrt'
Tata Steel is reported to have approached the UK Government
for financial support currently far more than on offer under its
package of measures under the coronavirus crisis.
The company employs more than 8 000 people across the UK,
around half of them at Port Talbot in south Wales.
Local MP Stephen Kinnock has urged the government to raise the
limit on the Coronavirus Large Business Interruption Loan Scheme
to support the company and others.
He said: '[This] is capped at £50m (EUR 57m), which is only one-
tenth of what Tata Steel believes will be the cashflow impact on
the company over a six-month period.'
Dominic Raab, who is acting prime minister while Boris Johnson is
recovering from coronavirus said the chancellor Rishi Sunak was
looking 'at the steel sector in the hon. gentleman's constituency
and at all those who are not directly benefiting from this particu-
lar scheme to ensure … we are providing the measures that we
need in a targeted way to support all the different crucial ele-
ments of the economy.'
A Tata Steel spokesman told Sky News at
the weekend: 'We continue to work with
both the UK and Welsh governments to
identify what support is available.'
In January, the chairman of the Tata Sons
parent group, Natarajan Chandrasekaran,
told The Sunday Times the company
'can't have a situation where India keeps
funding losses' at its Port Talbot steel-
works. Tata Steel's pre-tax losses were
reported at £371m in 2019, up from
£222m a year earlier.
52-53-54-55_trendsupdateii.indd 55 06-07-20 13:19