Out now: the summer issue!
Subscribe
Page 52 from: Out now: the summer issue!
52 Only a prOper label remOver achieves high-purity plastic flakes Plastics recycler RCS of Germany trans- forms used PET bot- tles into plastic flakes for a variety of appli- cations. At the com- pany's sorting plant, clear PET is...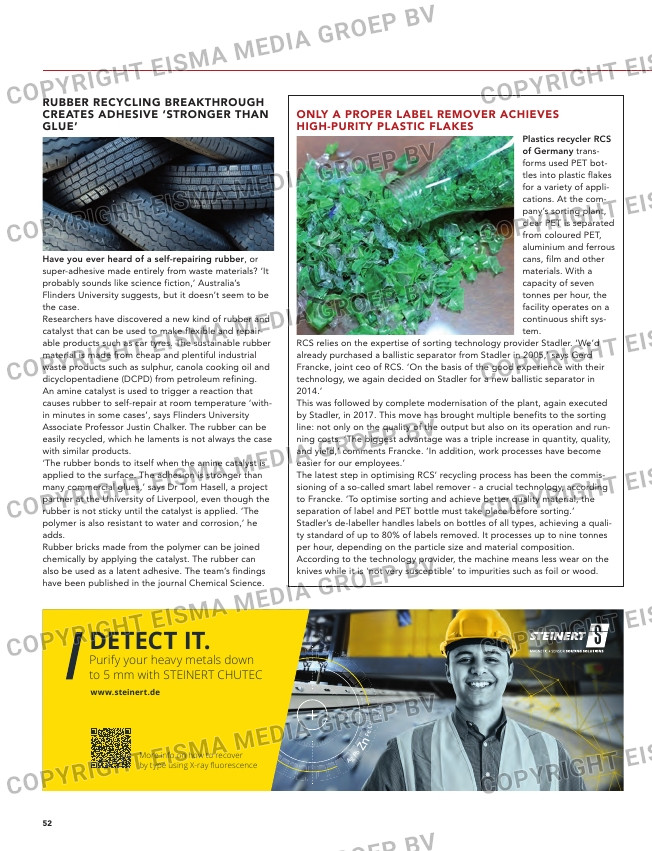 52
Only a prOper label remOver achieves
high-purity plastic flakes
Plastics recycler RCS
of Germany trans-
forms used PET bot-
tles into plastic flakes
for a variety of appli-
cations. At the com-
pany's sorting plant,
clear PET is separated
from coloured PET,
aluminium and ferrous
cans, film and other
materials. With a
capacity of seven
tonnes per hour, the
facility operates on a
continuous shift sys-
tem.
RCS relies on the expertise of sorting technology provider Stadler. 'We'd
already purchased a ballistic separator from Stadler in 2005,' says Gerd
Francke, joint ceo of RCS. 'On the basis of the good experience with their
technology, we again decided on Stadler for a new ballistic separator in
2014.'
This was followed by complete modernisation of the plant, again executed
by Stadler, in 2017. This move has brought multiple benefits to the sorting
line: not only on the quality of the output but also on its operation and run-
ning costs. 'The biggest advantage was a triple increase in quantity, quality,
and yield,' comments Francke. 'In addition, work processes have become
easier for our employees.'
The latest step in optimising RCS' recycling process has been the commis-
sioning of a so-called smart label remover – a crucial technology, according
to Francke. 'To optimise sorting and achieve better quality material, the
separation of label and PET bottle must take place before sorting.'
Stadler's de-labeller handles labels on bottles of all types, achieving a quali-
ty standard of up to 80% of labels removed. It processes up to nine tonnes
per hour, depending on the particle size and material composition.
According to the technology provider, the machine means less wear on the
knives while it is 'not very susceptible' to impurities such as foil or wood.
textile glut fear as restrictiOns ease
Charities in the UK are concerned about an avalanche of
unwanted clothing and other items when their High Street shops
re-open in June as householders seek to get rid of items that
have been stored for months.
Charity shops are major recipients for second-hand clothing but
they have been closed in the UK since March during the Covid-
19 lockdown. Many municipal recycling centres have also been
closed. This combination has caused great concern across the
textile recycling sector.
Robin Osterley, chief executive of the Charity Retail Association,
told the BBC that shops are expecting to be 'full to bursting'.
The UK's 11 000 charity shops raise almost £300m for good
causes each year.
In early May, Alan Wheeler, director of the Textile Recycling
Association (TRA), warned of 'pent up demand and an influx of
used clothing/textile donations once charity shops and recycling
centres are re-opened'. Wheeler is worried that this issue, on
top of supply chain problems such as some countries restricting
imports of used clothing, will mean insufficient capacity in the
UK. One consequence would be more materials going to land-
fill.
To support these fears, analysis by a UK furniture manufacturer
has found that searches online for recycling centres has spiked
in recent weeks. Sliding door wardrobe company Spaceslide
found that in April, searches for 'recycling centre' increased 22%
year-on-year, up from 90 500 per month to 110 000. Searches
for 'council tips' were also up, rising 50% to 3 600 monthly
searches. In contrast, searches for 'charity shop' dropped by
87%, falling from 110 000 in April 2019 to 14 800 this April.
Spaceslide's commercial manager Will Gough commented:
'Hopefully, UK households can hang on to their useable items
for a short while longer to avoid creating non-essential waste.
Charities benefit hugely from selling the items they receive and
with money tighter than ever for many, holding off on your trip
to the recycling centre could have a significant impact.'
Siân Pelleschi, owner of decluttering company Sorted!, offered
this advice: 'Firstly, look at repurposing an item in another way
within your home. If this isn't possible, try giving away items to
passers-by. Make sure you label them as being free and keep
the items on your property and not in the street.'
rubber recycling breakthrOugh
creates adhesive 'strOnger than
glue'
Have you ever heard of a self-repairing rubber, or
super-adhesive made entirely from waste materials? 'It
probably sounds like science fiction,' Australia's
Flinders University suggests, but it doesn't seem to be
the case.
Researchers have discovered a new kind of rubber and
catalyst that can be used to make flexible and repair-
able products such as car tyres. The sustainable rubber
material is made from cheap and plentiful industrial
waste products such as sulphur, canola cooking oil and
dicyclopentadiene (DCPD) from petroleum refining.
An amine catalyst is used to trigger a reaction that
causes rubber to self-repair at room temperature 'with-
in minutes in some cases', says Flinders University
Associate Professor Justin Chalker. The rubber can be
easily recycled, which he laments is not always the case
with similar products.
'The rubber bonds to itself when the amine catalyst is
applied to the surface. The adhesion is stronger than
many commercial glues,' says Dr Tom Hasell, a project
partner at the University of Liverpool, even though the
rubber is not sticky until the catalyst is applied. 'The
polymer is also resistant to water and corrosion,' he
adds.
Rubber bricks made from the polymer can be joined
chemically by applying the catalyst. The rubber can
also be used as a latent adhesive. The team's findings
have been published in the journal Chemical Science.
new dimensions
of wear protection
we understand
we produce
we advise
we are SWB
billions in valuable materials are lost to wear each year
we advise our customers on-site in more than 50 countries worldwide
we are world leader in differentially hardened alloy shredder hammers
we are permanently researching pioneering solutions against wear
www.stahlwerke-bochum.com
we develop
Ag
P
b Z
n
F
e
C
u
DETECT IT.
Purify your heavy metals down
to 5 mm with STEINERT CHUTEC
More info on how to recover
by type using X-ray fluorescence
www.steinert.de

52-53-54-55_trendsupdateii.indd 52 06-07-20 13:19