Out now: the summer issue!
Subscribe
Page 48 from: Out now: the summer issue!
48 A rare chance to explore the urban mine Rare earth elements are becoming increasingly important materials in vehicles, consumer electronics and high-end applications such as wind turbines. Only 1% of these materials is recovered so...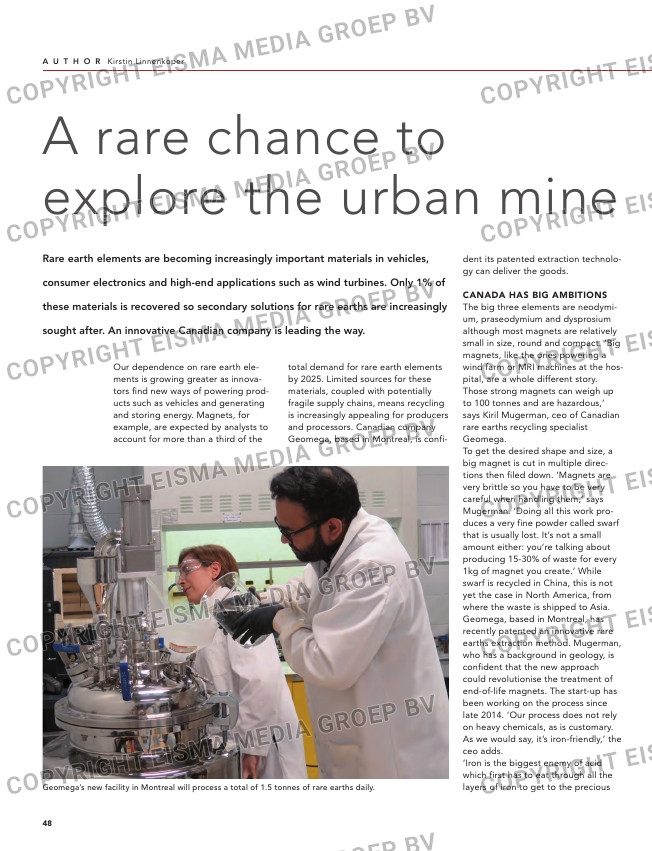 48
A rare chance to
explore the urban mine
Rare earth elements are becoming increasingly important materials in vehicles,
consumer electronics and high-end applications such as wind turbines. Only 1% of
these materials is recovered so secondary solutions for rare earths are increasingly
sought after. An innovative Canadian company is leading the way.
rare earths. We use a different
reagent. It doesn't come from the
mining industry and is environmentally
friendly.' The sustainable reagent
allows Geomega to process entire
magnets and retrieve almost every-
thing. 'We're at about 95% recovery
now. This includes recovering the
reagent.'
Geomega's team is still trying to
extract more of the lost 5% but it's a
challenge to achieve 100%. 'We run
our method in a batch process, as
opposed to the continuous process
you have in the mine,' Mugerman
says. 'The volumes are simply much
bigger in that sector.'
ChiCken or the egg?
On a positive note, Geomega's work
has gained momentum with the sup-
port of recycling players in the US and
abroad who provide discarded mag-
nets for testing. For example, its
European partner Rocklink collects
around 16 tonnes annually from 70
companies across the continent. Such
collaborations have helped propel
Geomega's work from theory and lab-
scale experiments to industrial.
'Globally, only around 1% of rare
earths are being recycled. Businesses
are often stuck with the thought:
"Where do you get your volume
from?" People have been very
sceptical and I can't really blame
them,' the ceo laments. He likens it
to the classic chicken-or-egg scenario.
What comes first: scrap or recycling?
'No one wants to take too big a risk in
such a competitive market. But, the
way I see it, if there is no plant to buy
and recycle the material, there is
never going to be a bigger stream.'
That is why Geomega is building a
Our dependence on rare earth ele-
ments is growing greater as innova-
tors find new ways of powering prod-
ucts such as vehicles and generating
and storing energy. Magnets, for
example, are expected by analysts to
account for more than a third of the
total demand for rare earth elements
by 2025. Limited sources for these
materials, coupled with potentially
fragile supply chains, means recycling
is increasingly appealing for producers
and processors. Canadian company
Geomega, based in Montreal, is confi-
dent its patented extraction technolo-
gy can deliver the goods.
Canada has big ambitions
The big three elements are neodymi-
um, praseodymium and dysprosium
although most magnets are relatively
small in size, round and compact. 'Big
magnets, like the ones powering a
wind farm or MRI machines at the hos-
pital, are a whole different story.
Those strong magnets can weigh up
to 100 tonnes and are hazardous,'
says Kiril Mugerman, ceo of Canadian
rare earths recycling specialist
Geomega.
To get the desired shape and size, a
big magnet is cut in multiple direc-
tions then filed down. 'Magnets are
very brittle so you have to be very
careful when handling them,' says
Mugerman. 'Doing all this work pro-
duces a very fine powder called swarf
that is usually lost. It's not a small
amount either: you're talking about
producing 15-30% of waste for every
1kg of magnet you create.' While
swarf is recycled in China, this is not
yet the case in North America, from
where the waste is shipped to Asia.
Geomega, based in Montreal, has
recently patented an innovative rare
earths extraction method. Mugerman,
who has a background in geology, is
confident that the new approach
could revolutionise the treatment of
end-of-life magnets. The start-up has
been working on the process since
late 2014. 'Our process does not rely
on heavy chemicals, as is customary.
As we would say, it's iron-friendly,' the
ceo adds.
'Iron is the biggest enemy of acid
which first has to eat through all the
layers of iron to get to the precious Geomega's new facility in Montreal will process a total of 1.5 tonnes of rare earths daily.
A u t h O R Kirstin Linnenkoper
48-49-50-51_rareearthsupdate.indd 48 06-07-20 13:19