Out now: the summer issue!
Subscribe
Page 47 from: Out now: the summer issue!
BUSINESS 47recyclinginternational.com | July/August | 2020 The R&D project gained momentum last year when Cardinal Glass agreed to send a limited supply of the material periodically for testing. Watson reports his company is n...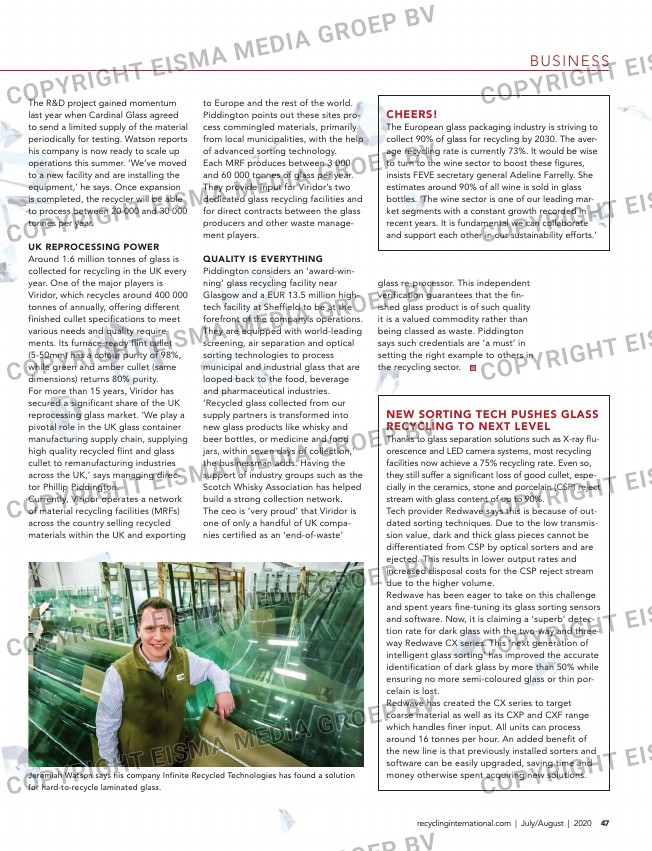 BUSINESS
47recyclinginternational.com | July/August | 2020
The R&D project gained momentum
last year when Cardinal Glass agreed
to send a limited supply of the material
periodically for testing. Watson reports
his company is now ready to scale up
operations this summer. 'We've moved
to a new facility and are installing the
equipment,' he says. Once expansion
is completed, the recycler will be able
to process between 20 000 and 30 000
tonnes per year.
UK REPROCESSING POWER
Around 1.6 million tonnes of glass is
collected for recycling in the UK every
year. One of the major players is
Viridor, which recycles around 400 000
tonnes of annually, offering different
finished cullet specifications to meet
various needs and quality require-
ments. Its furnace-ready flint cullet
(5-50mm) has a colour purity of 98%,
while green and amber cullet (same
dimensions) returns 80% purity.
For more than 15 years, Viridor has
secured a significant share of the UK
reprocessing glass market. 'We play a
pivotal role in the UK glass container
manufacturing supply chain, supplying
high quality recycled flint and glass
cullet to remanufacturing industries
across the UK,' says managing direc-
tor Phillip Piddington.
Currently, Viridor operates a network
of material recycling facilities (MRFs)
across the country selling recycled
materials within the UK and exporting
to Europe and the rest of the world.
Piddington points out these sites pro-
cess commingled materials, primarily
from local municipalities, with the help
of advanced sorting technology.
Each MRF produces between 3 000
and 60 000 tonnes of glass per year.
They provide input for Viridor's two
dedicated glass recycling facilities and
for direct contracts between the glass
producers and other waste manage-
ment players.
QUALITY IS EVERYTHING
Piddington considers an 'award-win-
ning' glass recycling facility near
Glasgow and a EUR 13.5 million high-
tech facility at Sheffield to be at the
forefront of the company's operations.
They are equipped with world-leading
screening, air separation and optical
sorting technologies to process
municipal and industrial glass that are
looped back to the food, beverage
and pharmaceutical industries.
'Recycled glass collected from our
supply partners is transformed into
new glass products like whisky and
beer bottles, or medicine and food
jars, within seven days of collection,'
the businessman adds. Having the
support of industry groups such as the
Scotch Whisky Association has helped
build a strong collection network.
The ceo is 'very proud' that Viridor is
one of only a handful of UK compa-
nies certified as an 'end-of-waste'
glass re-processor. This independent
verification guarantees that the fin-
ished glass product is of such quality
it is a valued commodity rather than
being classed as waste. Piddington
says such credentials are 'a must' in
setting the right example to others in
the recycling sector.
Fotobijschrift
Jeremiah Watson says his company Infinite Recycled Technologies has found a solution
for hard-to-recycle laminated glass.
KADERKOP
??
NEW SORTING TECH PUSHES GLASS
RECYCLING TO NEXT LEVEL
Thanks to glass separation solutions such as X-ray flu-
orescence and LED camera systems, most recycling
facilities now achieve a 75% recycling rate. Even so,
they still suffer a significant loss of good cullet, espe-
cially in the ceramics, stone and porcelain (CSP) reject
stream with glass content of up to 90%.
Tech provider Redwave says this is because of out-
dated sorting techniques. Due to the low transmis-
sion value, dark and thick glass pieces cannot be
differentiated from CSP by optical sorters and are
ejected. This results in lower output rates and
increased disposal costs for the CSP reject stream
due to the higher volume.
Redwave has been eager to take on this challenge
and spent years fine-tuning its glass sorting sensors
and software. Now, it is claiming a 'superb' detec-
tion rate for dark glass with the two-way and three-
way Redwave CX series. This 'next generation of
intelligent glass sorting' has improved the accurate
identification of dark glass by more than 50% while
ensuring no more semi-coloured glass or thin por-
celain is lost.
Redwave has created the CX series to target
coarse material as well as its CXP and CXF range
which handles finer input. All units can process
around 16 tonnes per hour. An added benefit of
the new line is that previously installed sorters and
software can be easily upgraded, saving time and
money otherwise spent acquiring new solutions.
CHEERS!
The European glass packaging industry is striving to
collect 90% of glass for recycling by 2030. The aver-
age recycling rate is currently 73%. It would be wise
to turn to the wine sector to boost these figures,
insists FEVE secretary general Adeline Farrelly. She
estimates around 90% of all wine is sold in glass
bottles. 'The wine sector is one of our leading mar-
ket segments with a constant growth recorded in
recent years. It is fundamental we can collaborate
and support each other in our sustainability efforts.'
46-47_glassrecycling-viridor.indd 47 06-07-20 13:25