Out now: the summer issue!
Subscribe
Page 46 from: Out now: the summer issue!
46 A clear vision for glass recycling When it comes to recycling, glass doesn't enjoy much of the limelight. But that doesn't mean it isn't a valuable secondary material with huge potential. The R&D project gained momentum l...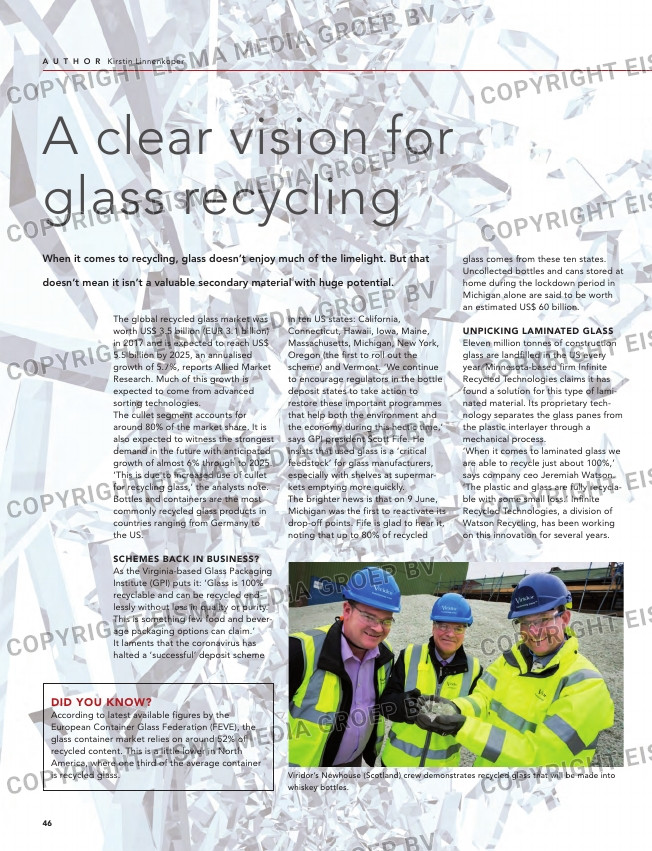 46
A clear vision for
glass recycling
When it comes to recycling, glass doesn't enjoy much of the limelight. But that
doesn't mean it isn't a valuable secondary material with huge potential.
The R&D project gained momentum
last year when Cardinal Glass agreed
to send a limited supply of the material
periodically for testing. Watson reports
his company is now ready to scale up
operations this summer. 'We've moved
to a new facility and are installing the
equipment,' he says. Once expansion
is completed, the recycler will be able
to process between 20 000 and 30 000
tonnes per year.
UK REPROCESSING POWER
Around 1.6 million tonnes of glass is
collected for recycling in the UK every
year. One of the major players is
Viridor, which recycles around 400 000
tonnes of annually, offering different
finished cullet specifications to meet
various needs and quality require-
ments. Its furnace-ready flint cullet
(5-50mm) has a colour purity of 98%,
while green and amber cullet (same
dimensions) returns 80% purity.
For more than 15 years, Viridor has
secured a significant share of the UK
reprocessing glass market. 'We play a
pivotal role in the UK glass container
manufacturing supply chain, supplying
high quality recycled flint and glass
cullet to remanufacturing industries
across the UK,' says managing direc-
tor Phillip Piddington.
Currently, Viridor operates a network
of material recycling facilities (MRFs)
across the country selling recycled
materials within the UK and exporting
The global recycled glass market was
worth US$ 3.5 billion (EUR 3.1 billion)
in 2017 and is expected to reach US$
5.5 billion by 2025, an annualised
growth of 5.7%, reports Allied Market
Research. Much of this growth is
expected to come from advanced
sorting technologies.
The cullet segment accounts for
around 80% of the market share. It is
also expected to witness the strongest
demand in the future with anticipated
growth of almost 6% through to 2025.
'This is due to increased use of cullet
for recycling glass,' the analysts note.
Bottles and containers are the most
commonly recycled glass products in
countries ranging from Germany to
the US.
SCHEMES BACK IN BUSINESS?
As the Virginia-based Glass Packaging
Institute (GPI) puts it: 'Glass is 100%
recyclable and can be recycled end-
lessly without loss in quality or purity.
This is something few food and bever-
age packaging options can claim.'
It laments that the coronavirus has
halted a 'successful' deposit scheme
in ten US states: California,
Connecticut, Hawaii, Iowa, Maine,
Massachusetts, Michigan, New York,
Oregon (the first to roll out the
scheme) and Vermont. 'We continue
to encourage regulators in the bottle
deposit states to take action to
restore these important programmes
that help both the environment and
the economy during this hectic time,'
says GPI president Scott Fife. He
insists that used glass is a 'critical
feedstock' for glass manufacturers,
especially with shelves at supermar-
kets emptying more quickly.
The brighter news is that on 9 June,
Michigan was the first to reactivate its
drop-off points. Fife is glad to hear it,
noting that up to 80% of recycled
glass comes from these ten states.
Uncollected bottles and cans stored at
home during the lockdown period in
Michigan alone are said to be worth
an estimated US$ 60 billion.
UNPICKING LAMINATED GLASS
Eleven million tonnes of construction
glass are landfilled in the US every
year. Minnesota-based firm Infinite
Recycled Technologies claims it has
found a solution for this type of lami-
nated material. Its proprietary tech-
nology separates the glass panes from
the plastic interlayer through a
mechanical process.
'When it comes to laminated glass we
are able to recycle just about 100%,'
says company ceo Jeremiah Watson.
'The plastic and glass are fully recycla-
ble with some small loss.' Infinite
Recycled Technologies, a division of
Watson Recycling, has been working
on this innovation for several years.
Viridor's Newhouse (Scotland) crew demonstrates recycled glass that will be made into
whiskey bottles.
Jeremiah Watson says his company Infinite Recycled Technologies has found a solution
for hard-to-recycle laminated glass.
A U T H O R Kirstin Linnenkoper
DID YOU KNOW?
According to latest available figures by the
European Container Glass Federation (FEVE), the
glass container market relies on around 52% of
recycled content. This is a little lower in North
America, where one third of the average container
is recycled glass.
46-47_glassrecycling-viridor.indd 46 06-07-20 13:25